Khasta Kachauri/ Kachori
हिन्दी में पढ़ें
Khasta kachauri are spicy lentil filled, deep fried, savory bread preparations, which can be made and stored in an airtight container for a few days. The word Khasta means flaky and crisp. Khaste can also be served with potatoes and green and tamarind chutney. This is my mother's recipe. A few years ago my parents visited us in the USA and my mother made khasta and taught me this recipe. My mom makes delicious food; this is her recipe and I am really thankful to her that she not only made khaste for us but also patiently allowed me to take some snaps. So let's make khasta (khasta kachauri). Please do try this khasta kachauri recipe and do share your valuable comments. Happy cooking, Shuchi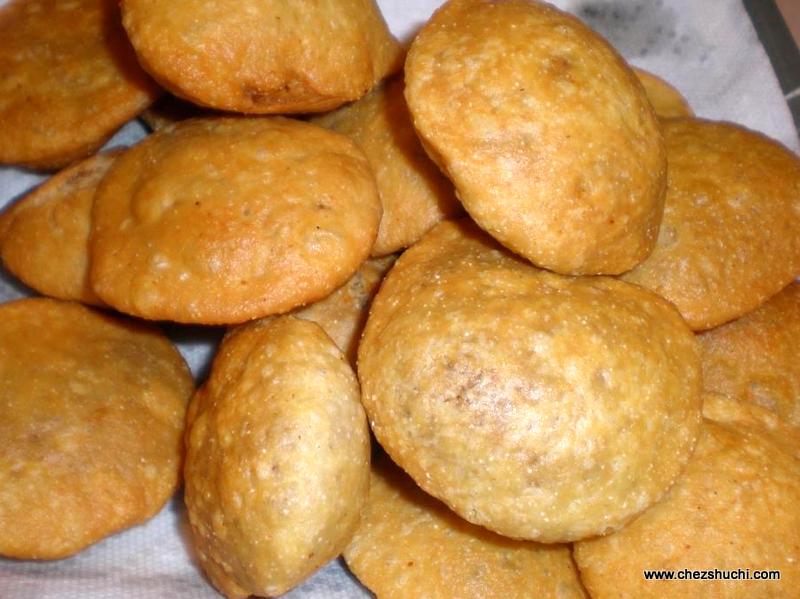 Soaking Time: 3 hours
Preparation Time: 25 minutes
Cooking time: 45 minutes
Approximately 150 calories in each khata kachauri
Ingredients for stuffing (makes 16-18 Khaste)
Urad dal   ¼ cup
Ginger ½  inch
Green chili 1
Cumin seeds  ¼ tsp 
Asafotedia 2 pinch 
Fenugreek  powder  ¼ tsp
Black pepper ¼ tsp 
Red chili powder ½ tsp
Coriander powder   2 tsp
Garam masala ½ tsp 
Ground Fennel  (saunf)   1½ tbsp
Salt     ½ tsp
Baking soda 2 pinch
Oil    2 tbsp
Ingredients for dough (makes 16-18 Khaste)
Refined flour (maida) 1¼ cup
Wheat flour ½ cups
Semolina(sooji) ¼ cup
Baking soda 2 pinch
Salt little more than ¼ tsp
Oil about ½ cup
Water about 2/3 cup  to make dough   
Oil 1 tbsp + for deep frying   
Method of preparation For Stuffing
Clean and wash the urad dal. Soak the dal in 2 cups of water for 3-4 hours.
Remove the stem of green chili and wash it. Peel off ginger,wash and cut roughly.
Remove the water of the soaked dal and grind the dal with ginger and green chili. If possible do not use water and make a coarse paste of dal.
In a non stick wok heat oil. Add cumin seeds, and when seeds crackle add asafoetida powder and fenugreek powder. Now add grinded dal and and all other spices except salt. Stir continuously and fry well.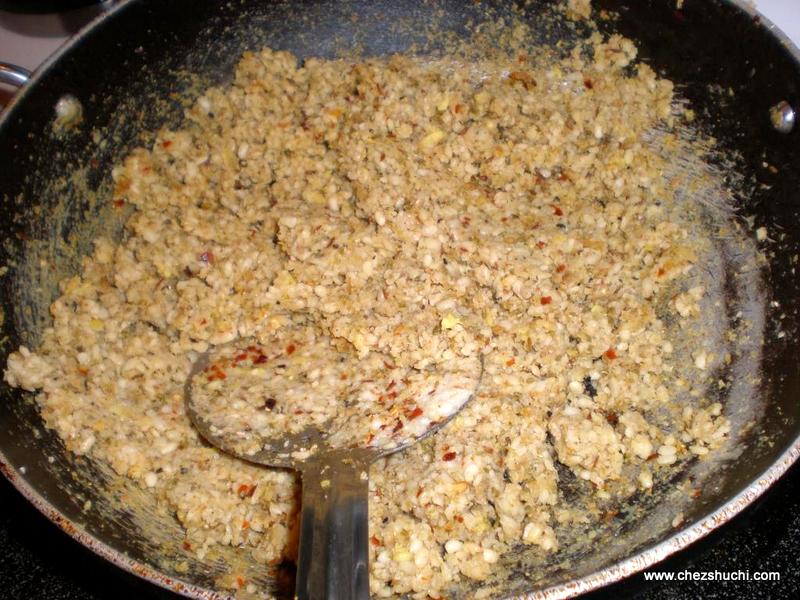 Lentils after 5 minutes of frying
For this recipe dal (lentils) should be very well fried. It takes about 20 minutes to fry the lentils.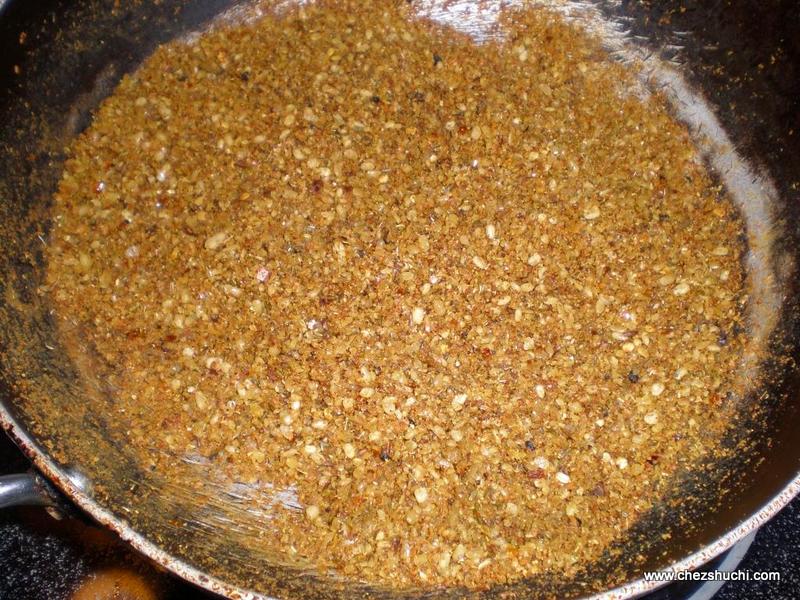 well fried lentil mixture for the khasta khachauri
Now turn off the heat. Now Add salt in the fried dal when it is lukewarm. Keep aside.
Method of Preparation For Dough
Combine refined flour, wheat flour, semolina, ½ cup oil , salt, and bakind soda in a bowl. Mix all the ingredients well and rub between the hands.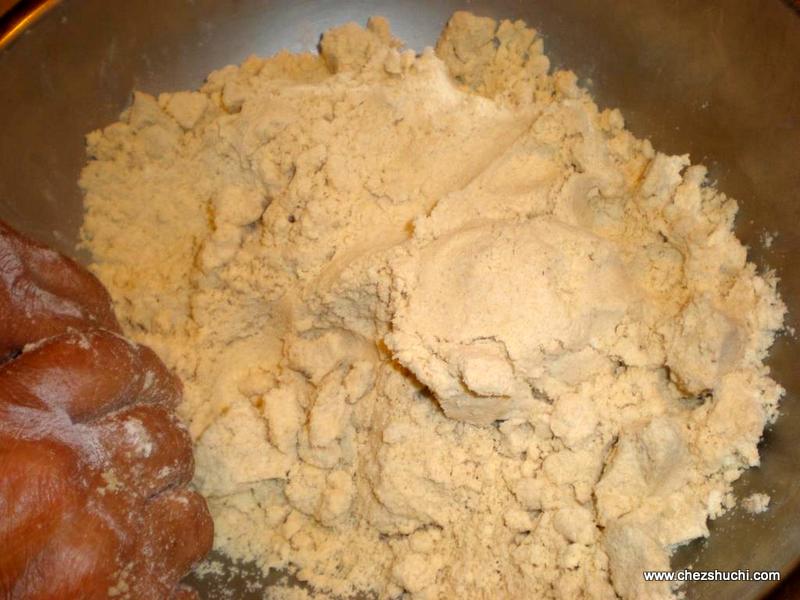 khasta dough ingredients mixed well
Add a little water at a time to combined the flour mix. You need around 2/3 cups of water to make this dough. Dough will be very sticky. Do not knead the dough, instead follow the steps below.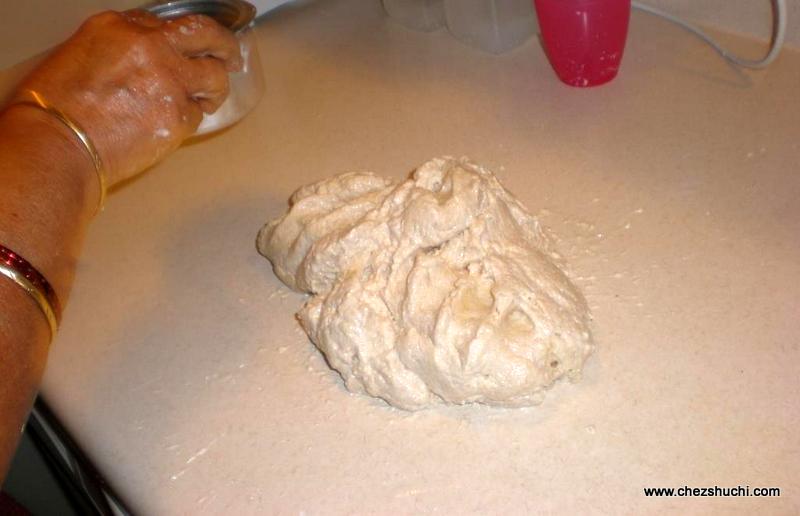 Sticky Dough
Add about 1 tsp oil and repeatedly throw the dough on the working surface. For this recipe you need to throw the dough up and down for about 50-60 times. Add a little more oil if the dough is sticky. When you are done, the dough will become absolutely smooth and soft as shown in the picture below.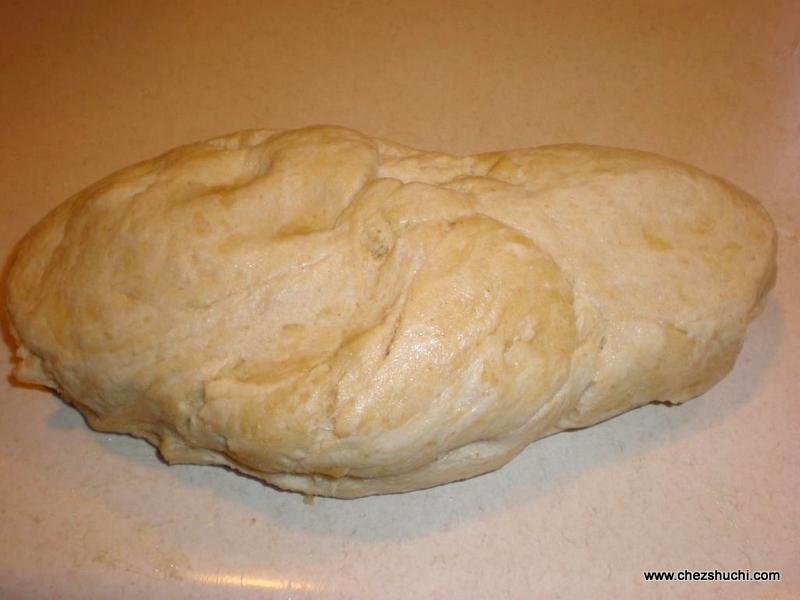 Dough is ready to use
Divide the dough into 16 small round balls.. Press the balls with the fingers. Fill about 1 tea spoon of the stuffing and close the balls as shown in the following picture.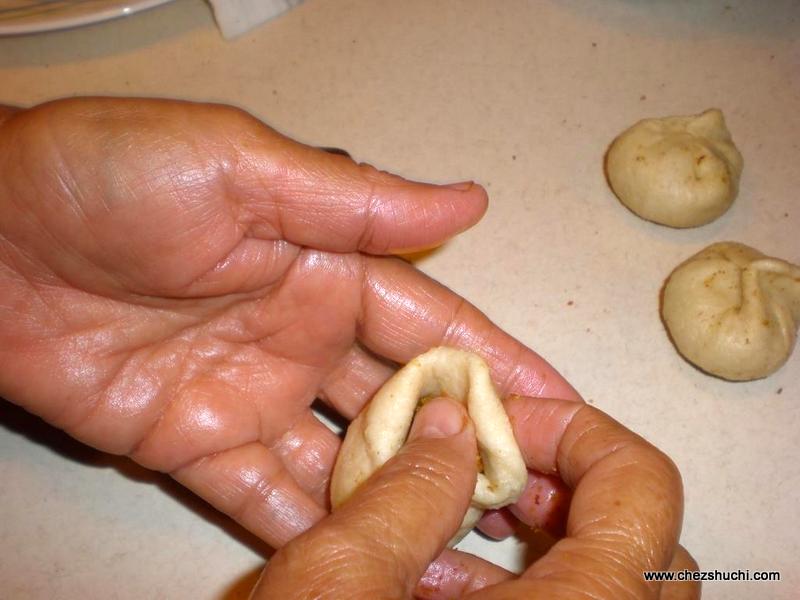 Now roll the balls gently with the help of little oil into 2-2½ inch circles.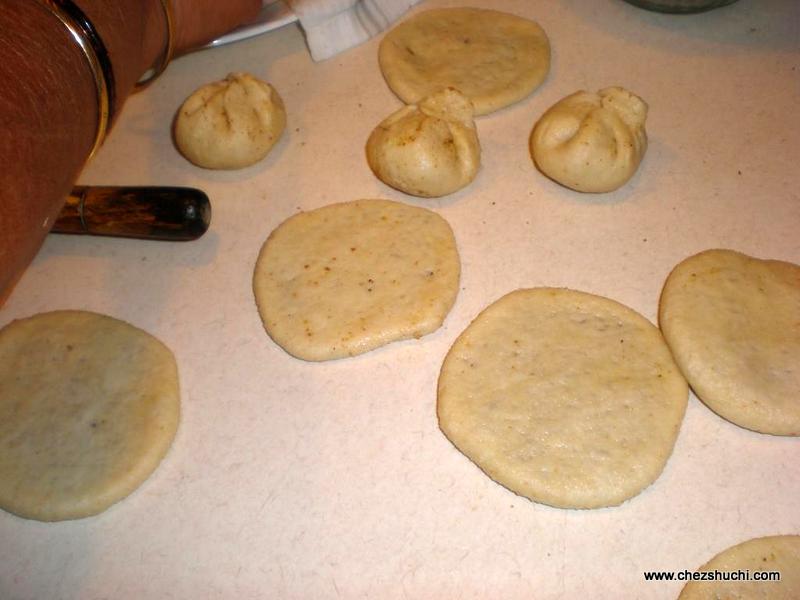 Heat oil in a wok on medium to low heat. Deep fry the Khasta on medium to low heat .
Turn the side gently and fry kauchauri until golden red. It takes about 15 minutes to fry each round of khasta. Take them out onto kitchen paper.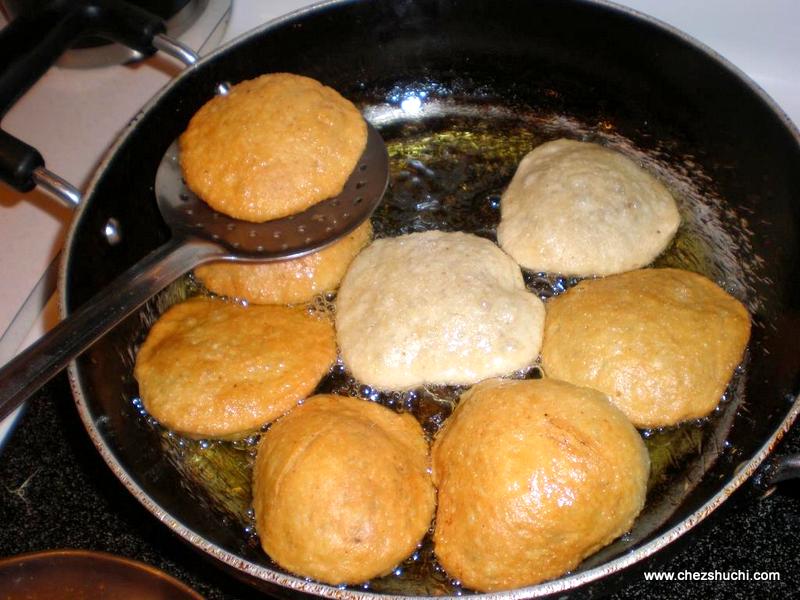 Delicious khasta kachauri is ready to serve. Serve hot khaste or store them in an airtight container for a couple of weeks.
Serving Suggestions :
You can also serve these yummy khaste like a chaat item to give them a new look. For this-
You need spicy potatoes masala aloo or chole..
Beat 1 cup yogurt thoroughly.
In a serving dish place a khasta, and slightly crush the top puffed layer.
Fill the khasta with spicy potatoes. Now pour around 1 tbsp yogurt and 1 tbsp meethi chutney, and 1 tbsp of green chutney on top of potatoes.
Sprinkle a little bit of salt, red chili powder, and chaat masala.
Sprinkle a little bit of sev/bhujiya.
Garnish with coriander leaves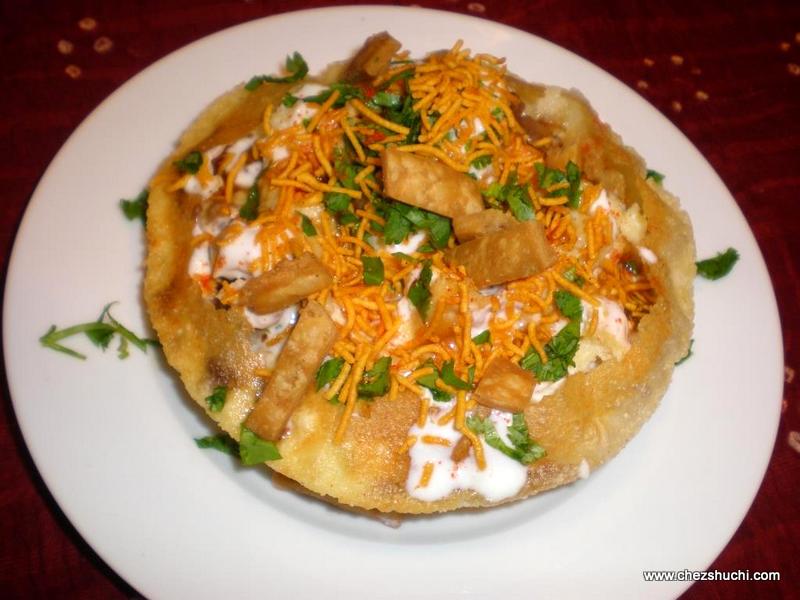 Some Tips and Suggestions :
This is my mother's recipe. She makes the dough in a traditional way by throwing the dough up and down on the work surface to make the dough soft and absolute smooth. If you are having a hard time making the dough this way feel free to make the dough regular way.
Making khasta Kachauri is an art, so please be patient. It takes some time to prepare this delicious dish.
Be patient while deep frying the khasta kachauri. Fry them on medium low heat. If you fry them on high heat, they will be look overdone from outside but won't get cooked from inside.
---