Saag Paneer
हिन्दी में पढ़ें
Saag paneer is a very famous paneer dish. Saag Paneer is a little different than Palak Paneer - the curry is much thicker. For this delicacy mustard greens and spinach are used to make the curry. Mustard leaves are usually in abundance in the winters, but now-a-days we get most of the veggies all around the year. However, you can use frozen greens if you do not find fresh leaves...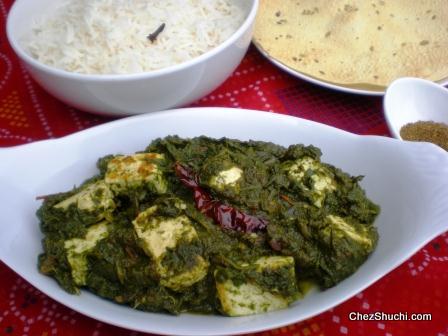 Ingredients

(serves 4)
Mustard Leaves ¼ pound
Spinach   250 gms/ ½ pound
Paneer    200 gms/ ½ pound
Green chilies 2
Onion    1 medium
Tomato 1 medium
Ginger   1"piece
Cumin seeds ½ tsp
Whole red chilies 2
Salt  ¾ tsp
Garam masala ½ tsp
Lemon juice to taste
Ghee/ butter  3 tbsp
To boil the greens:
Water
Salt ½ tsp
Sugar ¼ tsp
Method of preparation
Remove the thick stems of mustard and spinach leaves and wash them thoroughly. Do not discard the young and tender stems.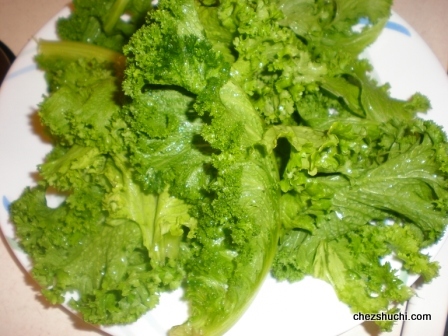 Mustard greens
Boil water in a saucepan. When water starts boiling add a little salt and ¼ tea spoon sugar (to maintain the green color). Blanch the mustard leaves in the hot water till tender. It takes about 5 minutes to boil the mustard leaves. Remove the mustard greens in the colander .
In the same water, boil spinach till they get tender. Transfer the mustard greens and spinach in the colander and let the boiled leaves cool down.
Remove the stem and wash the green chilies.
Make a coarse paste of boiled mustard leaves, spinach leaves and green chilies. Make sure the paste is coarse (do not overgrind).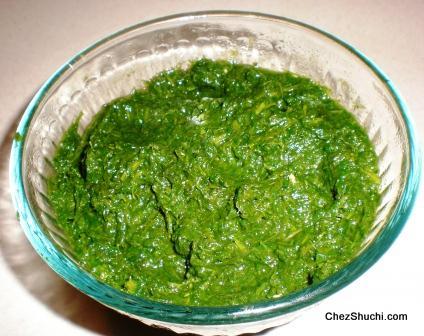 coarsely ground mustard and spinach
Peel , wash, and finely chop the onions. Peel , wash and finely chop the ginger. Wash, and finely chop the tomato.
Cut the paneer into 1 inch squares. Sauté Paneer in a non stick pan/wok with a little butter (takes a minute). Keep aside.
In the same wok, heat ghee. Add cumin seeds, when cumin changes the color add red chili. Fry for a few seconds and add chopped onions. Fry onions until they are transluscent (takes about 2-3 minutes). Add ginger. Fry for a few seconds and add chopped tomatoes. Fry until masala leaves the sides of the wok.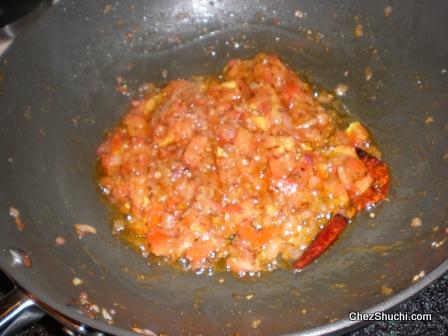 masala frying for saag paneer
Add the coarse paste of greens, and salt. Cook well for about 5 minutes.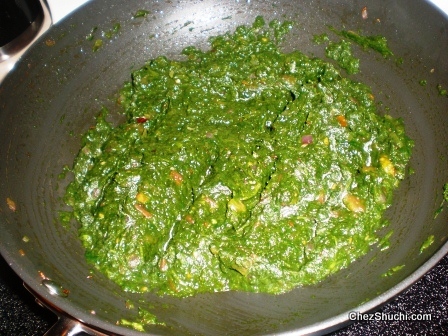 Saag is ready to serve
Add garam masala and cook for another minute.

Add sautéed paneer. Cook for 2 minutes. Now turn off the heat. Add lemon juice.
Delicious and healthy saag paneer is ready. Serve sag paneer with roti/ naan and rice.
Some Tips/ Suggestions:
If you do not eat onions make this saag without using onion , the saag tastes good even without onions.
Do not overcook the mustard and spinach, as overcooking will not only fade the color of the greens, but also affect the taste adversely.
Some Other Paneer Preparations
---
---