Paneer Kathi Rolls
हिन्दी में पढ़ें
Rolls/Wraps are very popular these days: These are easy to make and easy to serve single dish meals. I have used wheat flour to make the wraps. This is a easy to follow recipe of Paneer Kathi rolls . This dish is very healthy and tasty... it could be a good option for the lunch box, picnics, or a snack.....You can also improvise and fill whatever you like in your wraps, it could be kebabs, beans, veggies, etc...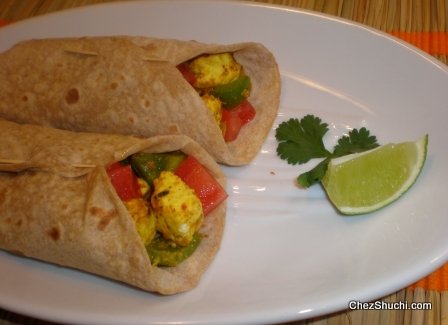 Ingredients

(Makes 6)
For dough:
Wheat flour 1 cup
Milk ½ cup
Salt ¼ tsp
For Filling:
Paneer 150 gms
Onion 1 medium
Green bell pepper big
Tomato 1 medium
For Marinade:
Yogurt(curds) 2 tbsp
Gram flour (besan) 1 tbsp
Ginger paste 1 tsp
Salt ¼ tsp
Red chili powder ¼ tsp
Turmeric powder ¼ tsp
Chaat masala ½ tsp
Garam masala ½ tsp
Kasoori methi (dried fenugreek leaves) ½ tsp
Oil   1 tbsp
Method of preparation For Dough
In a big bowl mix wheat flour and salt. Make a soft dough by adding a little lukewarm milk at a time. Cover the dough and leave it for 10 minutes.
Method of preparation For Filling
Cut paneer into ½ inch squares.
Peel off onions, wash, and cut into ½ inch squaress.
Wash green bell peppers(capscium), cut into halves. Remove the seeds and the rib, then cut into ½ inch squares.
Wash the tomato. Cut it into two halves. Remove the seeds and then cut into ½ inch squares.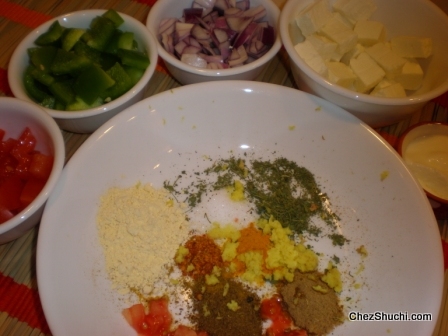 ingredients for the filling
In a bowl, take yogurt (curds/dahi), gram flour (besan), tomato seeds and juice, ginger paste, and all the spices. Mix well.
Now add paneer and bell pepper pieces in the marinade and mix well. Leave it on room temperature for 20 minutes.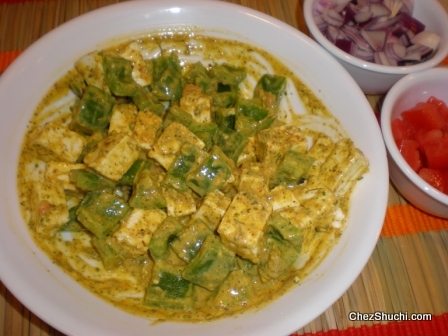 In the non stick wok, heat oil. Add onion pieces and fry until onion is translucent. It takes about 2 minutes to fry the onions.
Now add marinated paneer and bell peppers with any remaining marinade. Mix well and cook it for about 5 minutes on medium heat.
Add tomates. Fry for another minute. Paneer filling is ready.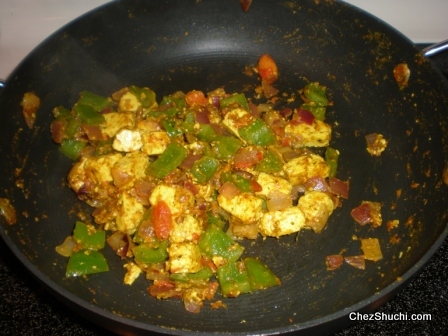 For Wraps
Make 6 small balls of the dough. Now roll the balls  with the help of little dry flour into a 6 inch circle.
Heat griddle (tawa) . Place the rolled circle on the griddle and cook it lightly from both the sides.
Repeat the process with all the dough balls.
To assemble the Paneer Kathi Roll
On a clean working surface place a roti/ chapati. At the center of the roti place about 2 spoons paneer filling. Fold the roti as shown below.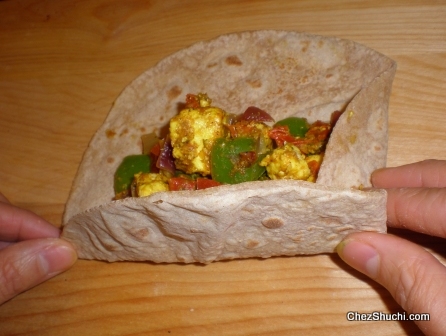 Now seal the top layer with a tooth pick so that the filling does not fall off. Warm the rolls on the hot griddle (tava).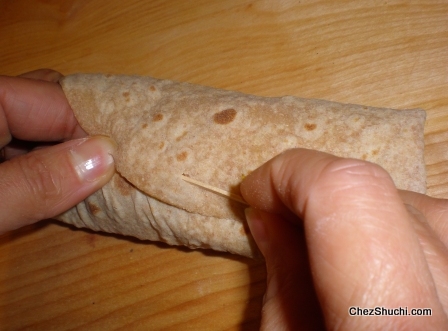 Delicious Paneer kathi rolls are ready.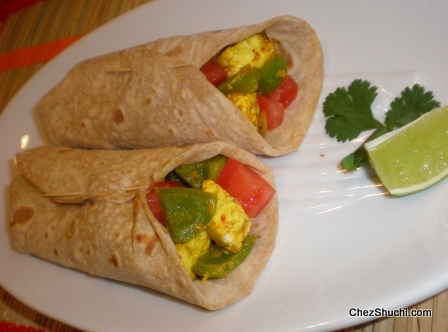 Some Tips / Suggestion :
You can also cut the wraps into an inch pieces to serve.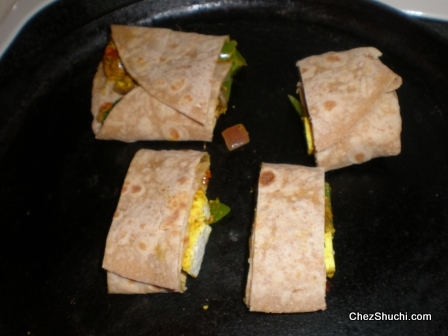 ---