Malai Kofta
हिन्दी में पढ़ें
Malai Kofta is one of the most popular vegetarian dish in America in the Indian restaurants. The word 'Kofte' has come from the Middle East, and these dishes have Mughlai influence. In India various vegetarian koftas are in vogue, because of a large vegetarian population. Koftas are delicious and rich delicacies. Vegetarian koftas can be made with vegetables, lentils beans etc. These koftas can be added in spicy curry, mild curry, green curry or some other curry of one's creation and taste.
This recipe is for the delicious Malai Kofta. Malai is a Hindi word for cream. These Koftas are made of Paneer (Indian cottage cheese) and potatoes and dipped in a rich curry of onion, tomato, khoya (evaporated milk), and cashew nuts with mild taste of spices. Malai kofta is one of the most popular festive dishes in our home. It is not hard to make malai kofta but it takes time to make it. So this festive season make malai kofta and please do share your valuable comments and suggestions. Happy cooking, Shuchi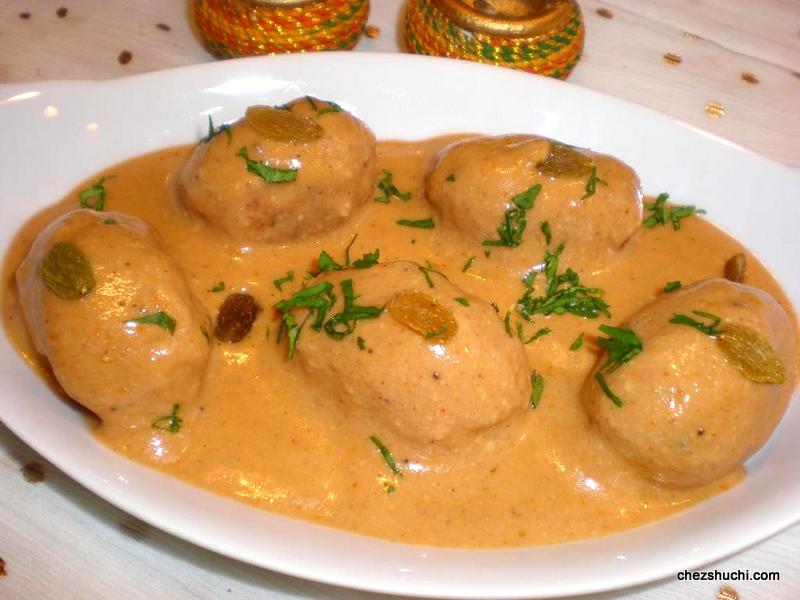 Preparation Time: 10 minutes
cooking time: 30 minutes
Approximately 500 calories in each serving
Ingredients for Kofte(serves 4)
Paneer (cottage cheese) 100 gms
Boiled potatoes 4 medium
Salt 1 tsp
Red chili powder ¼ tsp
Corn starch 1½ tbsp
Raisins 16
Chopped coriander leaves 1 tbsp
Oil for frying
Ingredients for Curry
Green chili    1-2
Onion   1 medium
Ginger    1 ½ inch piece
Tomato puree ½
cups
Red chili powder ½ tsp
Coriander powder 1 tsp
Salt   1 tsp
Garam masala 1 tsp
Cashew nuts ¼ cups
Khoya/ mawa ½ cups
Butter/ oil 2-3 tbsp
Chopped coriander leaves 1 tbsp
Water about 2 1/2 cups
Method of preparation for Kofte
Peel boiled potatoes and either mash them thoroughly or grate them.
Scramble the paneer (cottage cheese) well.
In a bowl take mashed potatoes, paneer, salt, chili powder, cashew powder and corn flour. Mix all the ingredients very well.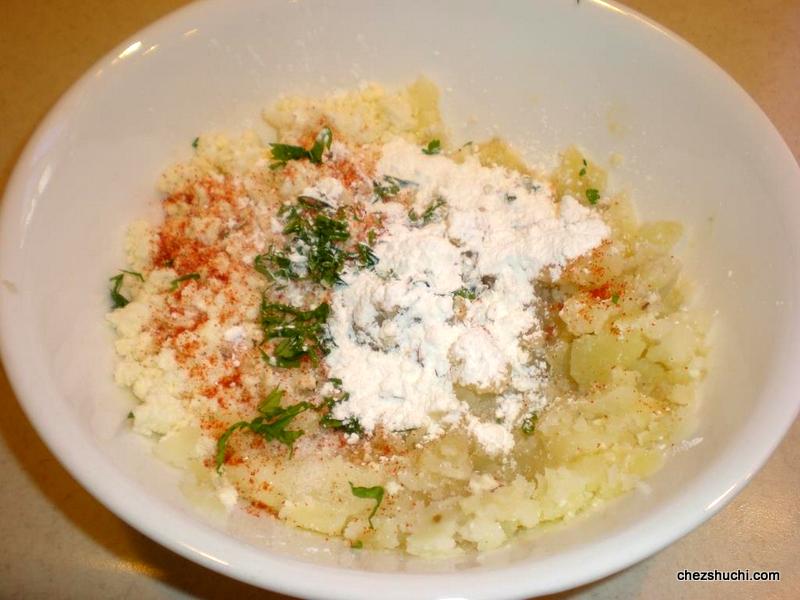 Divide the mixture into 16 portions. Make round balls. Take a ball and press it gently. Keep a raisin in the middle of the flattened round and bring the sides together to close the circle.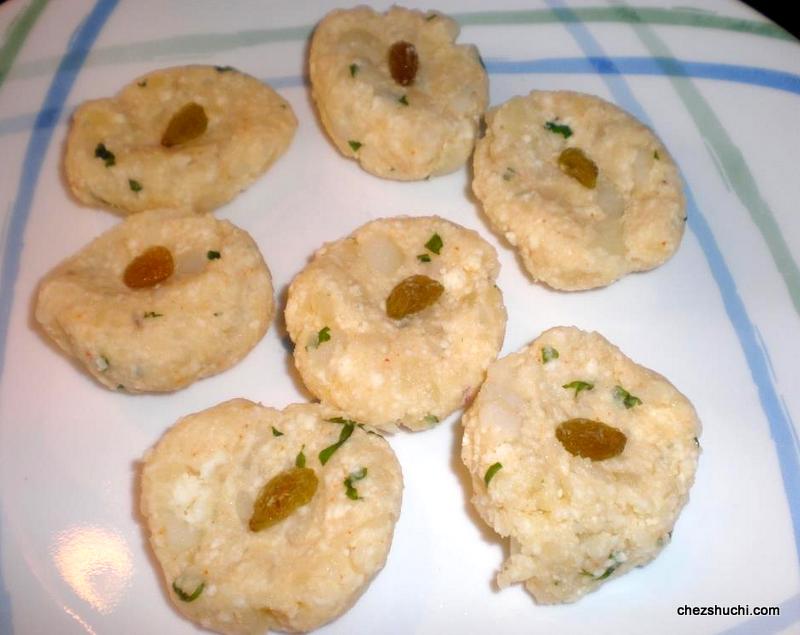 Repeat the process with all the balls. I make the kofta balls in an oval shape, you can also make them round or flat or any shape you want..
In the wok, heat oil. Deep fry the kofta balls on a medium heat until koftas are golden brown. It takes about 4-5 minutes to fry each round. If you are frying kofta for the first time, please fry one kofta and check it doesn't open in oil. If it is opening add a little more corn flour.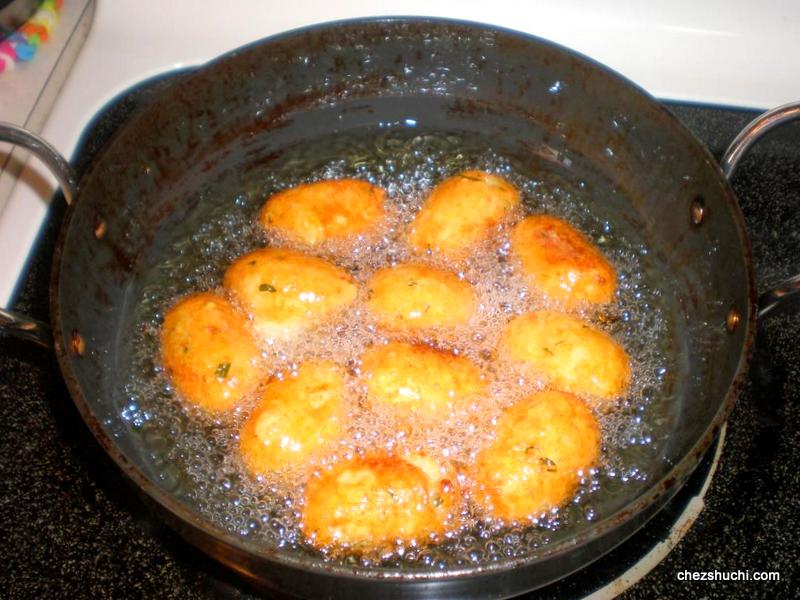 Take the koftas out onto the kitchen paper.
Reapeat the process of deep frying of remaining koftas.
Method of preparation for Curry
Peel and wash onion. Chop onion into an inch pieces. Peel, wash and chop ginger. Remove the thick stem of the green chili and wash the chili.
Soak cashew nuts in the warm water for 5 minutes. Make a fine paste of cashew nuts in the blender.
Heat 1 tbsp of oil/ butter in a wok. Fry onions for 5-6 minutes or till they are transcluent. Turn off the heat and let the onions cool down.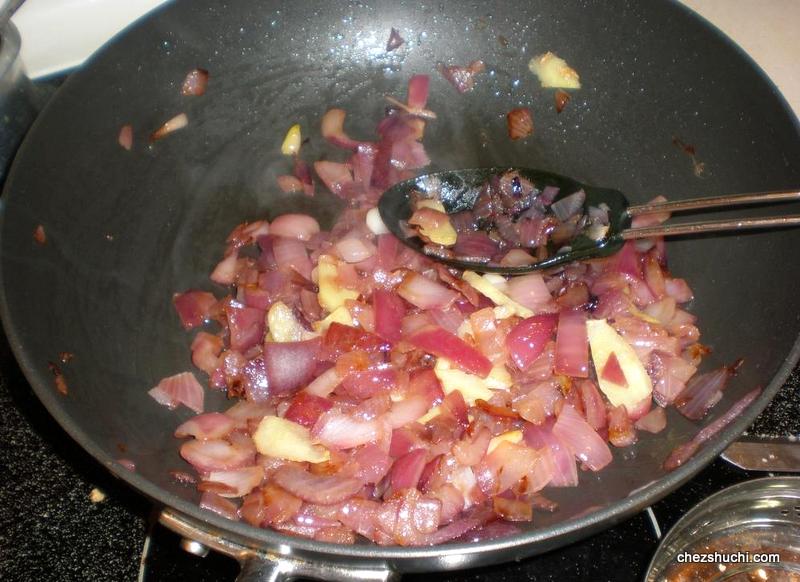 Make a fine paste of fried onion, ginger and green chili in the blender.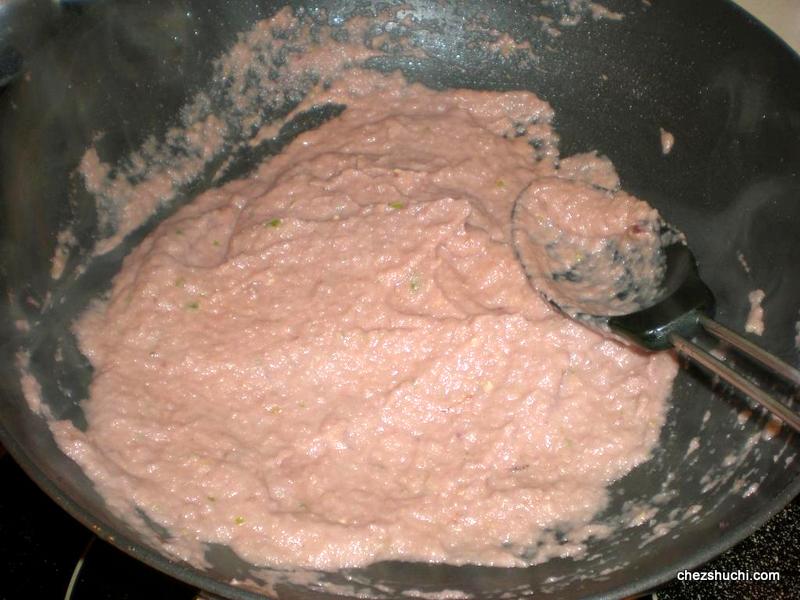 In the wok heat butter/ghee. Add the onion paste and fry till it leave the sides of the pan. It takes about 5 minutes to fry onion paste.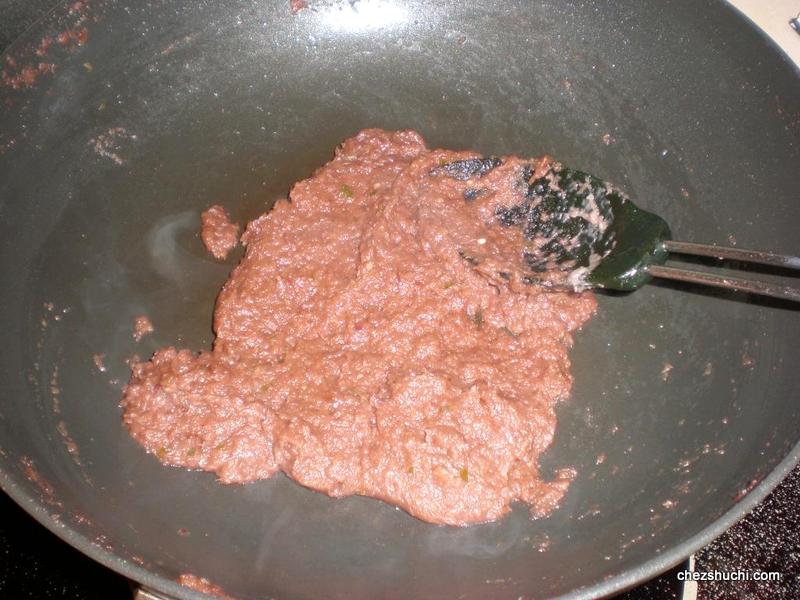 Add red chili powder, and coriander powder in the fried onion and fry for another minute.
Add tomato puree, salt and garam masala. Fry until masala leaves the sides of the pan.(takes 4-5 minutes).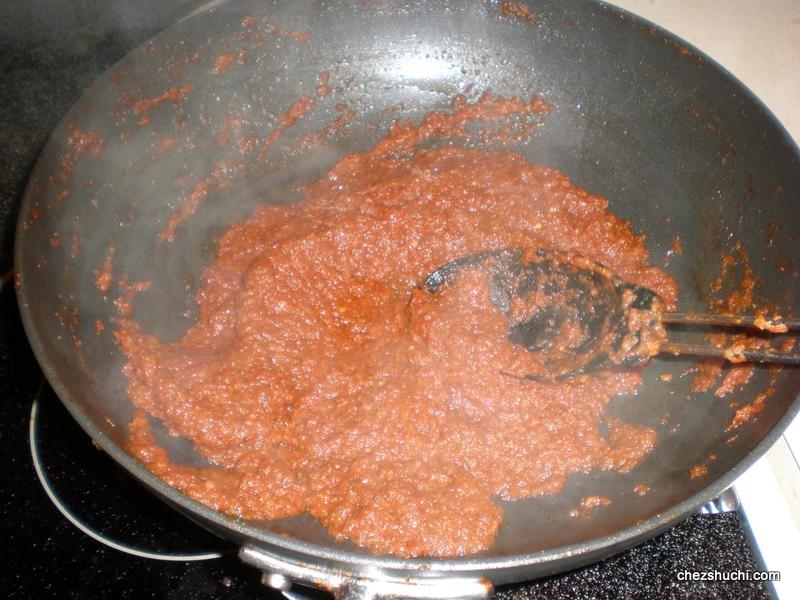 Add cashew paste and fry for a couple of minutes.
Grate/scramble the khoya. Mix in a cup of warm water. Make a smooth paste.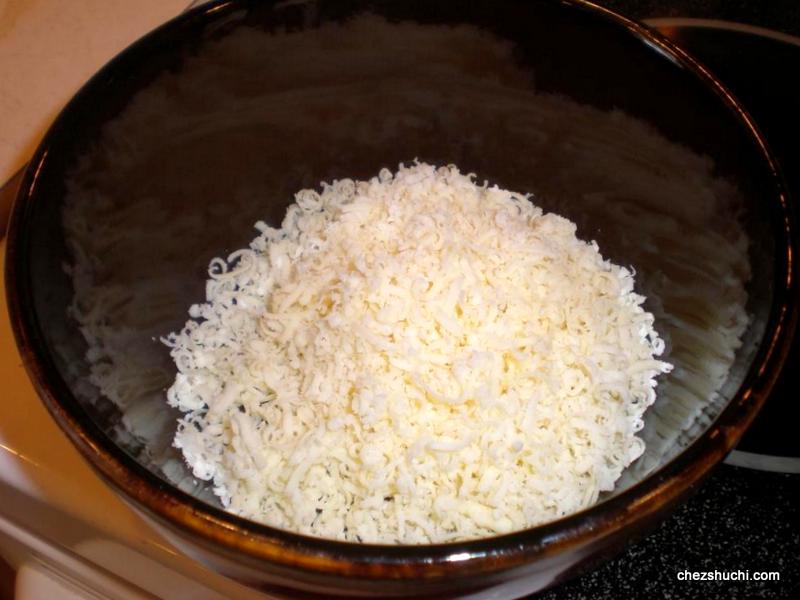 Add khoya paste in the fried masala and let it boil. Add more water if the curry is very thick. Take a boil and let it cook for a couple of minutes. Curry is ready, turn off the heat.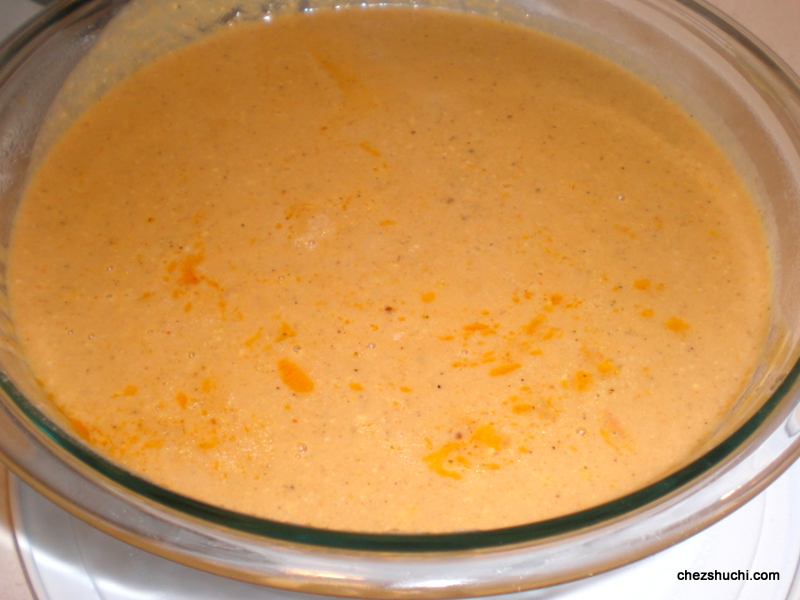 malai kofta curry
Arrange malai kofta in a serving dish. Pour curry onto the koftas at the time of serving.
Serve delicious and delicate Malai Kofta with the rotis/poori... ( Indian breads) of your choice .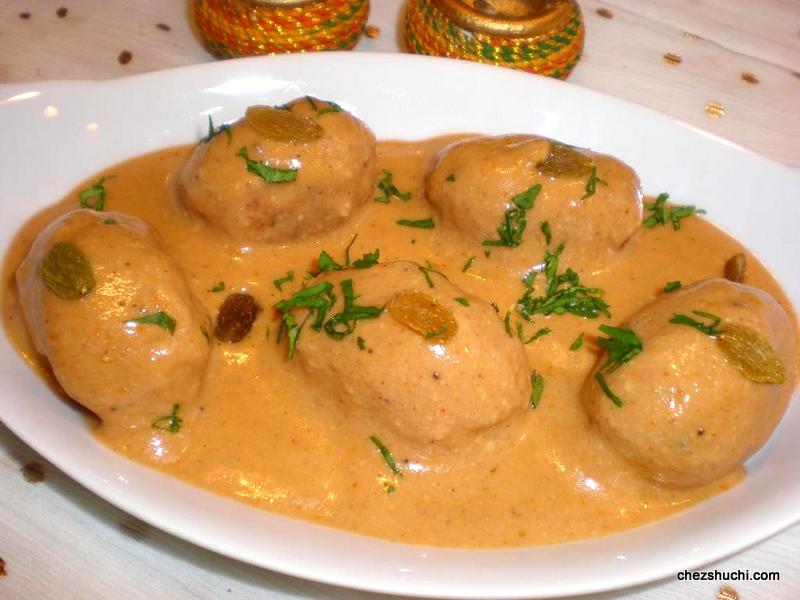 Some Tips and Suggestions:
Do not soak the koftas in the curry in advance, since malai koftas are very delicate and they will get mashed up in the curry.
If you do not find khoya in your area, boil one and a half cup of milk, reduce the heat and evaporate half of the milk. Use this freshly made khoya for the curry.
Arrange the koftas in the serving dish and then pour curry on top of the koftas.
You can also use cream instead of cashew paste.
I do not use turmeric in malai koftas curry but if you like orange colored curry add a pinch of turmeric.
---