हिन्दी में पढ़ें
Palak Paneer
Palak paneer is a very famous paneer dish. Paneer is an Indian cottage cheese prepared from fresh cow or buffalo milk. To prepare paneer, usually lemon juice/ vinegar/ citric acid / yogurt is added to boiling hot milk to separate the curds from the whey. Paneer is a good source of proteins, carbohydrates and calcium for vegetarians.
Palak is a Hindi word for spinach. Spinach has a high nutritional value and is extremely rich in antioxidants, folic acid, and vitamins. This is an easy to make delicious and healthy green curry. This mild curry also has onions, and tomato masala. You can replace paneer with tofu if you do not find paneer. Try this delicious Palak Paneer recipe and please do share your comments. Happy Cooking: Shuchi .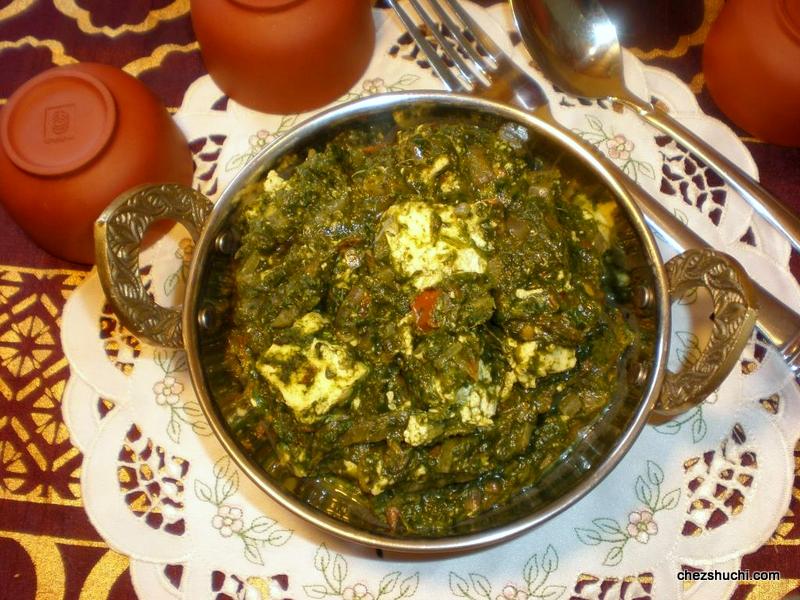 Ingredients ( serves 4)
Spinach 400 gms/ about 1 lbs
Paneer 250 gms
Onion    1 medium
Tomato 1 medium
Ginger   1½" piece
Green chilies   2
Cumin seeds ½ tsp
Bay leaf 1
Whole red chili 1
Salt 1½ tsp or  to taste
Garam masala  1 tsp
Lemon juice   2 tsp
Butter/ pure ghee  2 tbsp
Ingredients
Sugar ¼ tsp
Salt ½ tsp
Fresh cream 2-3 tbsp (optional)
Method of preparation:
Remove the thick stems of spinach leaves and wash spinach thoroughly.
Remove the stem and wash green chilies.
Peel off onion and ginger, chop them finely. Wash, and finely chop the tomato.
Boil 1 cup water in a pan with ¼ tea spoon salt and ¼ tea spoon sugar (to maintain the green color), boil the spinach leaves in the hot water for 2 min and then take them out, do it with all the leaves. Let the boiled leaves cool down.
Make a coarse paste of boiled spinach leaves and green chilies.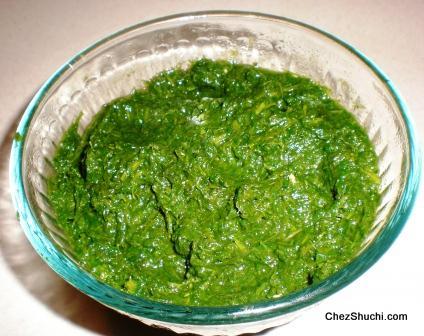 Cut the paneer into 1 inch squares.
In the wok heat ghee/ butter. Add cumin seeds, when cumin changes color, add bay leaves, and whole red chili. Fry for a few seconds.
Add chopped onions. Fry onions until they are transluscent (takes about 2-3 minutes). Add ginger. Fry for a few seconds.
Add chopped tomatoes. Mix well. Add salt and garam masala. Fry until masala leaves the sides of the wok.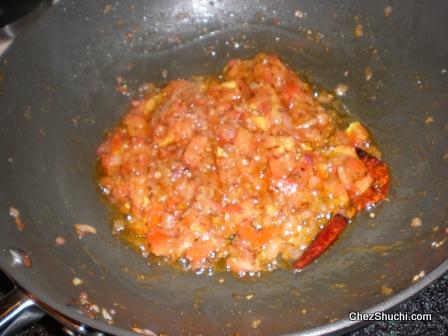 Add coarse spinach paste. Mix well with onion tomato masala. Cook for 7-8 mins.( If you want to add cream add in now)
Finally add paneer, and cook for 2 minutes. Turn off the heat. Add lemon juice as per taste.
Delicious Palak paneer is ready. Serve Palak paneer with roti, poori or naan or the Indian bread of your choice.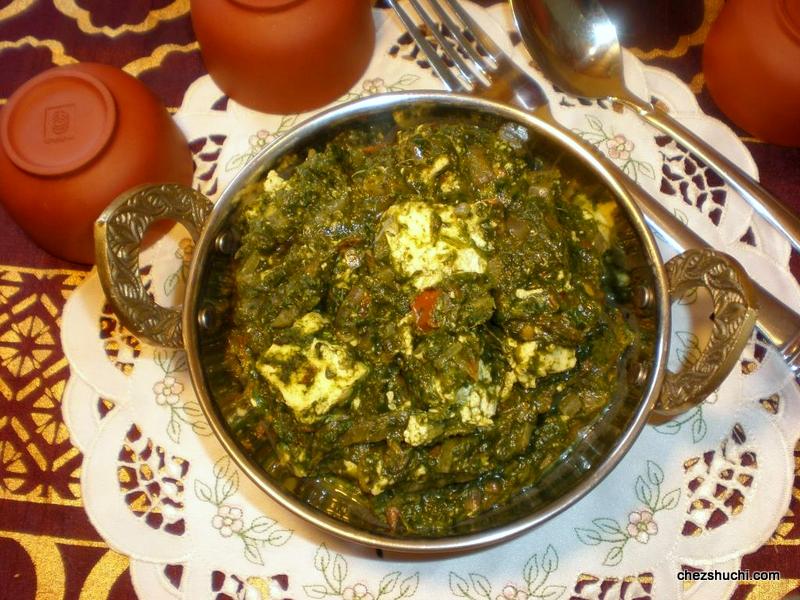 Some Tips/ Suggestions:
Do not overcook the spinach as overcooking will not only fade the color of the spinach but also affect the taste .
You can also sauté paneer in a very little ghee before adding it to the spinach curry.
Fresh cream can be added to get the rich taste of Palak Paneer like that in restaurants. I usually do not add cream as a I prefer light meal.
You can also make this curry Vaishnav. Remove onions from the recipe and follow the rest of the steps as suggested.
Some other spinach preparations-
---