Baby Spinach Salad
हिन्दी में पढ़ें
This salad is a good source of Vitamins, Minerals, Proteins and also dietary fibers. Baby spinach is a good source of vitamin A, C, and B6 and they are also rich in Iron, folate, and calcium. This is an easy to make delicious salad. To enchance the tase of this healthy salad, we have added balsamic vinaigrette dressing.... Give this salad a trial ; belive me you will be tempted to make it again and again......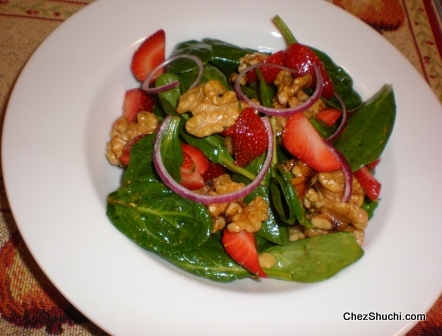 Ingredients

(serves 4)
Baby spinach 100 gms
Strawberries 1 cup
Walnuts ½ cup
For Dressing
Olive oil 2 tbsp
Balsamic vinegar 1 tbsp
Brown sugar 1 tsp
Salt ¼ tsp
Freshly grounded black pepper ¼- ½ tsp
Lemon juice 1 tsp
For Garnishing
Red onion rings ( optional)
Method of preparation
Remove the thick stem and wash the baby spinach thoroughly. Pat dry the spinach leaves on kitchen paper.
Hull, wash and then cut the strawberries into quarters.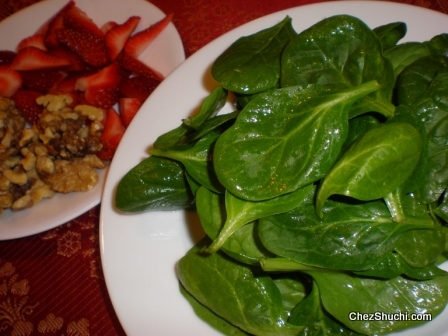 soaked beans salad ingredients
In a bowl take balsamic (red) vinegar, brown sugar, olive oil, salt, black pepper, and lemon juice. Mix them well. This dressing is called as vinaigrette.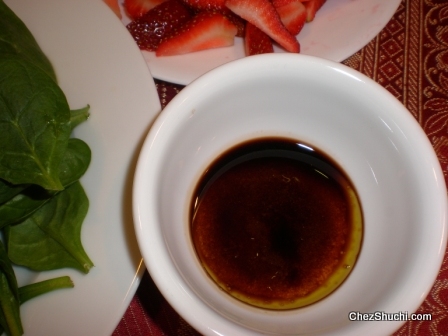 dressing ingredients in a bowl
In a salad bowl take the baby spinach, strawberry quarters, and walnuts. Pour vinaigrette on top of the spinach, strawberries, and walnuts.
Toss gently.
Delicious and healthy spinach salad is ready to serve. You can garnish the salad with red onion rings...
Some Tips/ Suggestions :
In case if you do not find baby spinach use lettuce leaves. You can also use some other berries as per taste.
---