हिन्दी में पढ़ें
Palak Paratha
(Spinach Paratha)
Spinach is a good source of Zinc, Calcium, Iron, and is also rich in dietary Fiber, Protein, Vitamin A, Vitamin C, Folate, and Magnesium etc. Spinach is easily available all over the world. Today I am sharing a highly nutritious and delicious recipe of spinach paratha. Paratha is a pan fried Indian bread. This is a very good way to increase greens in your kid's food as the color actually attracts them.....Please do not forget to share your experience after making this delicious paratha!!!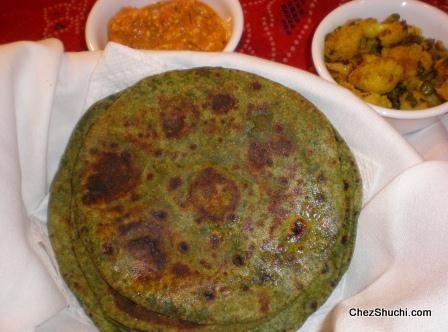 Ingredients
(makes 8 Parathas)
Wheat flour 1 cup
Salt ¼ tsp
Flour to roll the parathas : 2 tbsp in a plate
Oil to brush the top about 2 tbsp
To Boil the Spinach
Spinach about 150-200 gms
Sugar ¼ tsp
Salt ¼ tsp
Water 1 cup
Method of preparation:
Remove the thick stems of spinach leaves and wash the leaves thoroughly.
Remove the stem and wash the green chili.
Boil 1 cup water in a pan with ¼ tea spoon salt and ¼ tea spoon sugar (to maintain the green color). Add spinach leaves in the hot water and boil it for a couple of minutes. Strain the spinach. Let the boiled leaves cool down.
Make a fine paste of boiled spinach leaves and green chilies.
In a big bowl take flour, salt, and spinach paste. Mix all the ingredients well, and make a medium stiff dough. Note - you might need water to make dough depending on how thick your spinach paste is - I did not add any water to make dough .
Smoothen the dough by using a little oil..

Make 8 small rounds of the dough.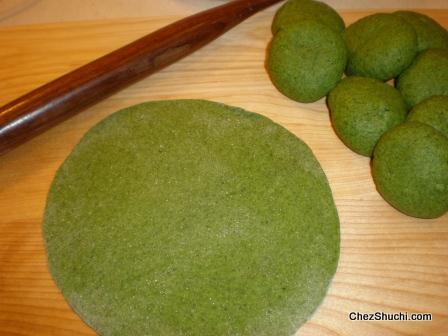 Heat the griddle or tawa. While the griddle is heating up, take a ball and roll it with the help of a little dry flour into a 2 inch circle. Brush the inner layer with a little oil and close the circle into a ball again. Now roll this ball by dusting a little dry flour into a 5 inch circle.

Place the rolled circle (paratha) onto the medium hot griddle. Turn it over (after about 15-20 seconds) when you see some red spots on the paratha.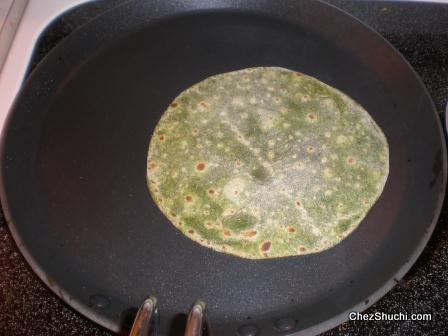 Now cook the paratha from the other side, and brush the top side of the paratha with oil. Turn the side, and press the sides with  ladle, paratha will puff up. Cook from the other side

.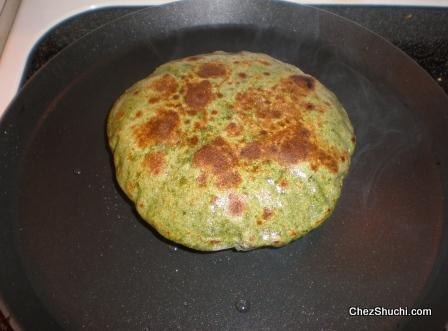 Repeat the process with all the balls.
Serve hot palak paratha with your favorite vegetable (sabji).
Some Tips/ Suggestions:
Make a fine spinach paste for smooth parathas.
You can also make delicious wraps by filling your kids favorite stuff like paneer, chick peas in this paratha.
Spinach are rich in Sodium content so please cut the amout of salt in the dough.
---
Some Other Breads you might like:
---