Matar ki Kachauri
हिन्दी में पढ़ें
Matar ki Kachauri (green peas filled fried Indian bread) - This is a East Indian delicay - In Bangla it is known as Korai shutir Kauchori. This kachauri is stuffed with sautéed fresh green peas. Traditionally these kachauri's are made with all purpose flour (maida) but I have used whole wheat flour instead to make a healthier version…..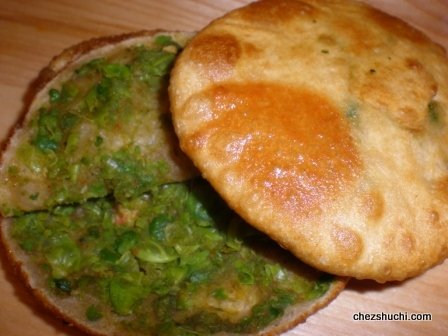 Ingredients for stuffing

(makes 12-14 Kachauris)
Green peas 1½ cup
Ginger ½  inch piece
Green chili 1
Cumin seeds ½ tsp
Asafotedia  a  pinch 
Salt     ½ tsp
Red chili powder ¼ tsp 
Chaat masala ¼ tsp 
Garam masala ¼ tsp 
Oil    1 tbsp

Ingredients for dough
Wheat flour 1 cup
Salt ¼ tsp 
Oil 1 tbsp + for deep frying
Water about  ½

cup 

to make dough    
Method of preparation
For Stuffing

Wash the green peas. Boil the green peas in a cup of water with a little bit of salt and sugar till they get tender. The salt and sugar maintains the green color of peas.
Remove the stem of green chili, wash, and finely chop it. Peel off ginger,wash, and finely chop it too.
Leave the boiled peas on the sieve to remove the extra water.
In a non stick wok heat oil, add cumin seeds. When seeds crackle, add asafoetida powder. Now add chopped green chilies and ginger and fry for few seconds.
Now add boiled peas and all other spices and salt. Mix all the ingredients well and mash the peas while frying with the spices. Fry until the peas are dry and well mashed. It takes about 5-7 minutes to fry the peas. Turn off the heat and keep the filling aside.
green peas filling
For Dough
Take flour, salt and, 1 tbsp oil, and mix them well. Add a little water at a time and make a medium soft dough. Cover the dough and leave it for 10 minutes.
Make 10 small rounds of the dough. Roll the balls in about 2 inch circle. Fill 1 spoon of the stuffing at the center of the rolled ball. Now bring the sides together as shown in the picture to close the circle. We have to remove the extra dough from the top of the ball. This will help in spreading the filling evenly.
peas filling on rolled dough closing of peas filled balls
Now roll the balls gently in about 2 and a half inch circle with the help of a little oil.
the top extar dough is ready to take out rolled kachaudi
Heat oil in a wok and deep fry the kachuri on medium heat till golden red. Take the kachauri out onto kitchen paper.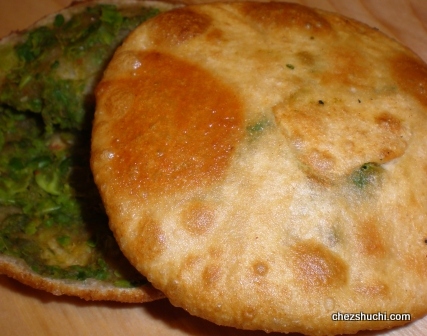 Traditionally in Bengal these kachauris are served with Dum Aloo. I usually serve kachauri with mild curry . You can serve the kachauri with your favorite curry!
Serve hot matar ki Kachauri's with Aloo tamatar ka rasa and raita or the vegetables of your taste..
---