Gobhi Paratha (Cauliflower stuffed Bread)
हिन्दी में पढ़ें
This is a North Indian delicacy. Gobhi is known as cauliflower in English. Gobhi paratha is a pan fried stuffed Indian bread. This can also be a good option for lunch box, picnics etc. This is a delicious preparation and can be made for breakfast or for meal with yogurt /some curry preparation…….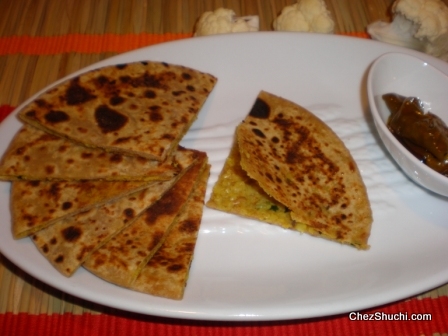 Ingredients

(makes 8 Parathas)
For Stuffing:
Cauliflower 1 medium
Green chilies 2
Ginger 1 inch piece
Cumin ½ tsp
Asafoetida 1 pinch
Turmeric 2 pinches
Salt ¾ tsp
Red chili powder ¼ tsp
Fenugreek powder ¼ tsp
Chaat masala ½ tsp
Chopped coriander leaves 1 tbsp
Oil   2 tsp
For Dough:
Wheat flour  2 cups
Salt ¼ tsp
Water to make dough, about 1¼cup
Flour to roll the parathas : 2 tbsp in a plate
Ghee/butter/oil   to fry, about 3-4 tbsp  
Method of preparation
For Stuffing:
Wash, and remove the thick edges of the cauliflower, and pat dry on kitchen towel. Now grate the cauliflower. In 1 medium cauliflower usually we get about 4-5 cups grated cauliflower.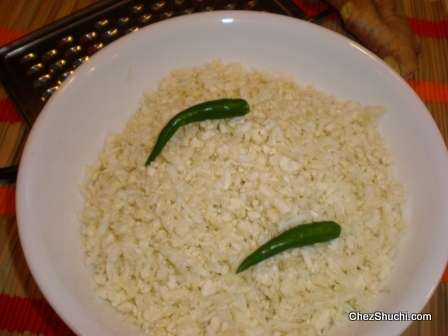 grated cauliflower
Wash, peel off, and grate the ginger. Wash, remove the stem and finely chop the green chilies.
In a non stick wok heat oil, add cumin seeds. When seeds crackle, add asafoetida powder. Now add chopped green chilies and ginger, and fry for few seconds.
Now add grated cauliflower and turmeric. Mix all the ingredients. Fry it for a minute. Now add salt, red chili powder, and fenugreek powder. Mix well and cover the lid. Cook until cauliflower is tender. It takes about 8-10 minutes to cook the cauliflower.
Now add chaat masala, and chopped coriander leaves. Mix well and fry for a couple of minutes. Turn off the heat and keep the filling aside.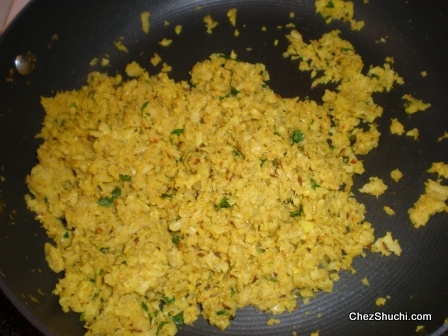 cauliflower filling is ready
For Dough:
In a big bowl sift flour and salt. Make a soft dough by adding little water at a time. Cover the dough and leave it for 10-15 minutes.
Divide the dough into 7 portions and make small rounds of these portions. (When you roll out the parathas and stuff them, you will have enough left-over dough from crimpings to make the eighth paratha)
Making of Paratha
Take a ball, press it gently . Dust some dry flour and roll it into about a 3 inch disc. Brush the inner layer with very little oil, and put about one and half tbsp stuffing at the center of the rolled circle.
filling in the center disc bringing the sides together
Now bring the sides together as shown in the following picture to close the circle. We have to remove the extra dough from the top of the ball . This will help in spreading the filling evenly.
Now roll this ball by dusting dry flour into a 5 inch circle. Stuffed parathas are usually rolled thicker than the plain ones.
take the extra top out rolled stuffed paratha
Heat the griddle/ tawa on medium heat. Place the rolled circle to the griddle. Turn it over after about 20 seconds. Now cook from the other side. Brush the top side of the paratha with oil and turn the side. Press the sides with ladle, paratha may puff up. Stuffed parathas also puff up like the plain ones if filling is spread evenly. It is ok if they do not puff up. Cook from the other side too.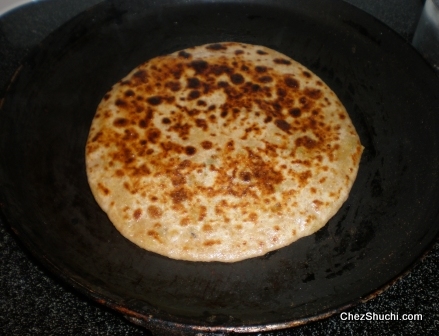 Repeat the process with all the balls.
The dough that we have taken out in step 2 can be mixed together to make eighth paratha .
Yummy Gobhi Parathas are ready.
Serve hot and crisp paratha with plain yogurt/curd and pickle. You can also serve these paratha with aloo tamatar ka rasa.
Butter can be served too with the paratha if you like.
Some tips
While one paratha is cooking on the griddle you can prepare the other one. And repeat the process.
Dough can also be made with milk instead of water.  
Dry flour to roll the roti or paratha can be stored in  a round shape container, if you make them in regular basis.
---
---