हिन्दी में पढ़ें
Methi Paneer Paratha
Methi is a Hindi word for Fenugreek. Fenugreek is an annual herb with a lot of medicinal values. Fenugreek leaves are rich in magnesium, iron, calcium etc. This recipe is for pan fried Indian breads with fenugreek and paneer stuffing. Methi Paneer paratha is perfectly fine for Diabetics as well. This is a healthy preparation and is a delight, especially in winters when fresh fenugreek leaves are available in abundance in the market. This is a complete dish, and can be served with plain yogurt or pickles of your taste.....Hope you like it!! Please share your comments....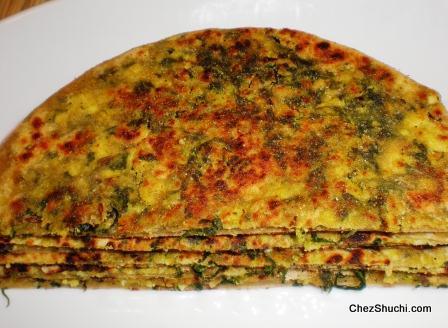 Ingredients
(makes 8 parathas)
For Dough:
1½ cups wheat flour 
about ¾ cup water, to make dough 
For Stuffing:
2 tsp oil
¾ tsp cumin seeds
2 cups methi (fenugreek leaves), finely chopped
Green chilies 1-2, finely chopped
1½ cups Paneer, mashed
¾ tsp salt
½ tsp red chili powder
½ tsp chaat masala
a little bit garam masala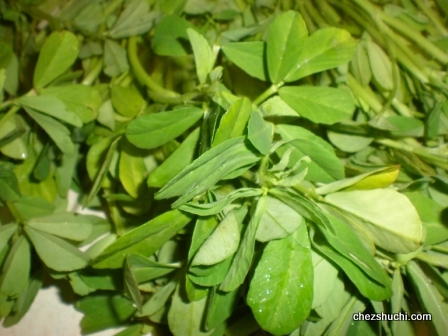 For Rolling:
Flour to roll the parathas : 2-4 tbsp in a plate 
Ghee/butter/oil   to brush the paratha, about 2-3 tbsp  
Method of preparation for Dough:
Take flour in a big bowl. Make a soft dough by adding little water at a time. Cover the dough and leave it for 10-15 minutes.

Divide the dough into 8 portions and make small rounds of these portions.
Method of preparation for Stuffing:
Heat oil in the wok.on medium heat. Add cumin seeds, when seeds crackle add fenugreek leaves. Fry for a couple of minutes.
Add chopped green chilies. Fry again for a minute.
Add mashed paneer, salt, red chili powder, chaat masala, and garam masala. Fry for a couple of minutes. Turn off the heat.
Set aside the methi paneer stuffing to cool down. Divide the stuffing into 8 portions.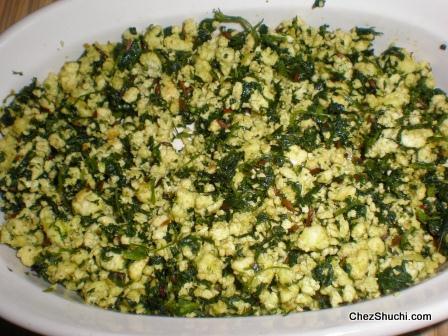 Method of preparation for Parathas:
Take a ball of dough and roll it with help of dry flour in about a 3 inch circle. Brush the inner layer with very little oil, and put 1 portion of paneer stuffing at the center of the rolled ball. Now bring the sides together and close the circle. Roll this ball by dusting a little flour into a 5-6 inch circle. Stuffed parathas are usually rolled thicker than the plain ones.
Heat the griddle/ tawa on medium heat. Grease the bottom. Place the rolled circle (paratha) to the medium hot griddle. Turn it over when you see some red spots on the paratha, Now cook from the other side. Brush the top side of the paratha with oil and turn the side. Press the sides with  ladle, paratha will puff up. Cook from the other side (takes about one and half minute to cook a stuffed paratha).
Repeat the process with all the balls.
Yummy methi paneer Parathas are ready. Serve hot methi paneer paratha with plain yogurt/curd and/ or pickle/ chutney of your taste.
Some Tips/ Suggestions:
You can aslo serve this paratha with butter.
---