Aloo Paratha
हिन्दी में पढ़ें
This potato-stuffed bread is a very popular dish throughout North India. It is a staple diet for weekend brunches, and is relished by all. When I make aloo paratha, I get to hear "One More!!" all the time.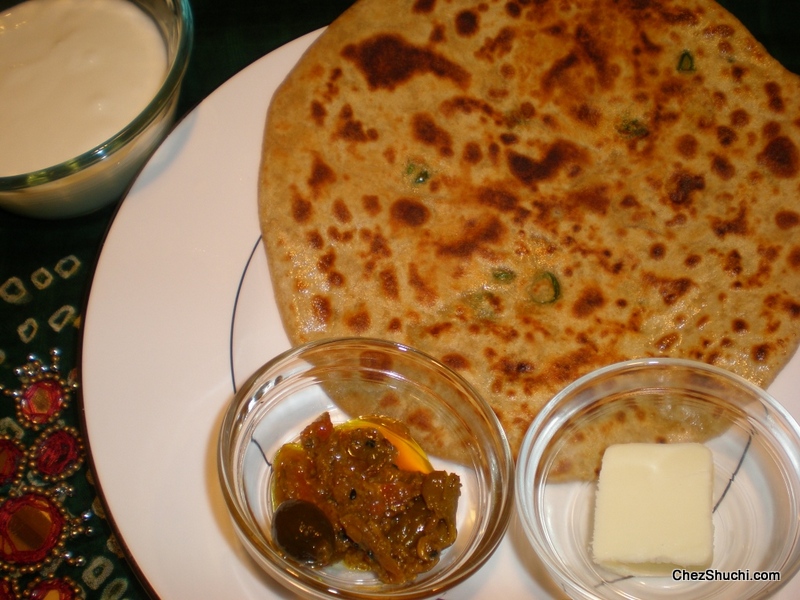 Ingredients

(makes 10 Parathas)
For Dough:
Whole wheat flour  2 cups
Flour to roll the parathas : 2 tbsp
Water  to make dough   
For Stuffing:
Boiled potatoes 5 medium
Salt ¾ tsp
Red chili powder ½ tsp
Chaat masala ½ tsp
Green chilies 2-3, finely chopped
Chopped coriander leaves 1 tbsp
Ghee/butter/oil   to brush the top about 2-3 tbsp
Method of preparation


For Dough:
Take flour in a big bowl. Make a soft dough by adding little water at a time. Cover the dough and leave it for 10-15 minutes.

Divide the dough into ten portions and form small balls.
For Stuffing:
Peel off the potatoes. Mash the potatoes thoroughly.
Mix the salt, red chili powder, chaat masala, chopped green chilies and chopped coriander leaves with the mashed potatoes.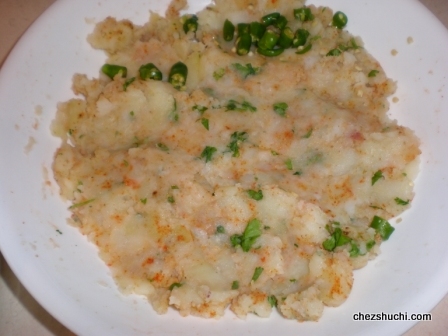 To make the paratha, roll a piece of dough into a disk, about 3 inches in diameter, using a lightly fluored surface to prevent sticking. Brush the top layer with very little oil, and place a ball of potato stuffing (about 1½ tbsp) in the center of the disk. Now wrap the dough around the mixture. Bring the sides together as shown in the picture to close the ball. We have to remove the extra dough from the top of the ball. This will help in spreading the filling evenly. Flatten the ball into a disk. Dip the stuffed disk into fluor and and roll the disk out into a 5-6 inch circle. Stuffed parathas are usually rolled thicker than the plain ones.
Heat the griddle/ tawa on medium heat. Place the rolled circle (paratha) on the griddle. Turn it over when you see some red spots and cook the other side. Brush the top side of the paratha with ghee/oil and flip it again. Press the sides with a ladle. The paratha will puff up. (It takes about 1½ minutes to fry a stuffed paratha).
Repeat the process with all the balls.
The dough that we have taken out in step 3 can be mixed together to make one more paratha !
Yummy Aloo Parathas are ready.
Serve hot aloo paratha with plain yogurt/ curd and pickle.
Butter can be served too with the paratha if you like.
---