हिन्दी में पढ़ें
Matar Paneer
Matar Paneer is a well-known green pea (matar) and deep fried paneer (cottage cheese) delicacy from North India. This is a spicy and rich curry can be served with any Indian bread or even rice. Traditionally paneer is deep fried for this dish but you can sauté paneer over fried if you have any issues with fried food or you want to cut the calories. This is a very delicious paneer dish. So let's make this yummy dish and as always please do share your comments...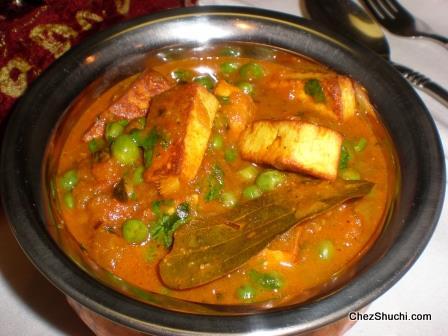 Ingredients (serves 4-5)
Paneer   250 gms
Green peas 1 cup 
Onion 1 big
Ginger 1 " piece
Green chilies 2
Bay leaves 2
Tomato 2 big
Salt 1 ½ tsp or to taste
Red chili powder ½ tsp
Garam masala 1 tsp
Coriander powder 2 tsp
Turmeric powder ¼ tsp
Kasoori methi ¼ tsp (dried fenugreek leaves)
Chopped coriander leaves 2 tbsp
Ghee/oil 2-3 tbsp
Oil to deep fry paneer
Method of preparation:
Cut paneer into an 1 inch pieces or in the desired shape.
In the wok heat oil, Deep fry paneer on medium heat until golden. Take out paneer onto the kitchen paper. Keep aside.
Peel, wash and finely chop the onion. Remove the skin of ginger, wash and finely chop it. Remove the stem of green chilies, wash and finely cho the chilies.
Wash and finely chop the tomatoes.
Boil green peas for a couple of minutes, remove the water and keep aside.
Heat ghee in a pan. Add bay leaves and fry for a few seconds. Add chopped onion and fry on medium heat until onions turn golden brown.
Add chopped ginger and green chilies. Fry for a few seconds.
Add chopped tomatoes and all the spices. Fry until the tomatoes are well cooked.
Now add 1½ cup of water and boil the curry for 5 minutes.
Add boiled peas.Cook for 2 minutes. Finally add sauté paneer and cook for a couple of minutes. Turn of the heat.
Matar paneer is ready. Garnish with chopped coriander leaves.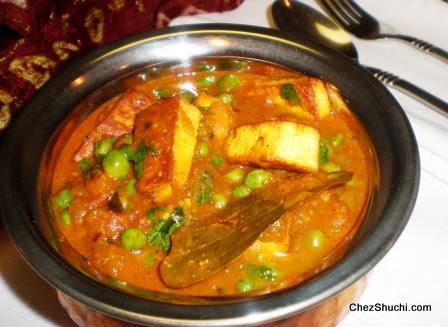 Serve with Rotis/butter naan or with lachcha Paratha. You can also serve plain basmati rice with this spicy curry.
Some Tips/ Suggestions:
I do not use garlic in my cooking but if you eat garlic add chopped garlic with onions..

You can also add a hint of Kitchen King Masala to increase the flavor.
I like to add a hint of sugar in rich curries as it enhances the flavor of rich curries.
Kasoori methi is a key ingredient in this curry. Kasoori methi is dried methi (fenugreek) leaves. It can easily be found in Indian/ Asian grocery stores. Rub Kasoori methi in between your fingers to crush them. Add in masala frying as directed.
To make the milder curry cut the amount of green chilies.
You can also use sauted paneer Insted of deep fried.
Add a pinch of salt and little bit of sugar when you boil the peas, it helps to maintain the green color of peas.
---
Some Other Paneer Preparations
---