Lachcha Paratha
हिन्दी में पढ़ें
Lachcha Paratha is a Mughalai delicacy. Lachcha (plural- lachche) is a Hindi word, means group of long strands. So as the name shows there are strands within circle in this paratha. This delicious Indian bread is made with Whole Wheat flour. Lachcha parathas can be served with any lentil preparation/curry preparation…….
Ingredients

(makes 6 Parathas)
Wheat flour  2 cups
Salt ¼ tsp
Milk to make dough, about 1-1 ¼ cup
Flour to roll the parathas : 2 tbsp in a plate

Ghee/butter about 3 tbsp  
I have used milk to make a soft dough.
Method of preparation
Take flour and salt in a big bowl. Make a medium soft dough by adding warm milk, little by little. Knead the dough back and forth for 5-7 minutes; cover the dough and leave it for about 30 minutes. Tip- you can also use half milk and half water to make the dough.
Divide the dough into 6 portions, make nice rounds of the dough.
Take a dough ball and roll it with the help of dry flour into a thin, big circle.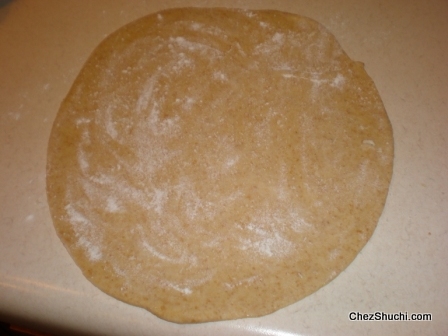 rolled bread, then ghee is applied evenly and dry flour is sprinkled
Now spread a thin layer of ghee on the rolled circle and dust dry flour on top of that.
Now from the side start folding it into about half inch thick folds - repeatedly inside and outside as shown in the following photo.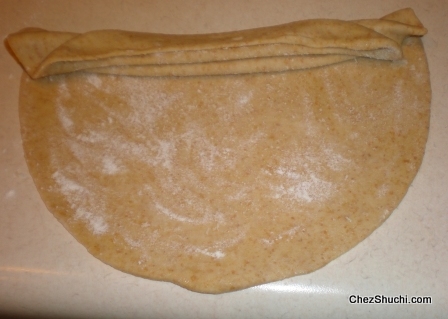 strip folding
Apply ghee all over on the strip and sprinkle some dry flour . Now roll the strip from one side, rolling to the other end, so as to make a circle, as shown in the following photos.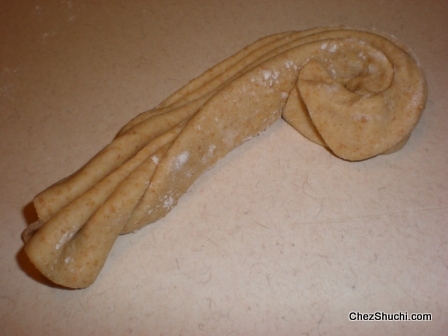 strip folding
Now the circle will look like the picture below. there are lots of circles in the main cirle.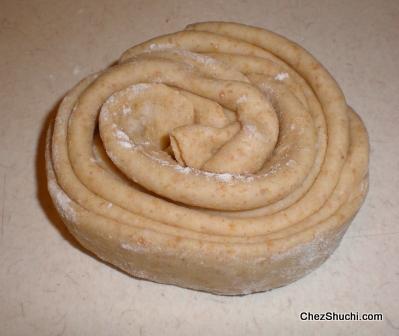 New circle with lots of other circles
Now press the dough gently. Tip- Do not press the circle very hard otherwise the circles will mix up...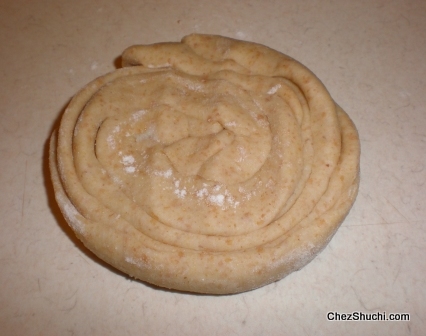 gently pressed circle
Now roll this ball by dusting a little dry flour into about a 5 inch circle. Roll gently, do not put pressure on the rolling process so the circles will not mix up and will open clearly after frying it. Lachcha parathas are usually rolled thicker than the plain ones .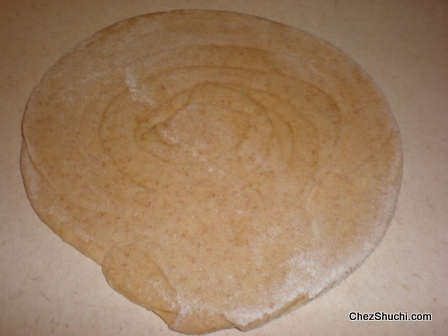 Rolled lachcha parathah
Heat the griddle/ tawa on medium to low heat. Place the rolled circle (paratha) on the griddle. Turn it over after about 30 seconds. Paratha will look like the following picture.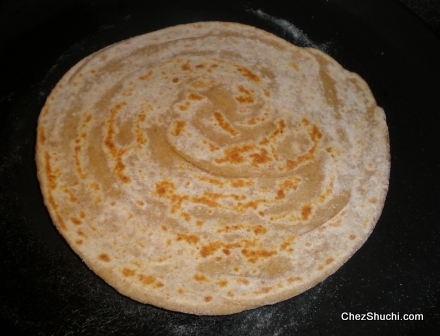 paratha on the griddle
Now cook from the other side. Brush the top side of the paratha with ghee and turn the side. Press the sides with ladle. Cook from the other side.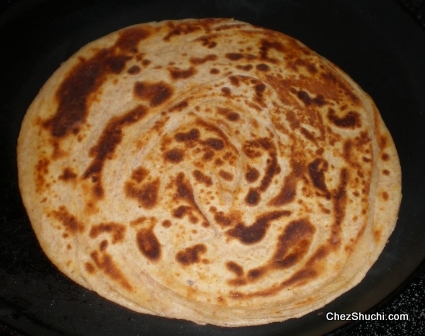 lachcha paratha is reay
Delicious Lachcha Paratha is ready to serve. Crush it gently before serving.
Serve hot and crisp paratha with your favorite curry preparation.
Some tips
While one paratha is cooking on the griddle you can prepare the other one. And repeat the process.
Dough should be well knead and soft in order to make nice circles in the lachcha paratha.
Dry flour to roll the roti or paratha can be stored in  a round shape container, if you make them in regular basis.
There is another variety of Lachcha paratha called as Kerala parotta (or Malabar Parotta) made with refined flour. I will post this recipe very soon.

---