हिन्दी में पढ़ें
Healthy Idlis
Idlis are steam cooked savory cakes. These healthy and delectable idlis are made with oat, semolina, carrots, yogurt, and raisins, and have been seasoned with mustard seeds and curry leaves. A very dear friend of mine shared this recipe over the phone and advised me to try it. I wasn't very sure how kids will react with but to my surprise the idlies turned out wonderfully soft and kids just relished them....You can make changes in the recipe as per your need. Please do share your comments about these idlis...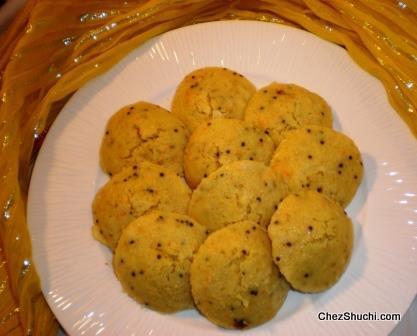 Ingredients (makes 16 idlies)
½ cup old fashioned rolled oats
½ cup semolina (sooji)
1 medium carrot (or more as needed)
1 cup yogurt/curds
1 tbsp raisins(optional)
 ½ tsp salt
Fruit salt (Eno / Alka-Seltzer) 1 tsp
Water as needed
2 tsp oil
½ tsp mustard seeds
½ tsp sesame seeds
4-5 curry leaves
1 whole red chili, chopped (optional)
Special Utencil

In this stand 16 idlies can be made at a time.
This stand fits in pressure cooker.
In India, microwaveable Idli stands can also be found easily.
---
Method of preparation:
Dry roast the old fashioned oats for a couple of minutes. Grind them coarsely in the grinder.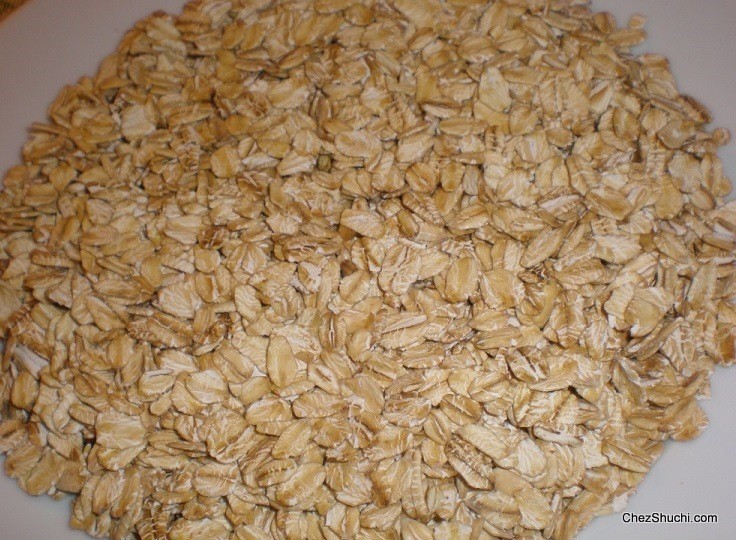 Peel, wash and grate the carrots. Use a fine grater to grate the carrots.
Wash the raisins thoroughly if using.
Grease the idli stand. Keep aside.
In a bowl take ground oats, semolina, salt, and yogurt (curd). Mix well all the ingredients. Add a little water if required to make a thick batter. Whisk the batter for a couple of minutes to get a smooth consistency.Leave the batter for 10 minutes.
Add grated carrots and raisins mix well. Now check the consistency of the batter - it should be easy to pour. If needed add a little water.
Heat a small pan. Add oil. When oil is warm, add mustard seeds,and curry leaves. Add

sesame seeds

. You can also add chopped dry red chili at this point. Turn off the heat.
Pour this tempering onto the idli batter. Mix well.
Boil 1- 1½ cups of water in the pressure cooker.
Add fruit salt (Eno/ Alka-Seltzer) in the batter. Pour 1 tsp water on top of fruit salt. Whisk in one direction for a minute. Now pour about one tbsp batter in each section of the idly stand. Take care to fill about ¾ of the space on the stand.
Set the stand in the pressure cooker, close the lid. Remove the whistle from the lid as we want to steam-cook the idlis. Steam for about 12-14 minutes.
After cooking leave the stand for about 2 minutes.
Now take out the idlis from the stand with the help of a spoon/ knife.
Healthy Idlis are ready to serve. Serve with Sambhar, mint chutney , tomato onion chutney, or coconut chutney.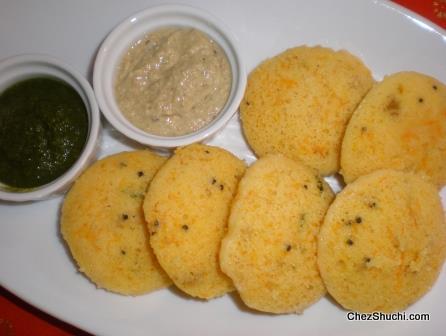 Healthy idlis with coconut and mint chutney
Some Tips/ Suggestions:
You can change the ratio of oat and semolina as per taste.
You can also increase or decrease the amount of carrots.
I have added rasins because kids like them but please feel free to remove it from the recipe if you have any dietary restrictions.
You can also add green chili and ginger paste to this idli preparation to enhance the flavor.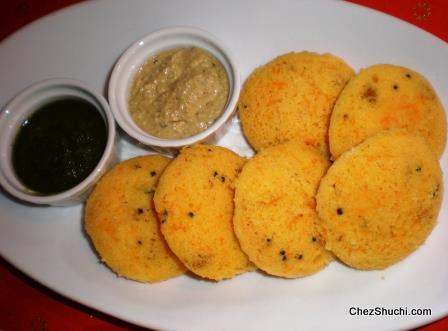 ---
Some Other South Indian delicacies
Upma Semolina Uttapam Tamarind Rasam
---