Sem Matar Aloo
हिन्दी में पढ़ें
Sem is also known as Indian beans, surti papdi, valor papdi or Lima beans in English. These annual beans are from the Fabaceae family like green beans/French beans and peas. Sem is rich in dietary fibers, vitamin A, C and K. It is also rich in minerals and is considered as a medicinal plant. There are a variety of dishes made with Sem. Here I am presenting a very delicious and healthy dry vegetable preparation from North India. In North India, sem is a winter crop and is usually available in the market from November to February, however in North America sem is available in Indian stores all around the year. I have also added green peas and potatoes in this vegetable as this trio combo is very popular in UP, India. Sem matar aloo goes very well with all sorts of Indian breads and also with dal-rice. Please try this delicious dry vegetable preparation and do share your valuable thoughts. Happy cooking, Shuchi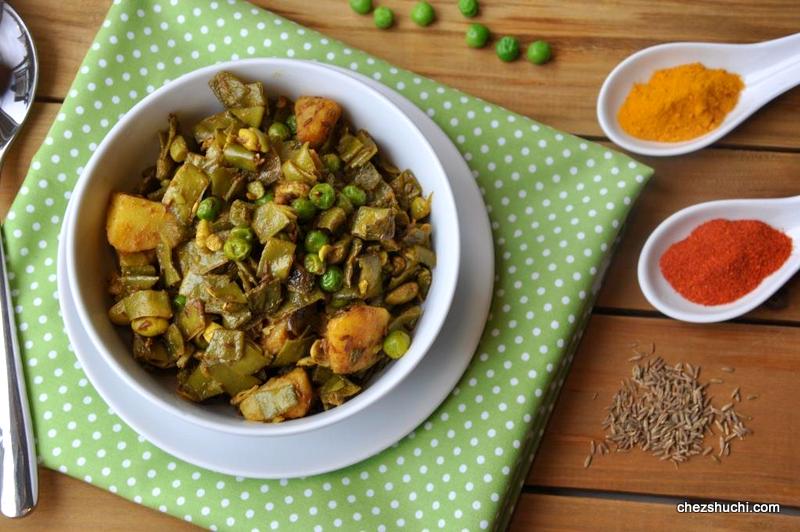 Preparation Time: 10 minutes
Cooking time: 17 minutes
Approximately 125 calories in each serving
Ingredients (serves 4)
Sem/Sruti papdi/Indian flat beans about ½ pound/250 gms
Potatoes 1-2 medium
Green peas ½ cup
Oil 2 tbsp 
Cumin seeds 1 tsp
Asafoetida 2 pinches
Turmeric powder ½ tsp
Red chili powder ½ tsp
Coriander powder 1½ tsp
Salt 1½ tsp or to taste
Dry mango powder (Amchoor powder) ½ tsp
Method of preparation:
Sem in an Indian beans which are fatter and flatter then green beans or french beans. Following picture shows sem or surti papdi.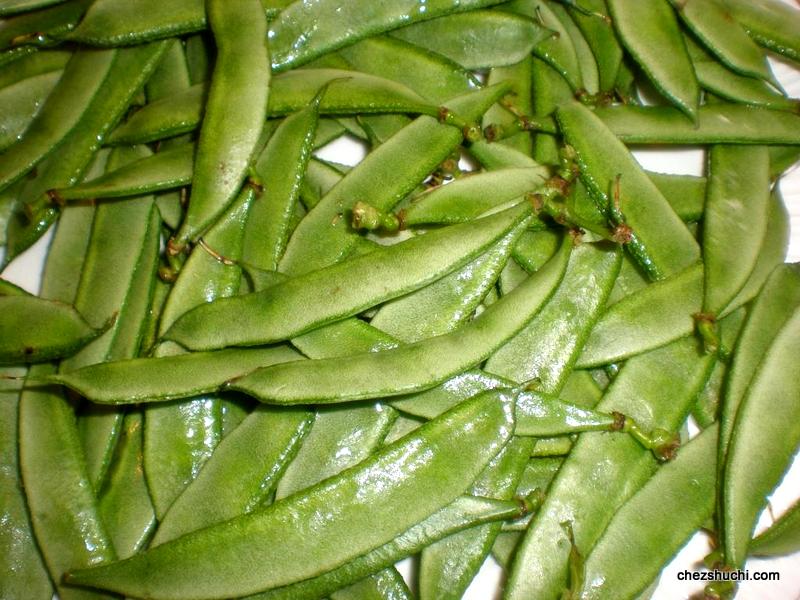 Sem/ Sruti Papdi/ Indian green beans
Remove the pointed sides and strings of the sem. Wash the sem thoroughly and pat dry on the kitchen towel. Now cut the sem into quater inch small pieces.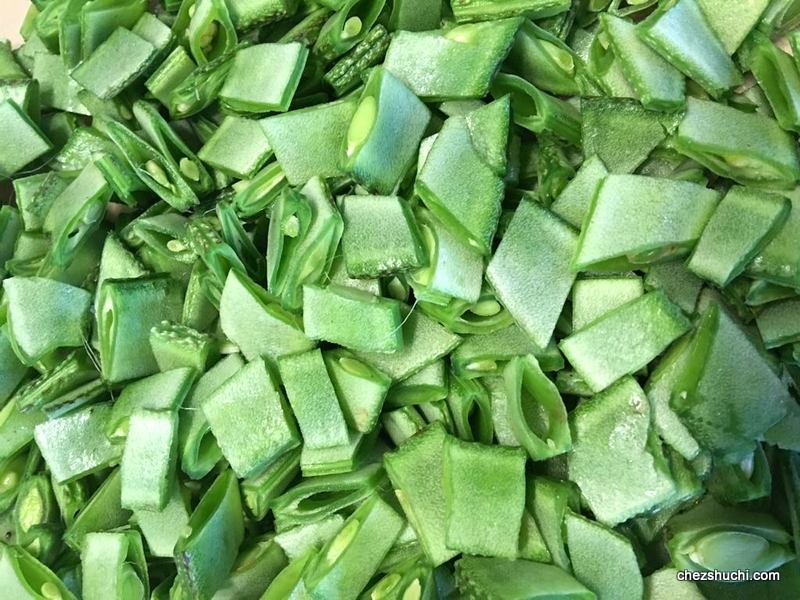 Sem cut into small pieces
Peel, wash, and cut the poatoes into half inch pieces .
In a wok, heat oil on medium heat. Add cumin seeds . When seeds change the color add asafoetida. Reduce the heat and fry for a few seconds.
Add turmeric powder, cut sem and potatoes. Mix well and fry for a couple of minutes. Add salt, red chili powder, and coriander powder. Mix well. Fry for another minute.
Cover the lid and cook the vegetables on low heat until veggies are about half way cooked.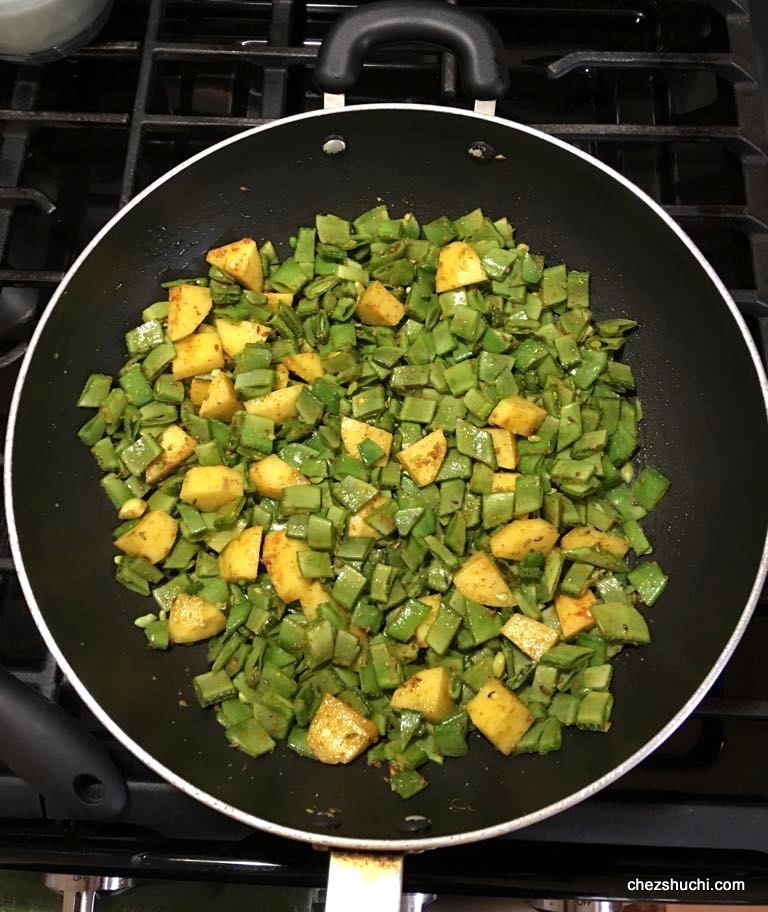 Add green peas and cook until sem, peas and potatoes are tender (Takes about 5 minutes).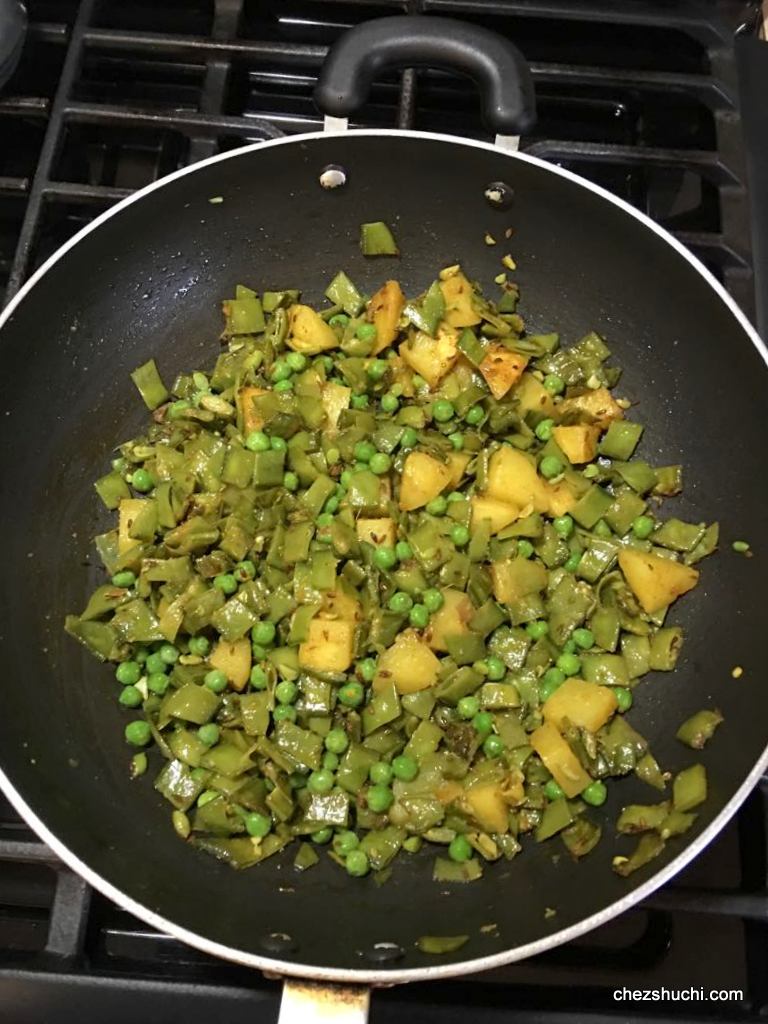 Sem aloo after adding green peas
Add dry mango powder (amchoor powder) and a little bit of garam masala. Fry the vegetables for a couple of minutes. Turn off the heat.
Delicious and nutritious sem matar aloo is ready to serve. Serve with Roti or Plain Paratha. Sem matar aloo goes very well with Dal and chawal (lentils and rice) also.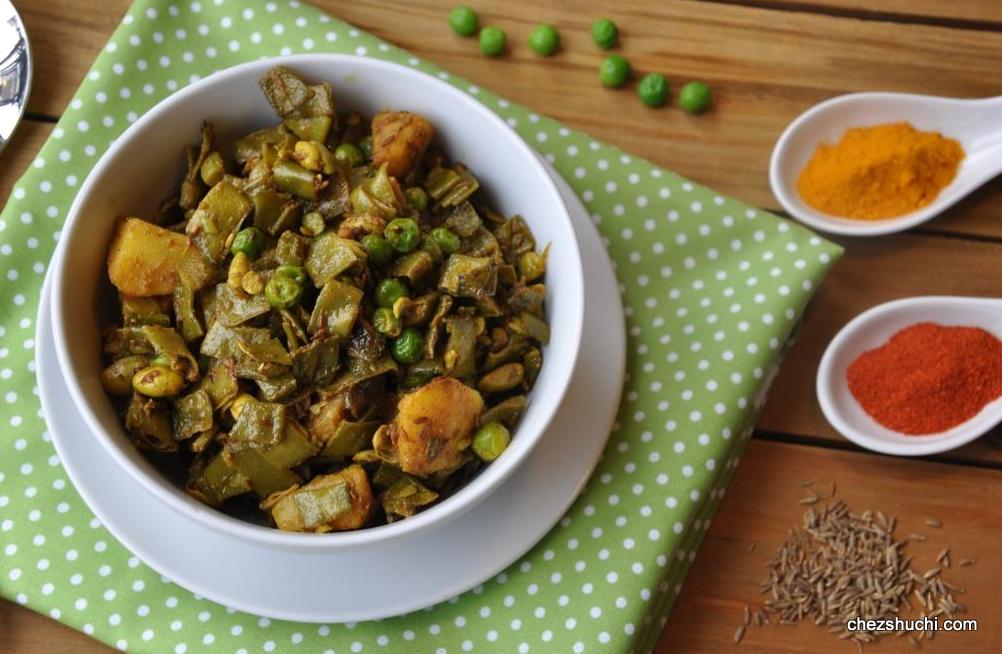 Some Tips/ Suggestions:
Choose flat and tender sem. These are ideal for cooking as they taste better and get cooked sooner.
Green vegetables taste better and look better when green color is maintained after the cooking so make sure not to overcook the sem matar alsoo.
In case if you like spicy food, add in a couple of chopped green chilies in this vegetable preparation.
I usually get only frozen green peas which are tender, that is why I have added peas when sem and aloo were half way done. In case you are using fresh green peas, add them with sem and aloo.
---