Kale Subji
हिन्दी में पढ़ें
Kale is one of the healthiest green leafy vegetables. It is also often called as super-food. Kale is rich in Vitamin C, Vitamin A, Vitamin K1, and fiber. It also has a lot of essential minerals. Kale belongs to the family Brassicaceae (old name Cruciferae). Some other common vegetables of this family are mustard, radish, cabbage etc. Kale is used in smoothies, soups, stir fries, and salads, etc..
Here I have made a dry Kale vegetable Indian style. It tastes very much like Mooli ki sabji (radish leaf vegetable). Kale grows well in mild winters. In fact, in October after the first frost when our entire kitchen garden had turned brown, kale was the only vegetable hanging green. When we were living in India I used to make radish green vegetable but radish greens are rare to find in the USA. Fresh green kale is available in stores in the entire winter season in our city in USA. Please feel free to replace it with radish greens if you do not find kale. Kale tastes very good with regular dal-rice, roti, and also with paratha. You can also add some radish with kale. So please try this extremely healthy kale sabji (veg) and do share your comments. Happy cooking, Shuchi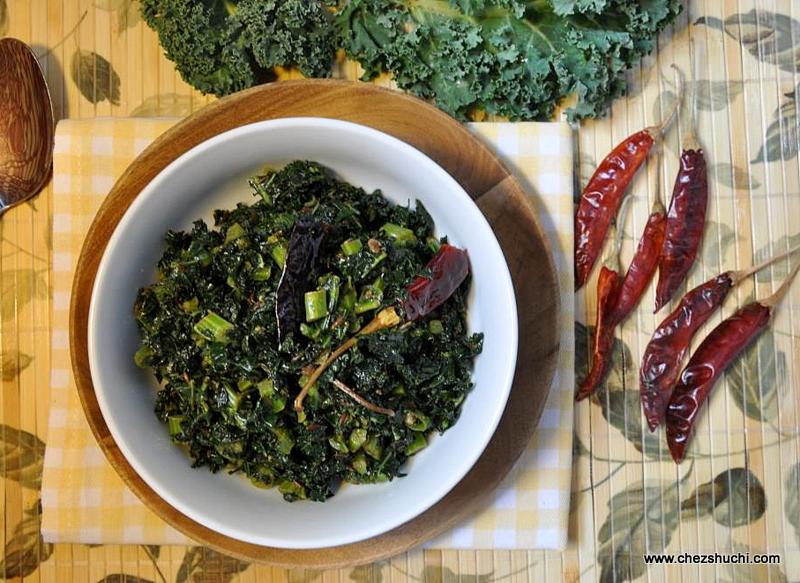 Preparation Time: 10 minutes
Cooking time: 10 minutes
Approximately 50 calories in each serving
Ingredients (serves 4)
1 bunch green kale
1 tsp cumin seeds
2-3 pinces asafoetida
2 whole red chili
1-2 green chilies, finely chopped
1 tsp ginger, finely chopped
1 tsp salt
1 tsp coriander powder
½ tsp dry mango powder
1½ tbsp vegetable oil
---
Method of preparation:
Following picture is taken from our kitchen garden 2014 collection showing fresh green kale leaves hanging in kitchen garden.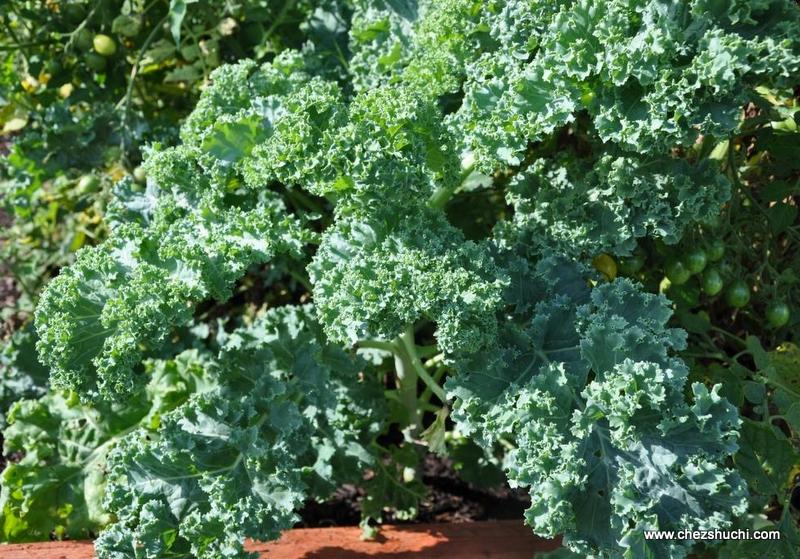 Remove the thick stems of kale leaves. Wash the leaves thoroughly and leave them on the strainer for 5 minutes to remove extra water.
Finely chop the kale leaves.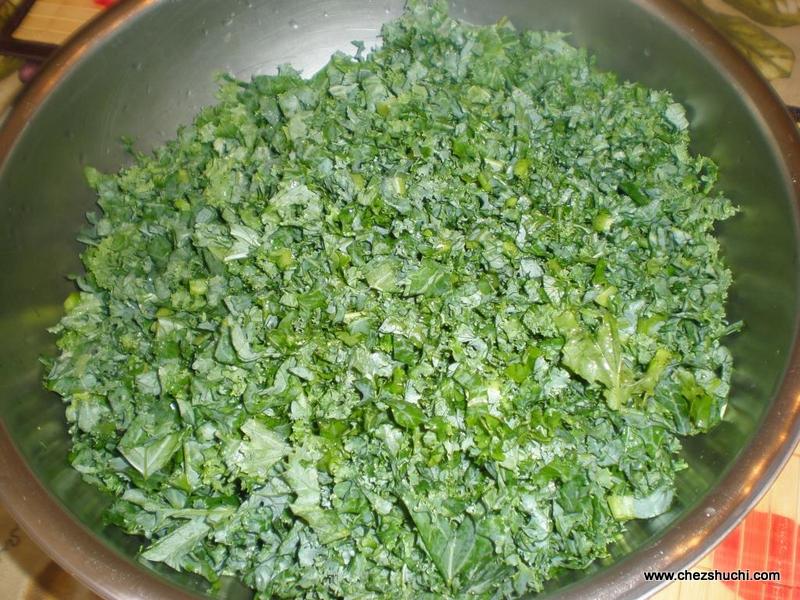 In a wok heat oil on medium heat . Add cumin seeds; when seeds crackle add asafoetida. Now add whole red chilies. Fry for a few seconds.
Add chopped green chilies, and ginger. Fry for a few seconds.
Add chopped kale leaves. Fry for a couple of minutes.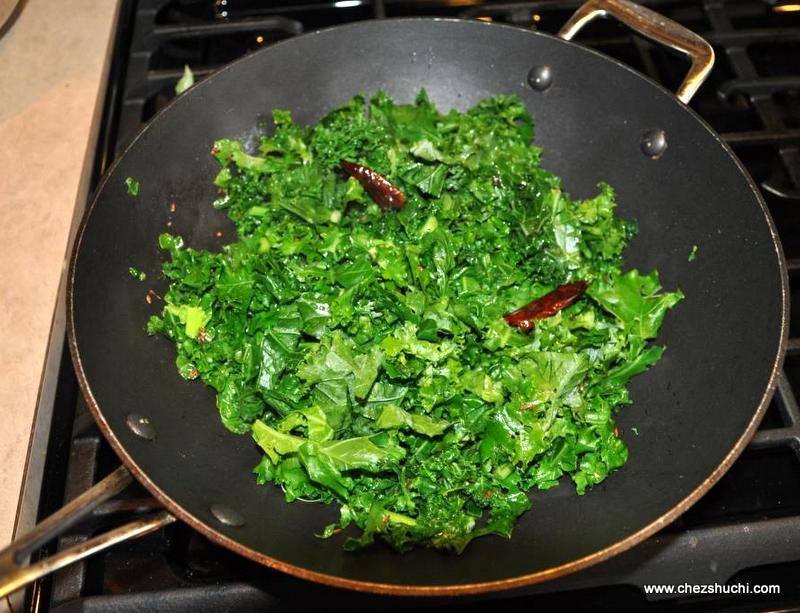 Add salt, and coriander powder. Mix well. Now cover the lid and cook until kale is tender. It takes about 5 minutes to cook kale.
Add amchoor powder. Mix well and fry for a couple of minutes. Turn off the heat. Kale ki sabji is ready.
Serve kale subji with dal- rice of your choice or with plain paratha.
Some Tips/ Suggestions:
You can also add some other green leafy vegetables in this preparation.
If you do not get kale in your part of world use radish leaves to make this subji.
You can also add chopped redish with kale leaves. Kale taste like redish leaves. Following picture shows kale with red redish sabji.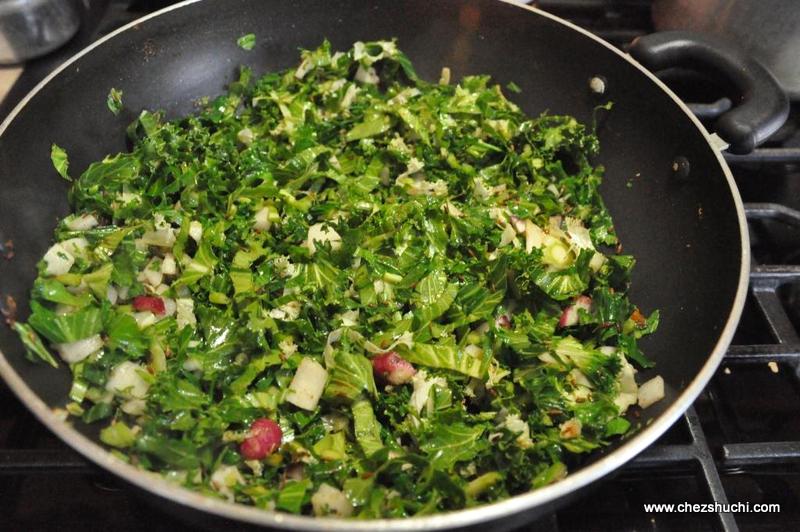 Some Other green preparations-
---