Gajar Methi (Carrots and fenugreek veggie)
हिन्दी में पढ़ें
Gajar and Methi ki sabji (cooked carrot and methi) is a an easy to make dry veggie preparation that tastes awesome and is highly nutritious. Gajar known as Carrots in English, are rich in Vitamin A, and Vitamin C. Methi (fenugreek) leaves are mildly bitter in taste but have significant medicinal values. This light and healthy vegetable preparation goes very well with roti, plain paratha or can also be served with dal and rice.
Methis is growing in abundance in our kitchen garden. It is time to try various recipes using methi leaves for me. Since childhood we have been eating methi with aloo (potato). The bitterness of methi blends with the mild flavor of potato. This time I tried adding gajar with methi and it turned out extremely delicious. This is also a very nutritious option for diabetics as well. Try this delicious and healthy preparation and please do share your comments. Happy cooking, Shuchi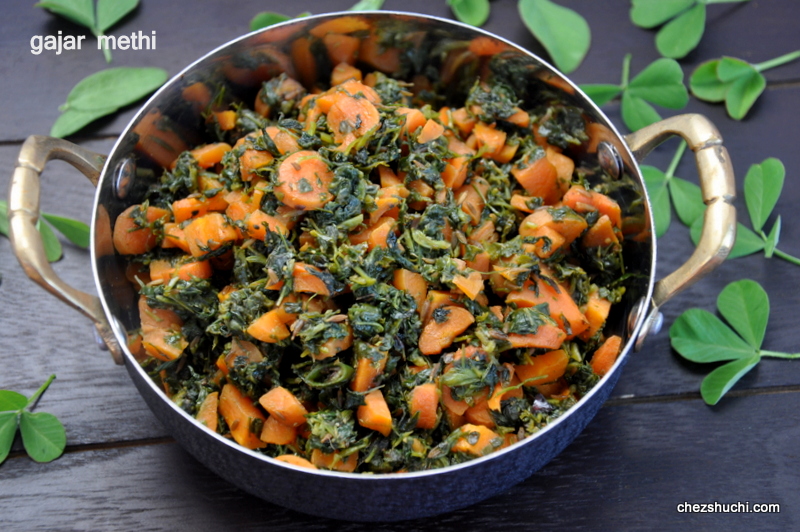 Preparation Time: 15 minutes
Cooking time: 10 minutes
Approximately 110 calories each serving
Ingredients (serves 4)
1 bunch methi( fenugreek leaves)
½ pound/ 250 gms carrots
1½ tbsp vegetable oil
1 tsp cumin seeds
2-3 pinces asafoetida
1-2 green chilies, finely chopped
1 tsp ginger, finely chopped
1 tsp salt
¼ tsp ground black pepper
1 tsp coriander powder
½ tsp dry mango powder
---
Method of preparation:
Remove the thick stems of methi leaves. Wash the leaves thoroughly and leave them on the strainer for 5 minutes to remove extra water.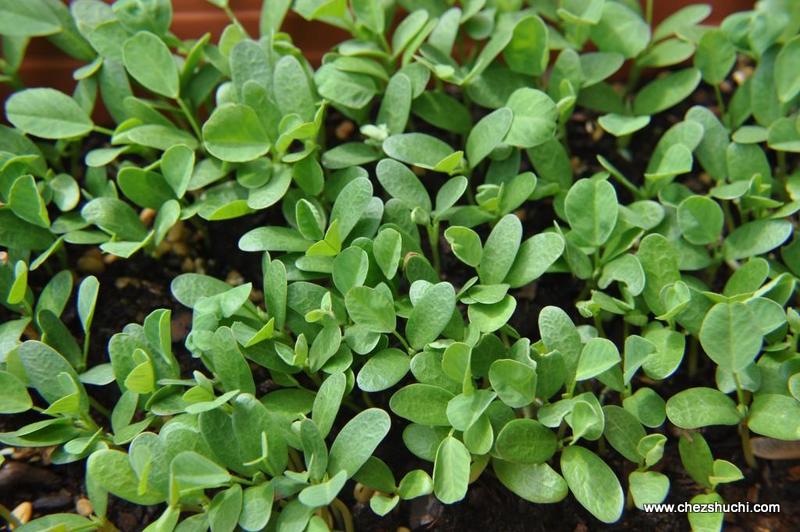 homegrown methi (fenugreek leaves)
Finely chop the methi leaves.
Peel, wash, and dice the carrots.
In a wok heat oil. Add cumin seeds, when seeds crackle add asafoetida. Add chopped green chilies and grated ginger. Fry for a few seconds.
Add chopped methi leaves. Fry for a couple of minutes.
Add diced carrots. Mix well and fry for a minute with methi leaves.
Add salt, black pepper, and coriander powder. Mix well. Cover the lid and cook until carrots are tender. (takes about5 minutes).
Add gamchoor powder. Mix well and fry for a couple of minutes. Turn off the heat. Gajar Methi ki sabji is ready.
Serve Gajar-Methi with plain paratha.
Some Tips/ Suggestions:
You can also add some green peas in this veggie preparation.
For a change you can add amla powder or grated fresh amla instead of amchoor powder.
I don't like to add too many spices in the green leafy vegetables preparation. If you wish add garam masala or other spices as per taste.
---
---
---