Masala Bhindi
हिन्दी में पढ़ें
Masala Bhindi, is a very simple yet delicious dry vegetable preparation. Bhindi is also known as okra in the USA or lady-fingers in UK and some other countries.
Bhindi is a good source of vitamin A, C, K, and B6. They are also rich in calcium, magnesium and dietary fibers. There are so many delicacies you can make with bhindi. Bhindi is easily available around the world. Outside India, you can find bhindi in Indian stores/ Asian stores, and in super market. You can also grow bhindi in your kitchen garden as well.
Here we are making a most popular and simple version of North Indian style masala bhindi recipe. It can also be found in the frozen section. Bhindi is one of the few green vegetables that kids also love!! Try this delicious vegetable preparation and please do share your comments. Happy cooking, Shuchi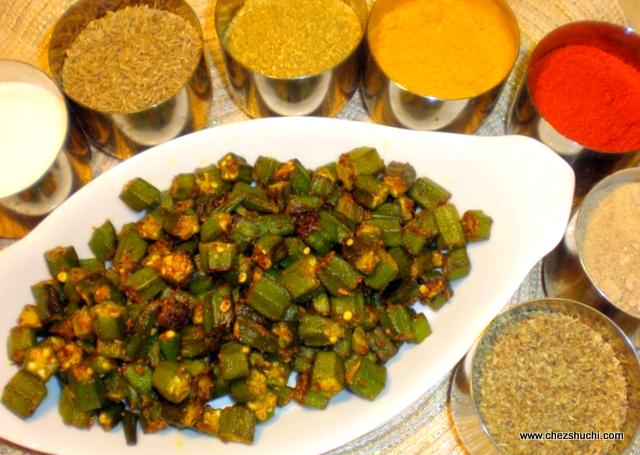 Preparation Time: 10 minutes
Cooking time: 15 minutes
Approximately 100 calories in each serving
Ingredients (serves 4)
1 pound/ about 400 gms Okra (bhindi)
1 tsp cumin seeds
½ tsp ajwain/ carom seeds
2-3 pinces asafoetida
½ tsp turmeric powder
1 tsp or to taste salt
½ tsp red chili powder
1½ tsp coriander powder
½ tsp dry mango powder
2 tbsp oil
---
Method of preparation:
Wash, and wipe off the extra water of the bhindi/okras with a kitchen towel.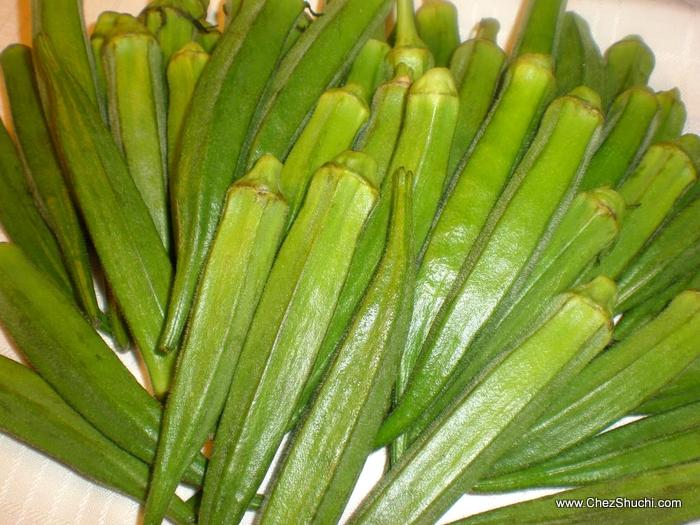 Remove the thick stem of bhindi. Cut bhindis into about half an inch pieces.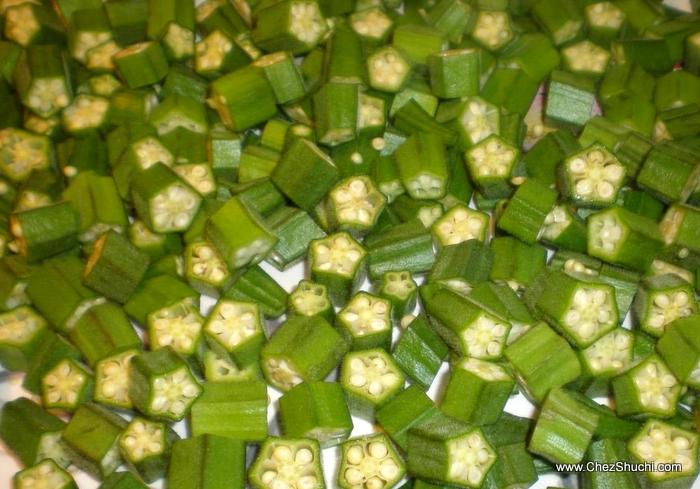 In a wok heat 2 tbsp oil on medium heat. Add cumin seeds and ajwain. Add asafoetida and fry for a few seconds. Now add turmeric powder. Mix in oil and add bhindi. Mix well so that turmeric is well coated on bhindis. Add red chili powder, and coriander powder. Mix well and fry bhindi for a couple of minutes on medium heat.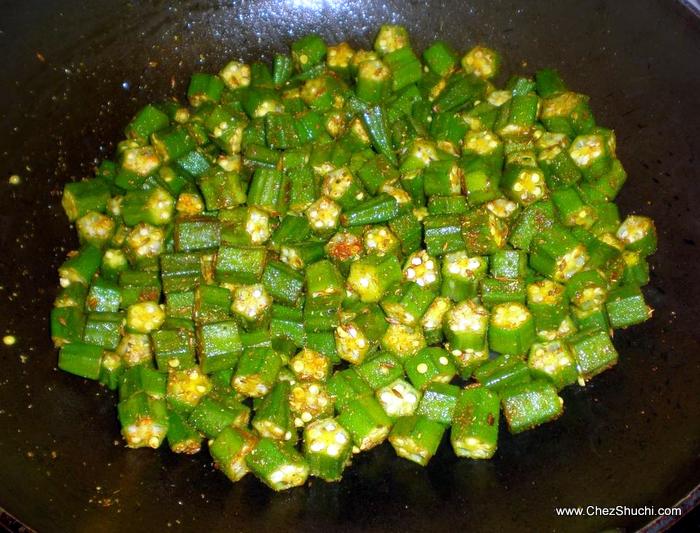 Add salt. Mix well and fry bhindi for 2-3 minutes. Cover the lid and cook for a couple of minutes.
Open the lid and check if bhindi is tender, if not, cook a few more minutes.
Add amchoor powder. Mix well and fry bhindi for a couple of minutes. Turn off the heat. Masala bhindi is ready.
Serve bhindi ki sabji with plain paratha or with dal chawal (lentils and rice).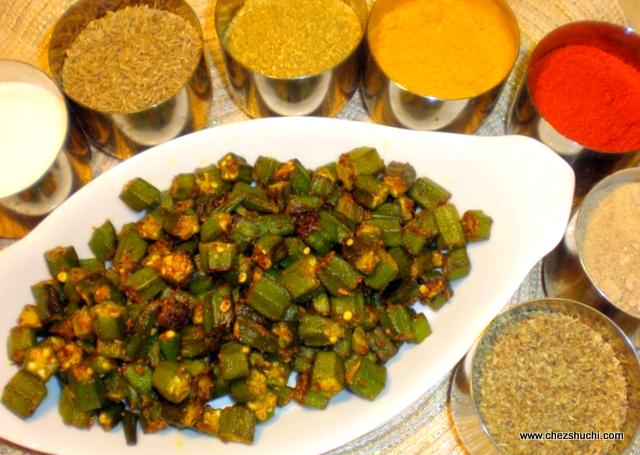 Some Tips/ Suggestions:
Thin and green bhindis would be ideal for this preparation. They taste more fresh and delicious.
Make sure to wipe off all the water contents after washing the bhindi.
It is much easier to cook raw bhindi. It may take longer to cook bhindi if they are hard and old.
---