Baingan Bharta
हिन्दी में पढ़ें
Baingan is also known as Aubergine, Egg plant, or Brinjal, and bharta means something mashed. Baingan Bharta is a roasted and mashed egg plant delicacy from North India. There are so many different versions of baingan bharta. Here we are making baingan bharta with roasted eggplant, cooked with onions, tomatoes, and spices. For baingan bharta a round big baingan would be ideal to roast.
In our house, when I make baingan ka bharta I finely chop all the onions, tomatoes etc but when my husband makes baigan bharta, he cuts everything (onions, tomatoes etc.) in perfect julienns. The following pictures were taken when my perfectionist husband was making baingan bharta.
It takes a while to make baingan bharta, but the taste makes it worth your time. Baingan bharta goes well with parathe, however you can serve it with any combination of food like dal-chawal or even with plain rice. Try this delicious baingan bharta recipe and please share your comments. Happy cooking, Shuchi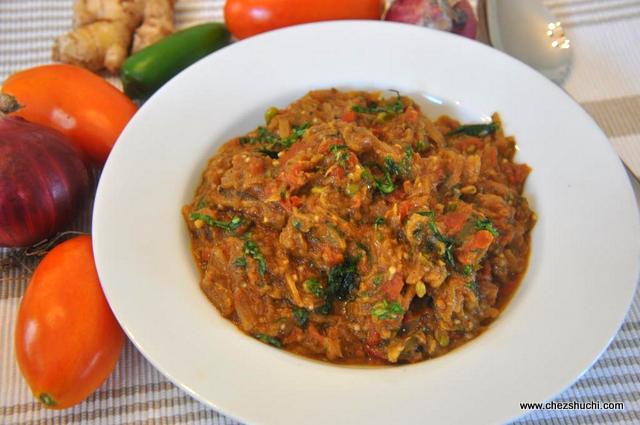 Ingredients

(serves 4-6)
Egg plant(baigan) 400 gms/    1 big
Onion 2 medium /250 gms
Green chilies       3-4
Ginger        1½ inch
Tomatoes 250 gms/ 2 medium
Oil   3-4 tbsp
Cumin seeds   ½ tsp
Asafoetida a pinch
Red chili powder  ½ tsp
Turmeric powder     ¼ tsp
Coriander powder   2 tsp
Fenugreek powder  ½ tsp
Garam masala ½ tsp
Salt   1¼ tsp or to taste
Chopped coriander leaves 2-3 tbsp
Method of preparation
Wash baigan (eggplant/Brinjal). Pat dry the baingan with a clean cloth. Roast eggplant thoroughly on the medium  flame or in the oven from all the sides(takes about 15-20 minutes). When baingan is roasted well it starts leaving its skin. Keep aside the roasted baingan.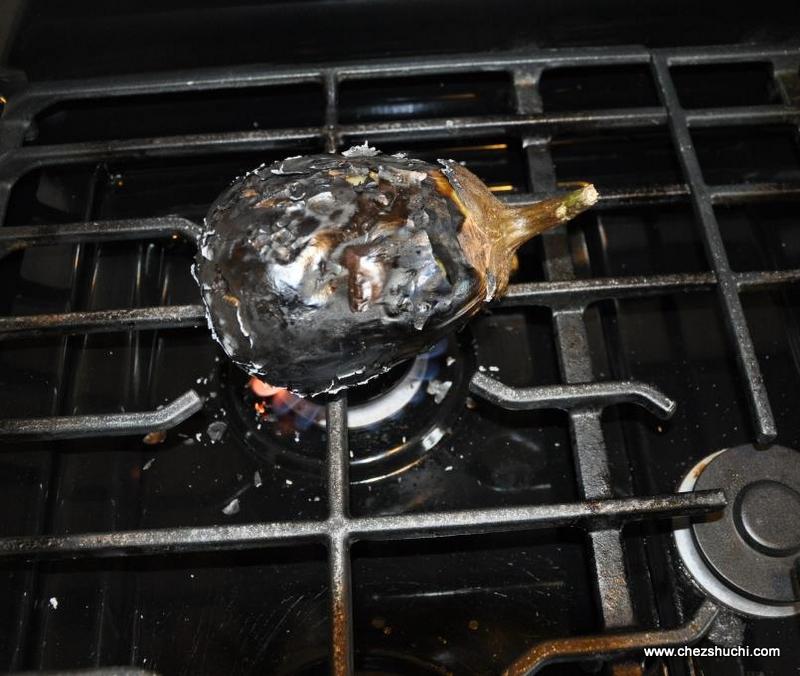 Peel, wash, and finely chop the onions and ginger. You can also cut julinnes of onions and ginger.
Remove the stem, wash and finely chop the green chilies. Wash and finely chop the tomatoes.
Remove the outer skin of the roasted egg plant. Remove stem and mash or finely chop the egg plant.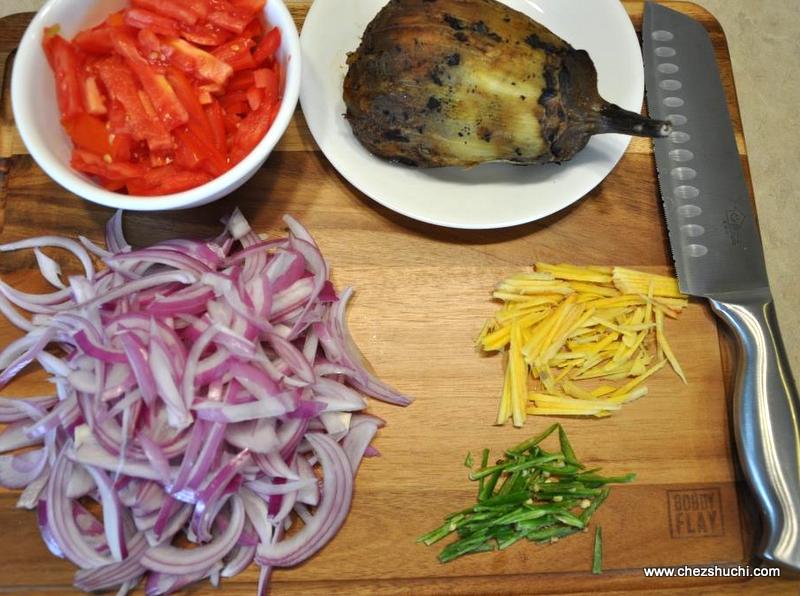 Heat oil in a pan. Add  cumin seeds, and asafoetida, and fry for 5-10 seconds. Now add chopped onions. Fry until onions are golden brown (takes about 6-8 minutes).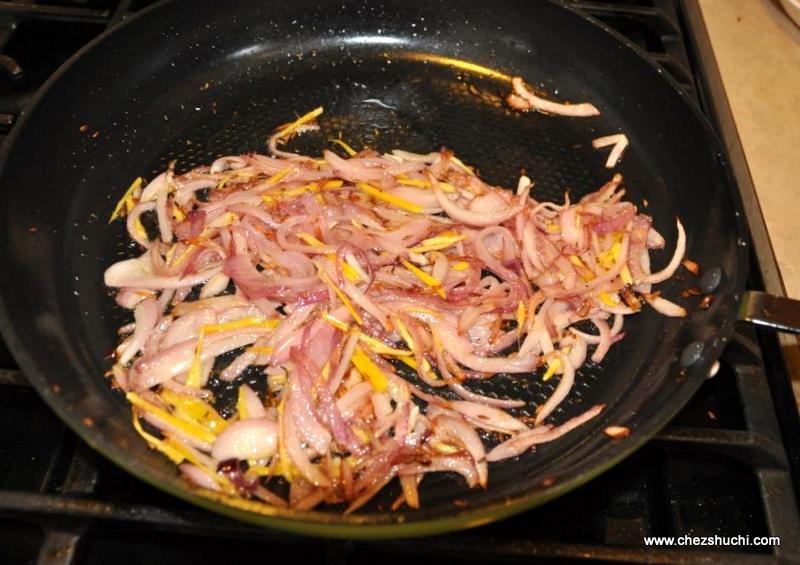 Now add chopped tomatoes, ginger and green chilies. Mix well. Add red chili powder, turmeric powder, coriander powder, fenugreek powder, and salt, fry until spices leave the oil.(takes about 7-8 minutes)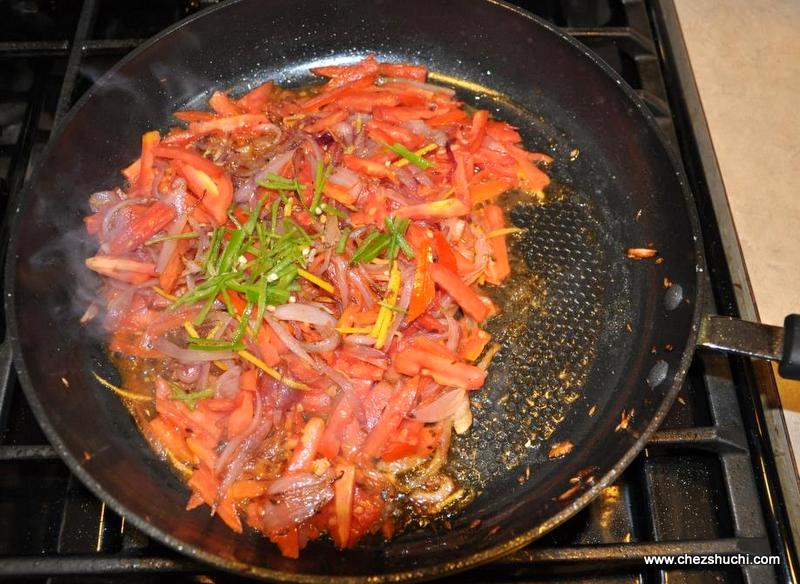 Add mashed/chopped baingan.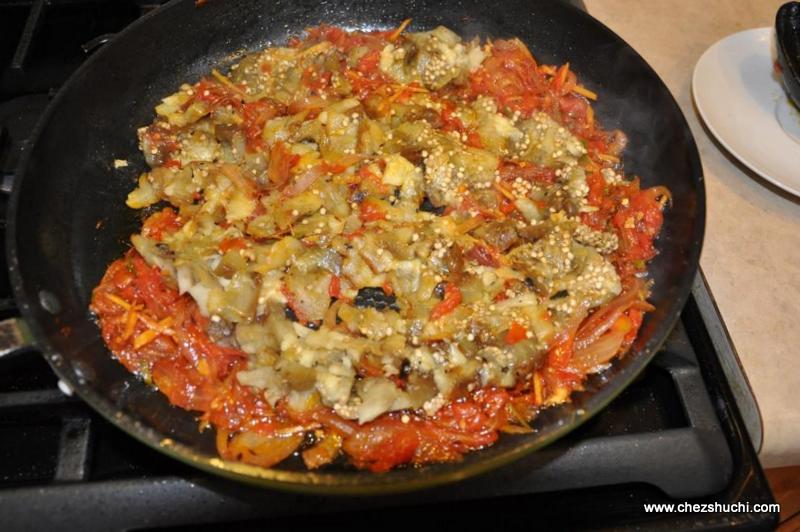 Mix well baingan in the masala. Fry for a couple of minutes. Add about ¼ th cup of water and cover the lid to cook the egg plant.Cook for about 10-12 minutes on medium low heat. Stir in every 3-4 minutes. If needed add a little more water.
Add garam masala and Fry for another minute and turn off the heat.
Garnish the bharta with chopped coriander leaves.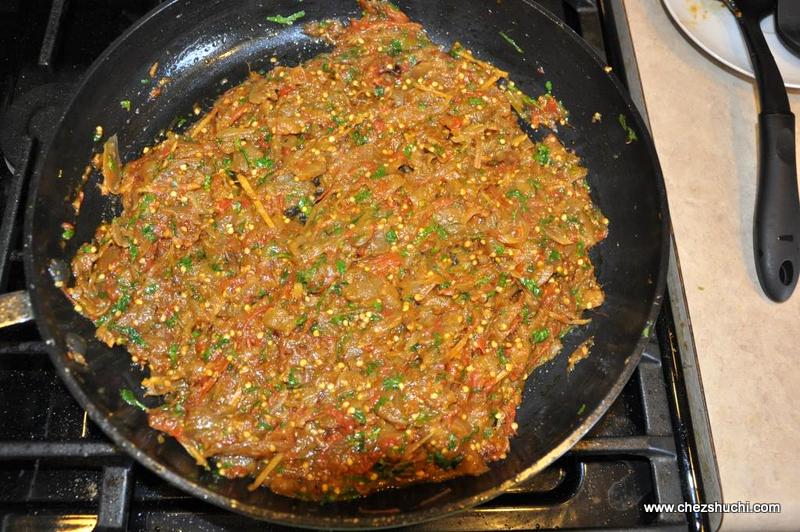 Serve Baigan Bharta with plain paratha or your choice of Indian bread.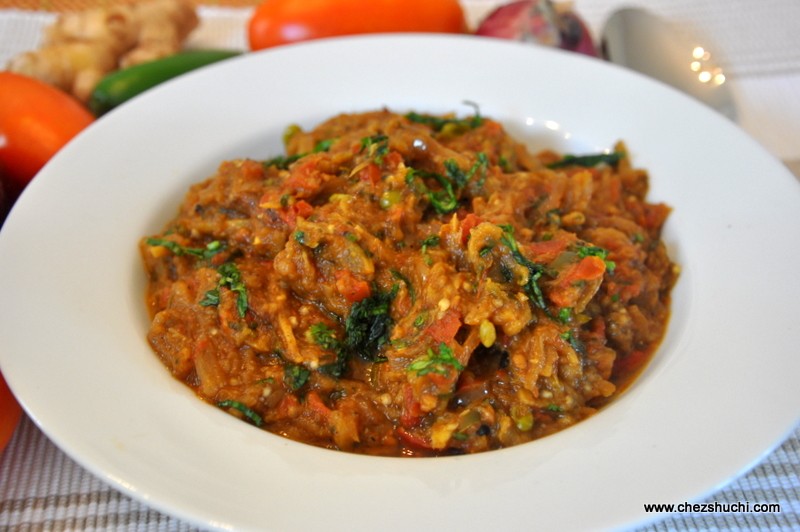 Some Tips/Suggestions:
I do not use garlic in my cuisine but if you want you can also add some garlic in baingan bharta. Add chopped garlic with onions.
A big, round shaped tender baingan/eggplant would be ideal for this recipe.
If you do not have gas stove you can also roast baingan in oven in broil mode.
Baingan/ eggplant can be easily grown in your home/kitchen garden. You can grow them in ground and can also be grown in a pot. Read more about vegetable gardening.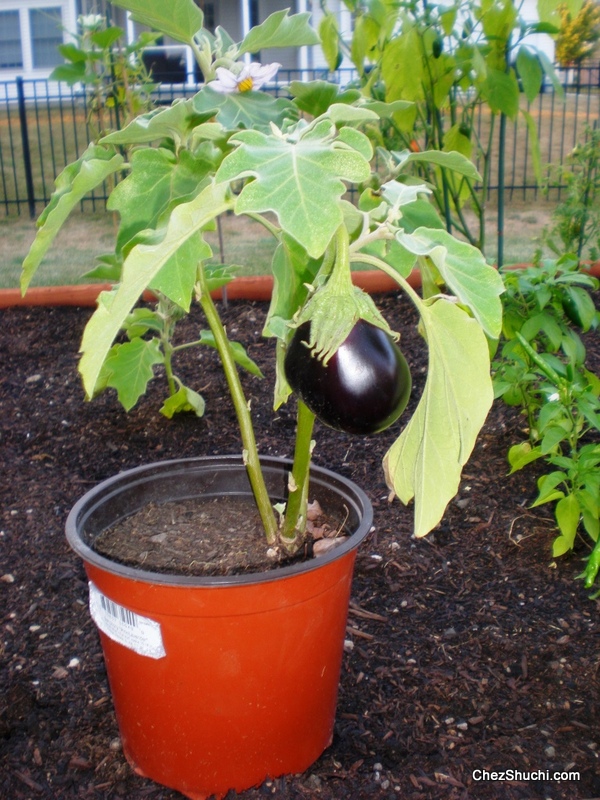 ---