Kesar Pista Kulfi
हिन्दी में पढ़ें
Kulfi is a traditional Indian frozen sweet. It's a kind of Indianicecream. Kulfi is made by boiling full cream milk and reducing it to one-third of its original volume. Kulfi can be of different flavors, such as kesar pista, mango, litchi, badam, malai, etc. Traditionally kulfi is frozen in a clay pot (matka) filled with ice. Here we are going to use a quick recipe to make kulfi. This is my mother's recipe for saffron-pistachio flavored kulfi and the outcome is as good as the traditional recipe. In North India kulfi is served with Falooda, which is a special type of vermicelli made with tapioca/sago. I have made this kulfi in small paper cups which makes it easier to serve. You can also use traditional ice-cream molds or containers to freeze kulfi. This kulfi is a big hit with my friends and I always get rave reviews for this preparation. Let's make saffron and pistachio flavored kulfi. Try this kulfi recpe and please do share your experience. Happy cooking, Shuchi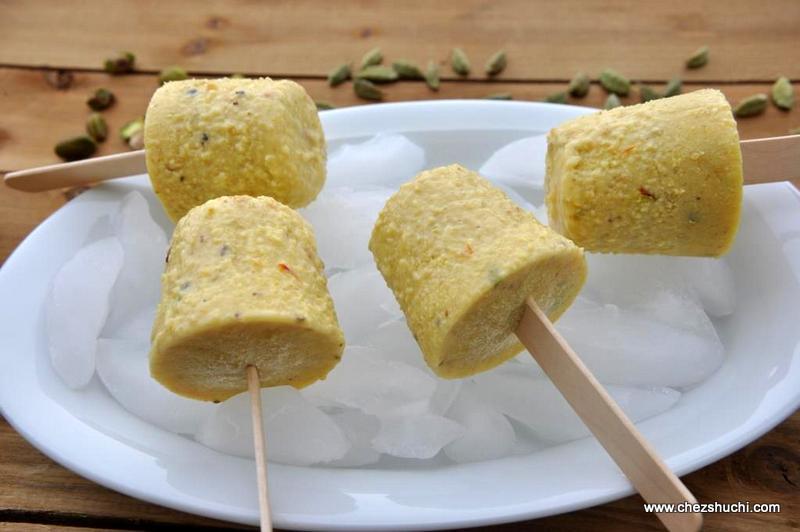 Ingredients
(makes 12 kulfi)
Milk 1 lt / 4 cups
Bread 1 slice (I prefer wheat bread but you can use regular bread)
Condensed milk 1 can (14 oz/ 400gms)
Green cardamoms 5
Saffron (Amazon link for Organic Saffron) ¼ tsp
Pistachio nuts 1/3 cup

Some other required stuff!

12 small paper cups (I have used 3 Oz cups)
12 bamboo sticks
Aluminium foil cut in small squares to cover the cups
Method of preparation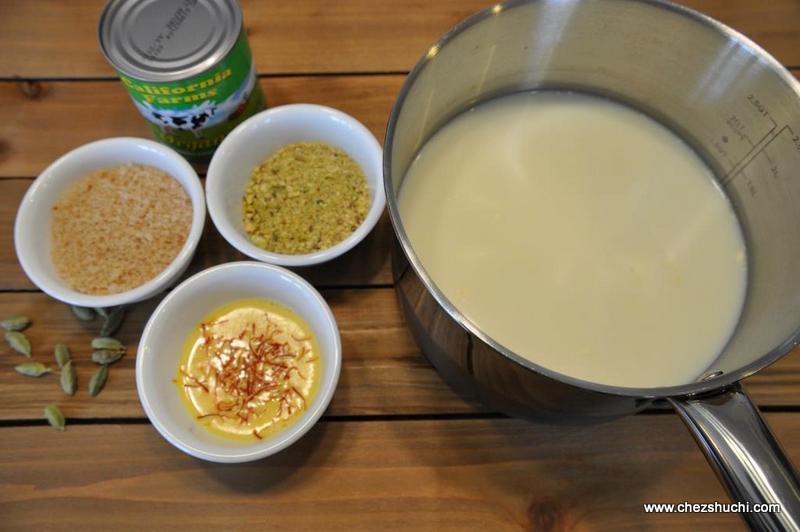 Remove the outer green cover of the cardamoms and pound them in the mortar with pastel.
Cut the pistachios into thin slivers or coarsely grind them. I like to coarsely grind the pistachio and then 4-5 pistachio I save and slice them for using as garnish.
Grind the bread slice.
Soak saffron threads in about 2 tablespoon lukewarm milk and keep aside.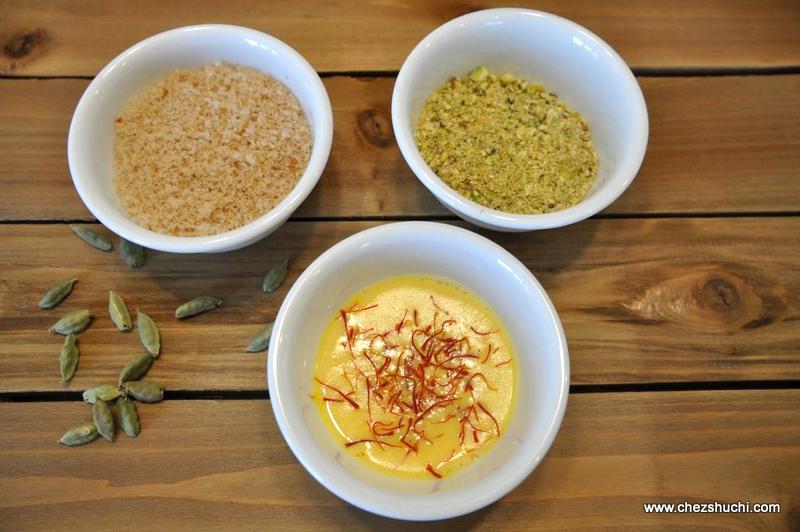 Ingredients for kesar pista kulfi
In a heavy bottom saucepan, boil milk. After the first boil, reduce the heat and boil it for 5 minutes.
Add ground bread mixture in the milk and whisk well so that no lumps are formed. Boil milk for about 5 minutes. Add ground cardamoms and slivered/ground pistachios. Mix well.
Add condensed milk. Whisk well and turn off the heat. Whisk the mixture for a couple of minutes.
Add saffron milk and mix well. Let the mixture cool down.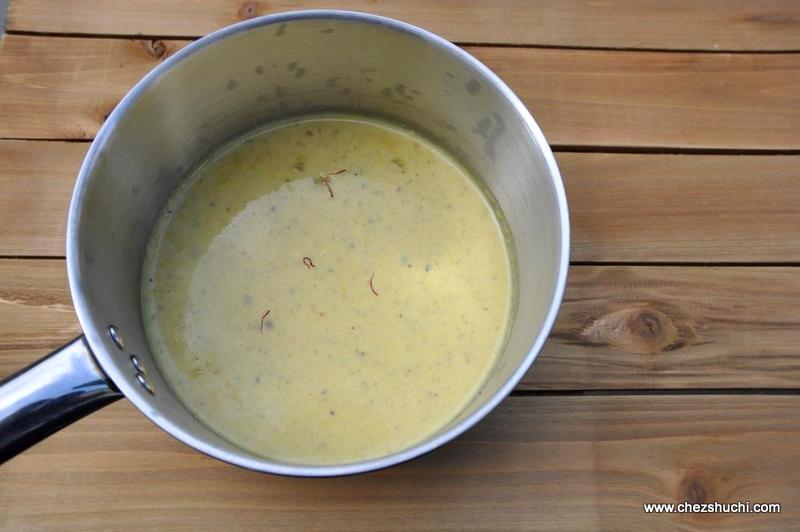 Kulfi mixture
Pour the kulfi mixture into paper cups/ molds.You can also use ice-cream molds or popsicles/ lolly molds. In case if you do not have any of these molds use regular food grade plastic containers. Do not forget to cover the lids. Now freeze the kulfi for 6-7 hours or until firm.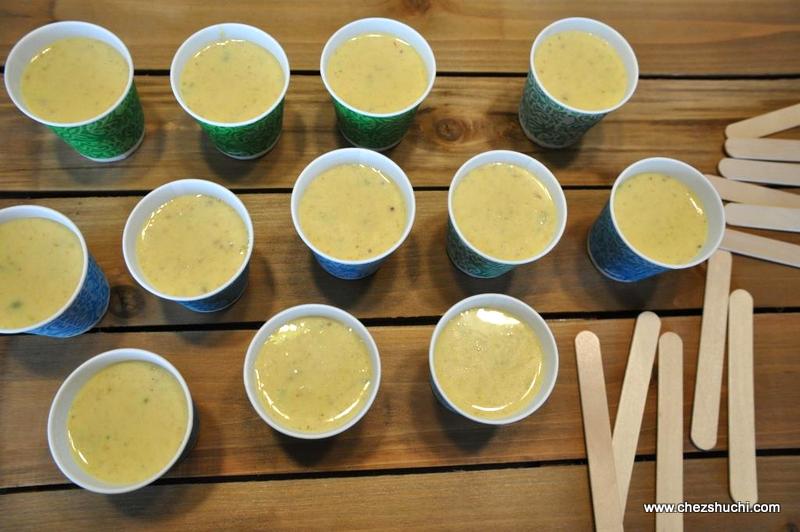 Cover the top of paper cups with aluminium foil.
Carefully make a small slit in the center of the foil and slowly fix a bamboo stick in the center.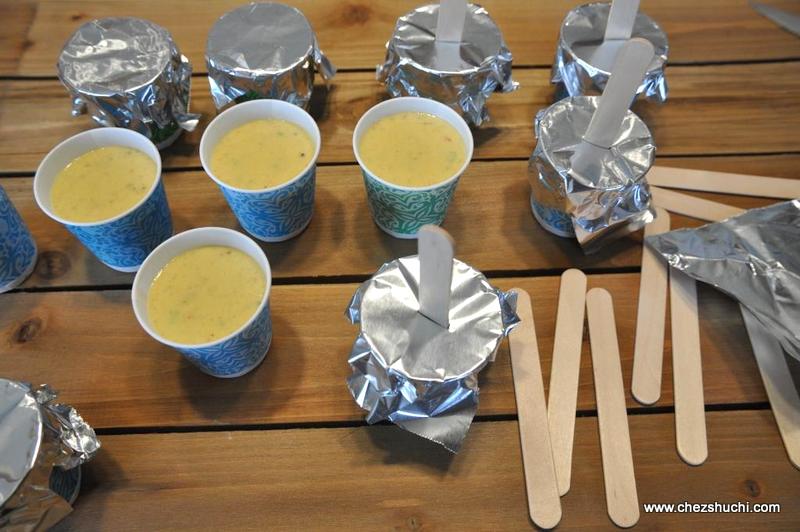 Put the cups in the freezer for about 6 hours or overnight. You can arrange the cups in a muffin tray or in a plate or just put them directly in the freezer carefully.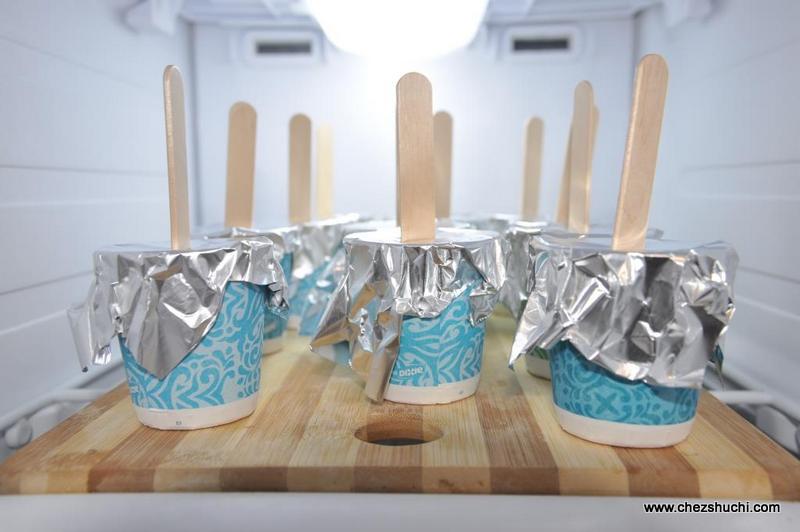 To serve- Take the kulfi out of the freezer. Wait for 10-15 seconds, and pull the sticks gently. Kulfi will come out easily.
You can also tear off paper cup and serve kulfi. I like to remove the kulfi gently and serve it in the cup itself, so that kids don't make a mess. The cup is also useful when kulfi is melting fast!
In case if the kulfi sticks to the cup, you can put the kulfi cup in warm water for a few seconds: this will help it loosen a bit.
Enjoy your delicious kesar pista kulfi.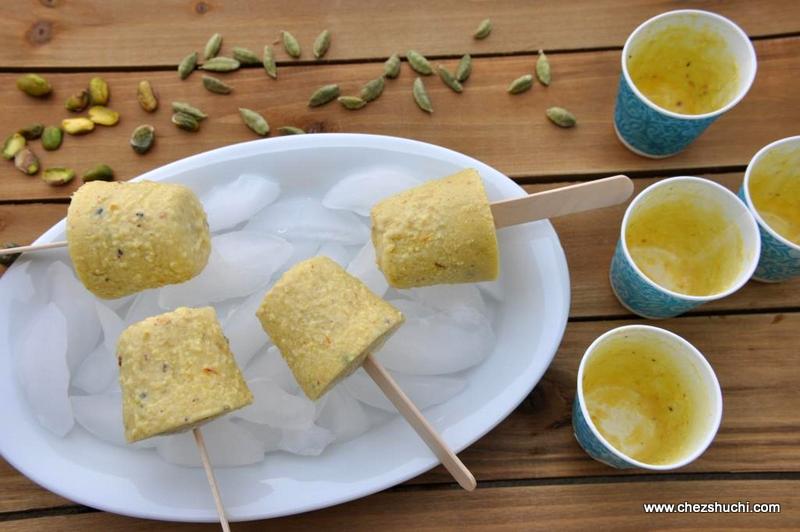 Some Tips/ Suggestions:
While boiling, milk tends to stick to the bottom of saucepans. To avoid this, wash the inside of the saucepan with cold water before transferring the milk.
You can also use some grated mawa ( milk solids) to this preparation, in that case reduce the amount of condensed milk.
I use only wheat bread in my kitchen, which is what I have also used in this recipe but you can use white bread.
Please do not forget to whisk the mixture after every step of cooking. This helps prepare rich, creamy kulfi, instead of an icy mixture.
---