Mango Kulfi
( Indian Mango Icecream)
हिन्दी में पढ़ें
Kulfi is a traditional Indian Ice-cream. It is made by boiling full cream milk and reducing it to one-third of its original volume. Kulfi can be of different flavors, like kesar pista, mango, malai, etc. Traditionally kulfi is frozen in a clay pot (matka) filled with ice and a little salt. In North India kulfi is served with Falooda. Falooda is special vermicelli made with sabudana/ sago. Summer is the time when the king of fruits, mango is in abundance. So let's make this mouth watering mango Kulfi .....
Ingredients

(makes 6-8)
Milk 1.5 lt / 6 cups
Sugar 3-4 tbsp
Fresh Mango pulp 1 cup
Mango pieces

½

cup
Green cardamoms 4
Pistachio ¼ cup

Method of preparation
Remove the outer green cover of the cardamoms and grind them in the mortar.
Cut the pistachios into thin slivers.
In a heavy bottom saucepan boil milk. After the first boil reduce the heat.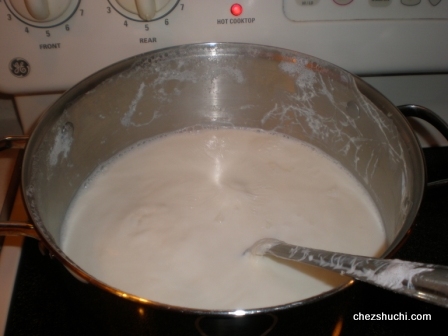 milk after the first boil
Let the milk boil until about one third of its original quantity is remaining. Stir occasionally.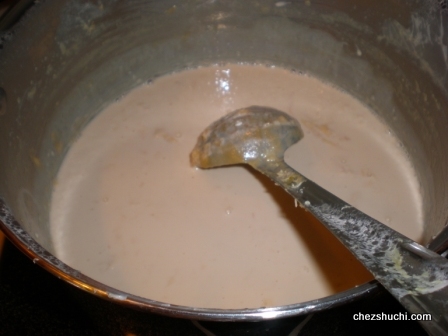 thickened milk after about one hour and 30 minutes of boiling
Now add cardamom powder, sugar, and slivered pistachios. Mix well and turn off the heat. Let the milk cool down.
When milk is still lukewarm but not hot, add mango pulp, and mango pieces. Mix well.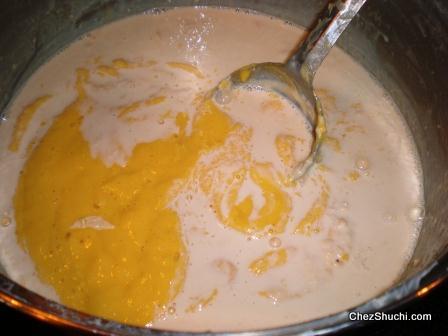 after adding mango pulp in the thickened milk
The mango kulfi mixture looks like the following picture.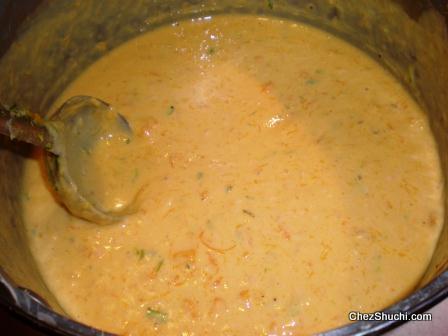 Pour the mango kulfi mixture into the molds. If you do not have kulfi molds use the popsicles/ lolly molds. In case if you do not have any of these molds use the regular food grade plastic containers. Do not forget to cover the lids. Now freeze the kulfi for 6-7 hours or until firm.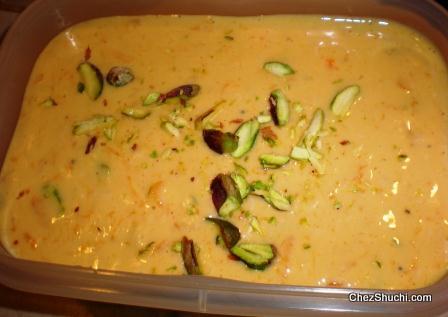 To take out the kulfi, half fill a container with hot water, and dip the kulfi molds in it. Wait for 10-15 seconds, and take the molds out. Kulfi will come out easily. You can also hold the molds under running water to loosen the kulfi.
Now cut the kulfi into required shape and transfer it in a serving dish. Garnish it with slivered pistachios, and pour some Falooda on the top of kulfi. Yummy Kulfi is ready to serve.
For Falooda :
Authentic Falooda is made with sabudana/ sago. It is a kind of vermicelli. You can find pre made falooda in your Indian grocery store. To boil them follow the instructions.
I also use regular semolina sewai (vermicelli). For that, boil ½ cup sewai for 3 minutes in the water. Now wash it with fresh water. In a bowl take 1½ cups water, add 2-3 tbsp sugar and ½ tsp rose water or kewda water and a few threads of saffron (kesar). Now add the boiled and strained sewai in the sugar water.
Some Tips/ Suggestions :
While boiling, milk tends to stick at the bottom of the saucepans. To avoid this, wash the inside of the saucepan with cold water before transferring the milk.
Set an alarm while the milk is boiling. Do not forget to stir the boiling milk every 15 minutes.
To make mango pulp, wash, peel off and cut mangoes into one inch pieces. Now transfer the mango pieces in the blender and blend it well. Mango pulp is ready.
---