हिन्दी में पढ़ें
Mango Popsicles
Ice Lollies/ Popsicles - Everyone loves lollies and especially the kids. Homemade lollies are healthy and delicious too. Lollies are so easy to make at home. Make them with your children of their favorite flavors!! Here we are going to make mango popsicles. I got this idea from Better Homes and Garden magazine, the good thing about this recipe is that you really don't need any special molds to make popsicles. Try these yummy mango popsicles recipe and please do share your comments ...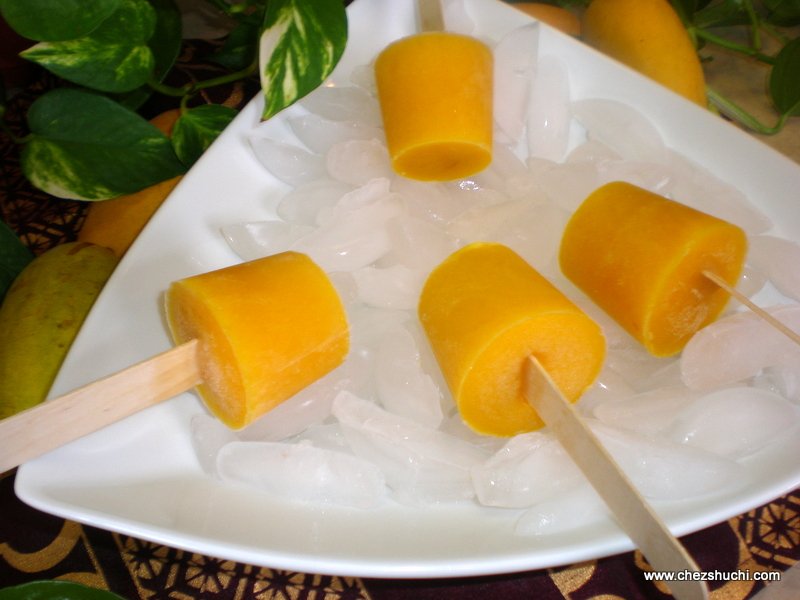 Ingredients (makes 6)
2 big ripe mangoes ( about 2 cup pieces)
½ cup mango juice (frooti)
Lemon juice 3-4 tbsp
¼ cup sugar
½ cup water
6 small paper cups
6 bamboo sticks
Method of preparation:
Dissolve ¼ cup sugar in

½

cup water. If needed heat the syrup to dissolve the sugar completely. Keep the syrup aside to cool down.
Wash, peel, and cut mangoes in pieces. clean the seed and discard.
In the blender take mango pieces, lemon juice, sugar syrup and mango juice. Blend it very well.
Taste and adjust the flavoring as per your taste.
Transfer the mixture in 6 paper cups.
Cover the paper cups mouth with the aluminium foil.
Carefully make a small slit in the center of the cup and slowly fix a bamboo stick in the center.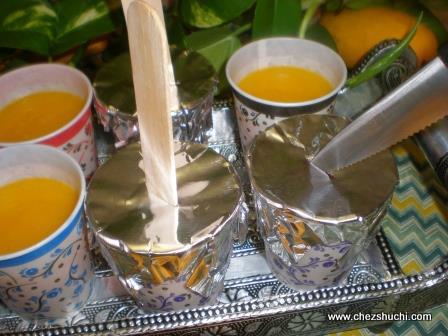 Put the cups in the freezer for about 6 hours or overnight. You can arrange the cups in a muffin tray or in a plate/thali or just put them directly in the freezer carefully.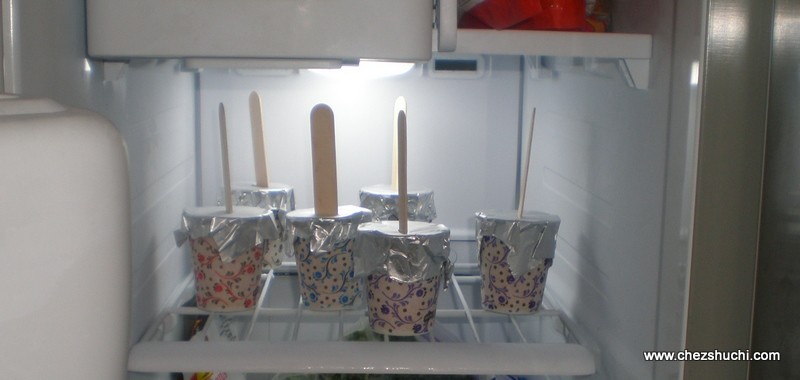 At the time of serving tear off the paper cups and serve the delicious popsicles.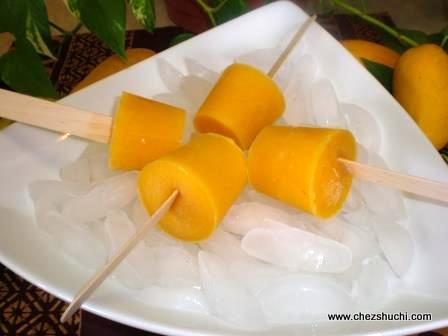 Some Tips/ Suggestions:
You can make different flavor popsicles by this method.
For the big gathering serve the popsicles in a bed of ice cubes to avoid melting for sometime and make it even fancier.
Some other delicious Mango delicacies:
---