हिन्दी में पढ़ें
Tropical Treat
(A mango and pineapple drink )
Some of my regular readers often write that their kids do not want to eat fruits. I would like to recommend this highly nutritious and mind blowing drink for such kids. Everyone would just love this coolant made with tropical fruits like mango and pineapple. This is absolutely healthy drink. It would be best if you use fresh fruits and juice to make this drink. Make a nice presentation which attracts kids. Try this tropical drink recipe and please do share your comments, Shuchi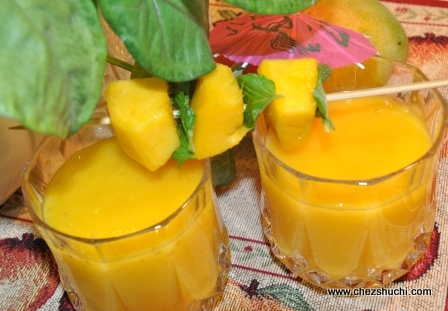 Ingredients
(Makes 4 servings)
3 cups ripe mango pieces
2 cups pineapple chunks  
½ cup pineapple/ orange juice
4 tbsp sugar
1 cup ice cubes  
Ingredients For Serving (optional)
Mango Cubes
Few mint leaves
Skewers
Straw
Paper umbrella
Method of preparation:
In a mixer/blender take mango pieces, pineapple chunks, sugar, and pineapple juice. Blend until smooth.
Add some ice cubes and blend again for a few seconds.
Pour the delicious tropical treat in a serving glass.
To make the drink glass fancy, in a skewer set a mint leaf and mango cube alternatively. Set this skewer on top of glass.
Delicious tropical treat is ready to serve.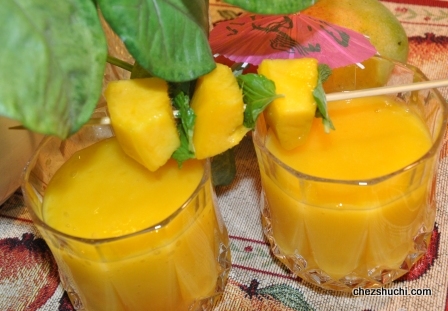 Some Tips/ Suggestions:
Adjust the amount of sugar as per taste. I have used brown sugar to mke this dring healthier.
You can decorate the skewer with your kids' favorite fruits.
---
Some Other hot and cold Drinks:
---