Quesadilla
हिन्दी में पढ़ें
Quesadillas are a kind of Mexican sandwiches made with tortillas (a Mexican flatbread). Tortillas are made with corn and also with wheat flour. In simple words you can say tortillas are like Indian Rotis. In Mexican cuisine tortillas are used in many ways. You can buy tortillas in store or can make them at home. I like wheat tortillas and I like to make them fresh at home. For quesadillas filling you can choose your favorite veggies, or make just cheese quesadillas. I like to fill colorful vegetables to make the quesadillas healthy, delicious and also attractive. Try this recipe and please do share your valuable comments. Happy cooking, Shuchi.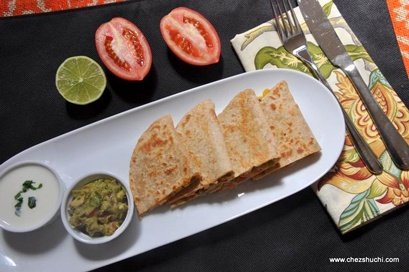 Ingredients
(makes 8 small quesadillas
8 small flour tortillas
1 medium onion
1 medium green bell peppers (capscium)
1 medium red bell peppers (capscium)
5-6 Green olives
½ cup corn kerenels
Jalapeño Pepper/ Green chili as per taste
2 tbsp chooped cilantro (coriander leaves)
1 tbsp Oil
1 tsp dried oregano leaves
red chili flakes, a hint
1 tsp salt
1 tbsp toma to chili sauce (optional)
½ cup cheese (chedder/ mozerrela or any other as per taste)
Ingredients to serve
Corn Salsa/ Mango salsa( optional)
Guacamole (to taste)
Sour cream (optional)
Lettuce (optional)
Avocado thinly sliced(optional)
Tomato wedges (optional)
Method of preparation:
Peel, wash, and finely chop the onion.
Wash and remove stem and seeds of red and green bell peppers and finely chop them.
Remove the stem, wash and finely chop the Jalapeño Pepper/green chilies.
Finely chop the olives.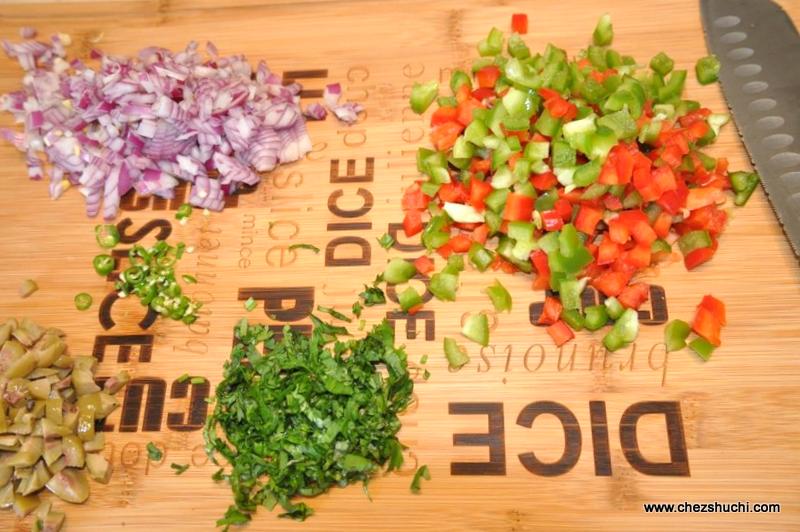 In a pan heat 1 tbsp oil. Add chopped onions and sautee for a couple of minutes. Add chopped, green chilies and bell pepper. Mix well and sautee for a minute. Add corn kerenels, olive, salt, red chili flakes, and oregano. Mix well all the ingredients and cook for a couple of miutes.
Add tomato chili sauce now if you are using. Mix well. Add chopped coriander leaves. mix well. Turn off the heat.
Let the mixture cool for 10 minutes.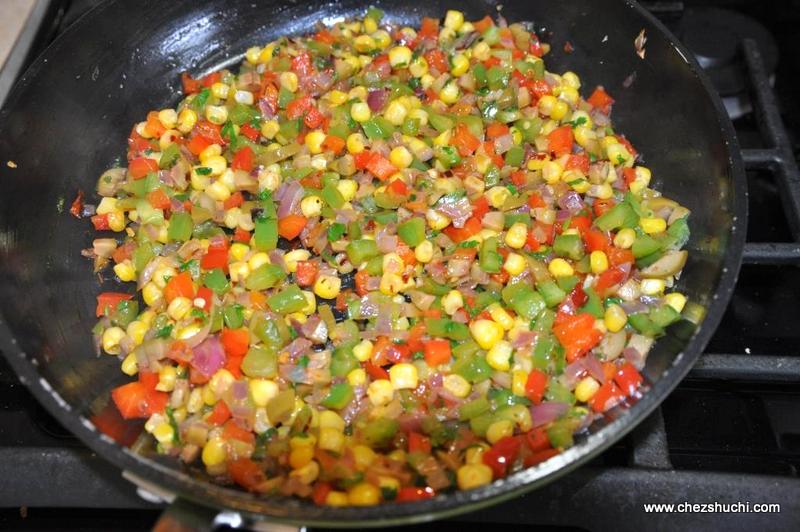 Add cheese in vegetable mixture. Mix well. Quesadilla filling is ready.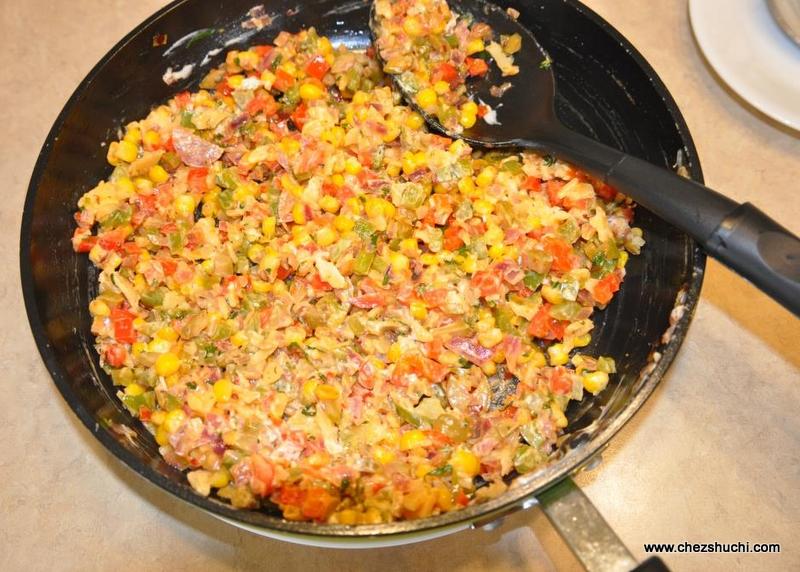 The totillas shown in the picture are home-made, made with wheat flour. Instead of tortillas, you can also use rotis.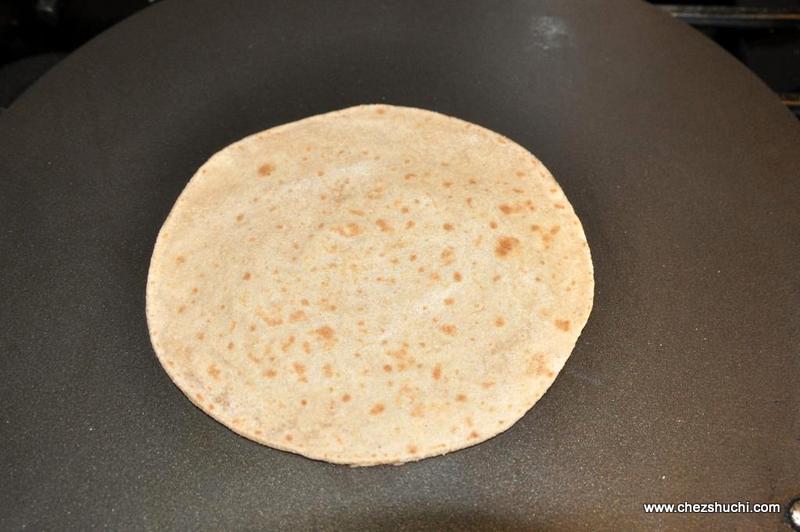 Take a tortilla put the vegetable filling half way. Bring the other side and close it. Now you have half moon shape sandwich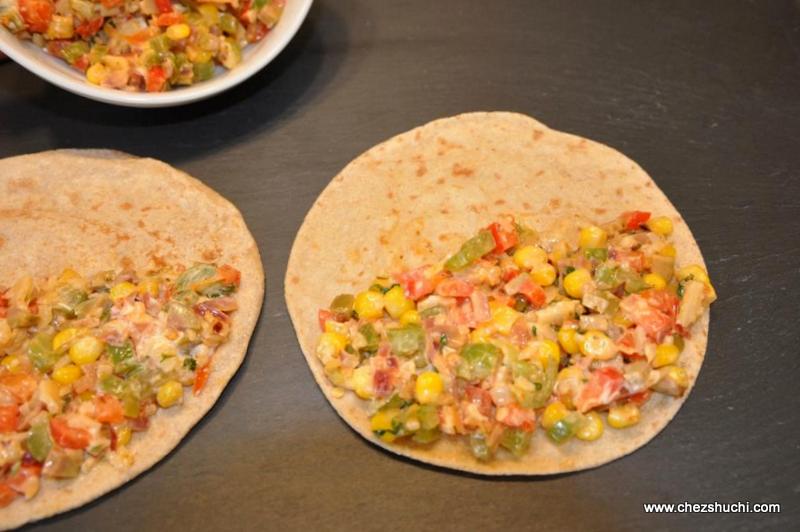 Heat a griddle (tawa). Put filled tortillas on the hot griddle and cook from both sides. Press the bread gently while cooking .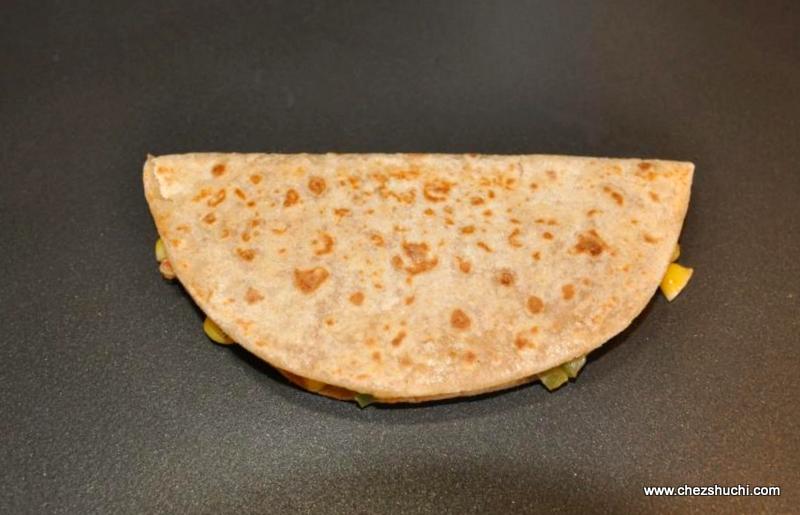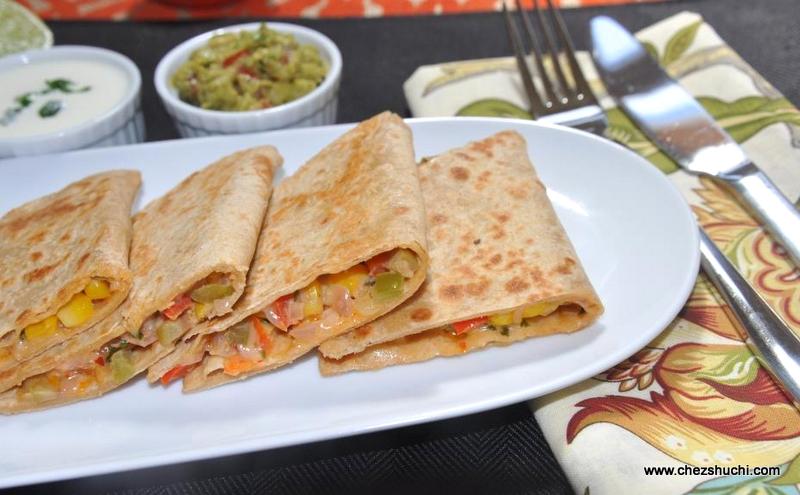 Some Tips/ Suggestions:
These quesadillas are so tasty itself still you can serve it with accompniment of your choice.

You can also serve quesadillas with salsa of your taste.

You can make plane cheese quesadillas by just filling cheese in the middle.

You can also make bean quesadillas by fillig beans in the middle with cheese.

Feel free to mix and match the combinations of things to fill in the quesadilla.

I have added tomato chili sauce in the filling mixture to enhance the shape.
If you are making wheat tortillas at home make the dough like poori , roll each tortilla into 6 inch round and cook it on hot griddle from both sides.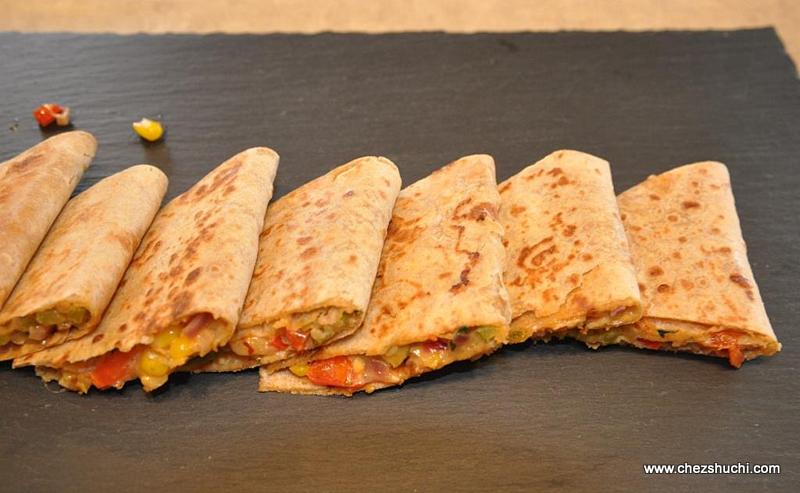 ---
Some Other delicious and healthy Mexican accompaniments:
---
---