Corn Salsa
हिन्दी में पढ़ें
Salsa is a Mexican/ Spanish variety of dip. Originally salsa is made from tomatoes and is relished as a spicy preparation. There can be different flavors of salsa. This is a spicy preparation for corn salsa. Salsas are served with corn tortilla chips. Lets make something international this time......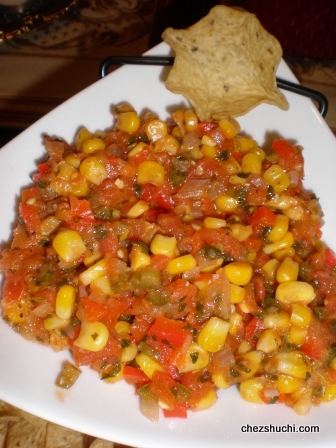 Ingredients

(serves 4-6)
Frozen corn kernels 1 cup
Tomato 3 medium
Jalapeño pepper 2
Red bell pepper 1 small
Red onion 1 small
Chopped coriander (cilantro) leaves 2 tbsp
Olive oil 1 tbsp
Lemon juice 1 tbsp
Sugar 1½ tbsp
Salt 1 tsp
Freshly grounded black pepper ¼ tsp
Method of preparation
Peel off, wash, and finely chop the red onions.
Wash and boil the tomatoes for 2 minutes . Let the tomatoes cool down. Now take the skin off of the tomatoes and finely chop the tomatoes,
Wash and finely chop the red bell pepper and jalapeño pepper .
Wash the corn kernels off and keep aside.
skinned tomato salsa ingredients
In a pan/ skillet heat oil. Now fry onions for a minute . Now add tomatoes and fry them for a minute.
Now add bell pepper, jalapeño pepper, and corn kernels. Mix all the ingredients and add salt. Add half cup water. Mix again and cook for about 7-8 minutes.
Now add black pepper, sugar, lemon juice, and chopped coriander/ cilantro and mix in well. Turn off the heat.
salsa after adding all the veggies corn salsa with scoop tortillas
Delicious corn salsa is ready to serve. Serve with corn tortilla chips or your favorite chips.
---