हिन्दी में पढ़ें
Mango Salsa
Salsa is a Mexican variety of dip. There are so many different variants of salsa. Summer is the time of the year when the Bazzar is flooded with sweet corn, peaches, berries, mangoes etc.. So let us make a delicious, colorful, and very healthy sweet-n-tangy mango salsa. Salsas are served with corn tortilla chips. You can also serve them with regular chips or Indian Papdis.You can also fill it in roti and make wraps for kids.......
Ingredients
(Makes about 2 cups mango salsa)
¾ cup sweet corn kernels
1 medium tomato 
¼ green bell pepper, finely chopped
¼ red bell pepper, finely chopped
1 ripened mango
red onion, finely chopped (optional)
2 tbsp coriander leaves/ cilantro, finely chopped
2 tbsp lemon juice
¼ tsp/ salt or to taste 
black pepper to taste
red chili flakes as per taste
Method of preparation:
Boil the corn kernels till they get tender. It takes a couple of minutes to boil the sweet corn kernels. Drain out the water and keep corn kernels aside.
Wash the tomatoes. Cut it into halves, deseed, then cut into small pieces.
Wash, peel, and cut the mango into small pieces.
In a bowl take the corn kernels , chopped bell pepper, tomatoes, and mangoes. Add chopped coriander leaves, lemon juice, salt, black pepper, and red chili flakes.Toss the salsa well.
Delicious mango salad is ready .
Transfer the salsa in a serving dish. You can serve the salsa immediately or you can chill it before serving.
Serve with tortilla chips. You can also serve it as a salad with Dal & rice.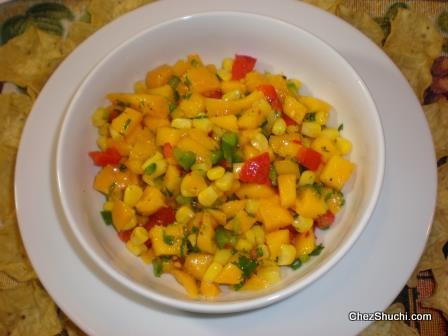 Some Tips/ Suggestions:
If you like spicy food add some finely chooped green chilies. You can also add chopped cucumber in this salsa preparation.
Coriander leaves are called as Cilantro in Mexico. Like Indian cuisine, coriander is a key ingredient in Mexican cuisine too.
---
Some Other delicious and healthy recipes:
---