Pasta Salad
हिन्दी में पढ़ें
My brother loves salads. He has been asking me to upload some new varities of salad. So here we are on my brother's special request - Let us make a delicious and healthy Pasta Salad. I have used semolina penne pasta, and some home grown veggies. Please feel free to use your favorite veggies.......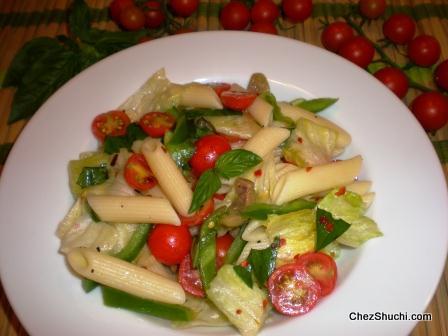 Ingredients

(serves 4)
For Pasta:
Penne pasta 100 gms/about 1 cup
Water about 4 cups to boil the pasta
Salt 1 tsp
Veggies:
Cherry Tomatoes 20-25
Green bell pepper (capscium) 1
Lettuce cut into an pieces 1 cup
Green olives pitted 8-10
For Dressing:
Lemon juice 1 tbsp
Whinegar 2 tbsp
Olive oil 2 tbsp
Salt ½ tsp
Red chili flakes to taste
Black pepper, Freshly ground to taste
Basil leaves ¼ cup
Method of pasta Boiling
Boil about 4 cups of water in a big pan. Add 1 tsp salt and penne pasta in the boiling water.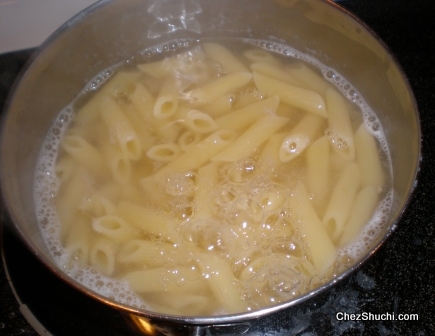 penne boiling
Boil until Penne are soft but firm. Usually it takes about 10 minutes to boil penne. Drain lightly, Penne should remain soft.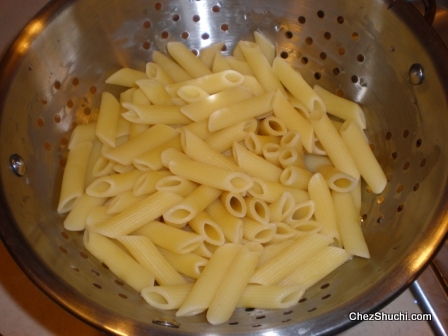 boiled Penne
Other Preparations:
Wash the bell pepper. Cut it into halves and deseed it. Thinly slice the bell pepper.
Wash and cut the cherry tomatoes into halves.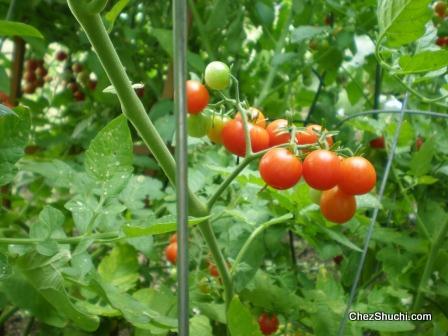 home grown cherry tomatoes
Wash and then tear the basil leaves by hand. If you do not find fresh basil leaves, use about 1½ tsp dried basil leaves.
In a bowl take lemon juice, vinegar, olive oil, red chili flakes, black pepper, and salt. Mix well all the ingredients of the dressing.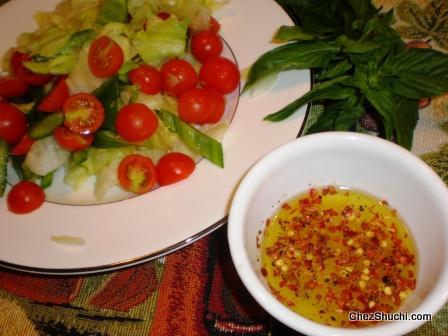 In a salad bowl take boiled penne, lettuce pieces, sliced bell pepper, cherry tomatoes, and torn basil leaves.
Pour the dressing on top of it and gently toss.
Pasta salad is ready. You can also chill it in the refrigerator before serving.
Delicious Penne pasta salad is ready to serve. You can garnish the pasta with parmesan cheese.
Tips/ Suggestions
Some other veggies such as red bell pepper, brocolli, carrots, beans etc can also be used in the delicious pasta salad.
You can also use some other variety of pasta if you do not find Penne.
---