हिन्दी में पढ़ें
Basil Lemon Pasta
My kitchen graden is in full swing. There are plenty of peppers, herbs, greens, and specially tomatoes....I am trying my best to either use these veggies and herbs or distribute them to friends . I try my best to make different dishes from same veggies so family is not bored. This Basil lemon Pasta is a creation from homegrown tomatoes, bell pepper, and basil. I have used Rotini pasta which is is a helix or corkscrew shaped pasta. To read more about pasta plese click here. This pasta dish is a very colorful and attractive. I have added vegetables to make it healthier and I have also added red chili flakes to provide an extra zing. Try out this beautiful pasta and please do not forget to write your valuable comments....Happy cooking, Shuchi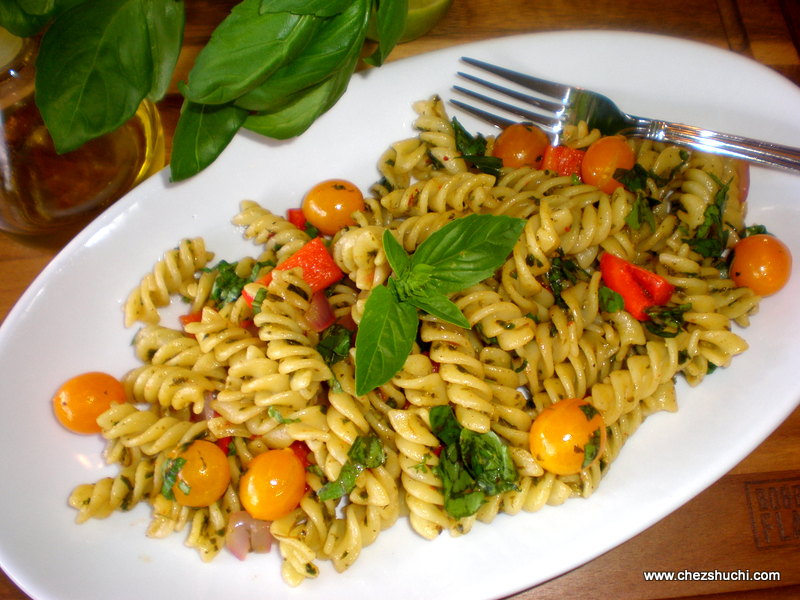 Ingredients (Serves 4)
For paneer pesto sauce
Fresh Basil Leaves 3/4 cup, packed
Lemon juice 3 tbsp
Honey/ brown sugar 1½ tsp
Salt 3/4 tsp/ to taste
Black pepper/ red chili flakes to taste
Olive oil 3 tbsp
For Pasta Boiling
Rotini pasta 230gms/ about ½ pound / 8 ounce
Water about 8-10cups to boil the pasta
Salt 2 tsp
For Final Pasta dish
Onion 1 medium
Red bell pepper 1 medium
Cherry taomatoes as per taste
Basil leaves few to garnish
Olive oil 2 tsp
Method of preparation for Basil Lemon Dressing:
Wash and pat dry basil leaves.
In the blender take basil leaves. Coarsely grind the basil leaves.
Transfer the ground basil leaves in a glass container. Add olive oil, salt, pepper, lemon juice and honey. Mix well.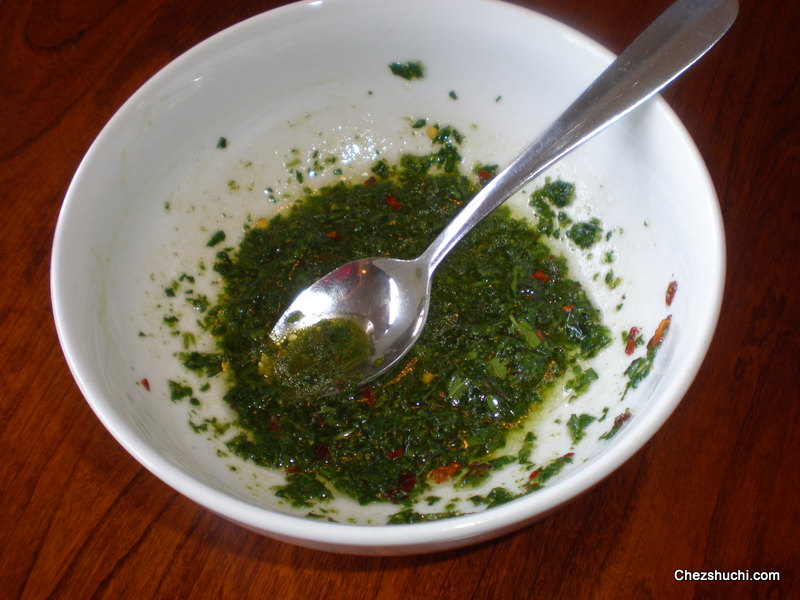 Method of preparation for Pasta Boiling/ Cooking:
Boil water in a big sauce pan. When water starts boiling add 2 tsp salt and pasta of your choice. I have used Rotini pasta.
Boil until pasta are soft but firm. The cooking time is different for different variety of pastas. Read the instructions written on pasta packet for better idea. Drain lightly, pasta should remain soft.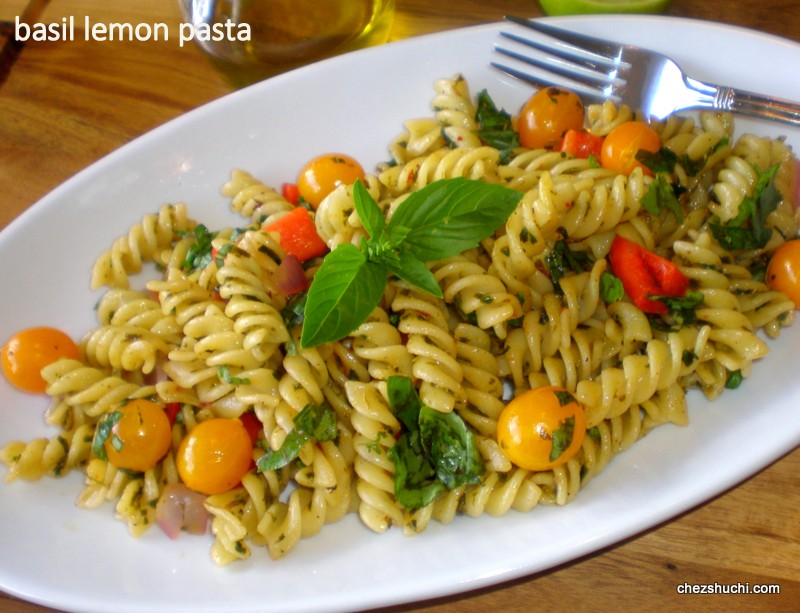 For Final Pasta dish:
Peel , wash, and cut onion into half inch pieces.
Wash cherry tomatoes and pat dry them on kitchen towel.
Cut bell pepper into half inch pieces.
Heat olive oil in a pan/ wok. Add onion pieces. Sauté for a minute or until onions are transluscent. Add bell pepper. Sauté for a minute.
Add cooked pasta. Toss well with veggies. Add basil lemon dressing and tomatoes.Toss well by using 2 wooden spatulas.
Taste and adjust the seasoning.
Delicious basil lemon pasta is ready to serve. Garnish with basil leaves and serve.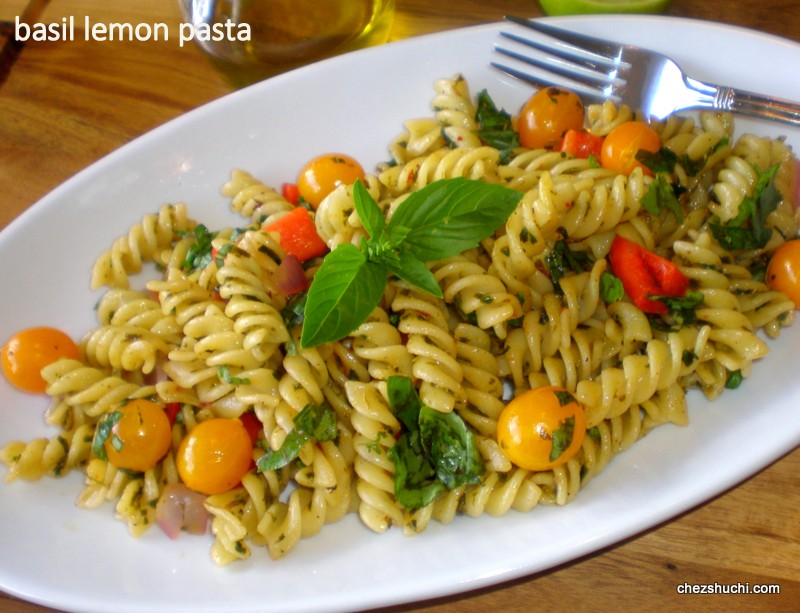 About Basil:
Basil is a fragrant herb important for Italian cooking. Basil belongs to the same family like Tulsi. Do not get confused with Tulsi (the holy Indian herb - also known as holy basil). You can easily grow basil at home. You can also use holy basil, it is a bit stronger but has nice aroma.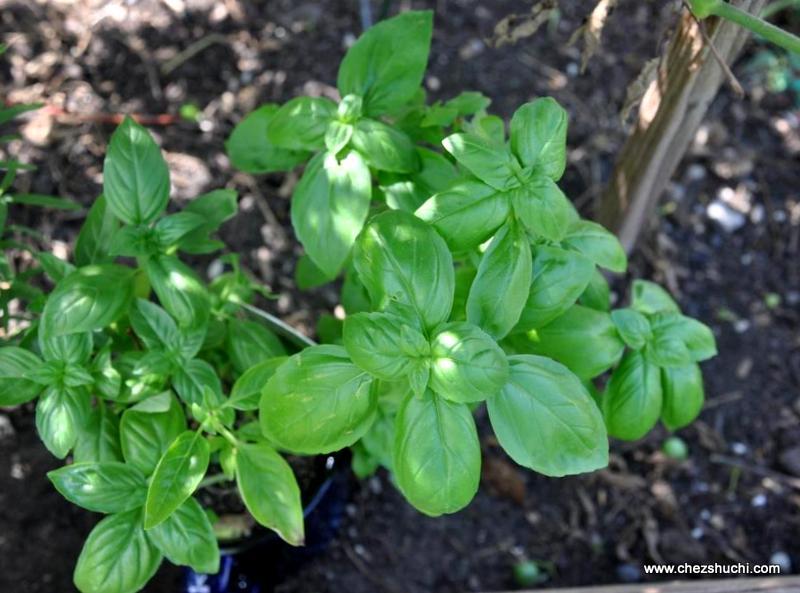 Some Tips/ Suggestions:
I have added colorful vegetables to make this dish attractive to eyes and healthy.
You can make this basil lemon dressing and store it in fridge for a a couple of days. It can be used in salad, breads, sandwitches etc.
I have used Rotini pasta but feel free to use any other pasta of your choice.
---