Penne with Marinara
हिन्दी में पढ़ें
Penne is a very famous variety of pasta that can be easily found in most of the supermarkets. Marinara sauce is an easy to make sauce. This sauce is made of fresh Roma tomatoes, flavored with fresh basil leaves, and seasoned with freshly ground black pepper and salt. So try delicious Penne with Marinara sauce. You can use some other variety of pasta if you do not find penne.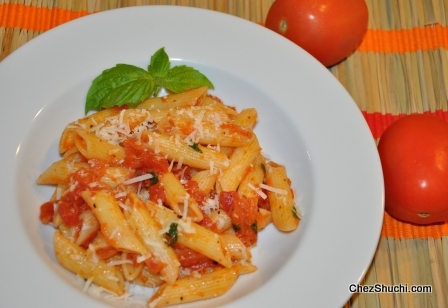 Ingredients

(serves 3-4)
Takes 20-25 minutes start to finish
For Pasta:
Penne pasta 200gms/½ pound
Water about 5-6 cups to boil the pasta
Salt 2 tsp
For Marinara Sauce:
Red Roma tomatoes 4-5 medium
*Red onion 1 small, finely chopped
Basil leaves handful
oregano fresh or dried 1 tsp
Salt to taste
Black pepper, Freshly ground to taste
Olive oil 2 tbsp
For serving :
Parmesan cheese ¼ cup (optional)
*Traditional Italian recipe calls for 1 minced garlic clove; since I do not use garlic in my cooking, I have used red onion instead.
Method of preparation
Boil about 5-6 cups of water in a big pan. Add 2 tsp salt and penne pasta in the boiling water.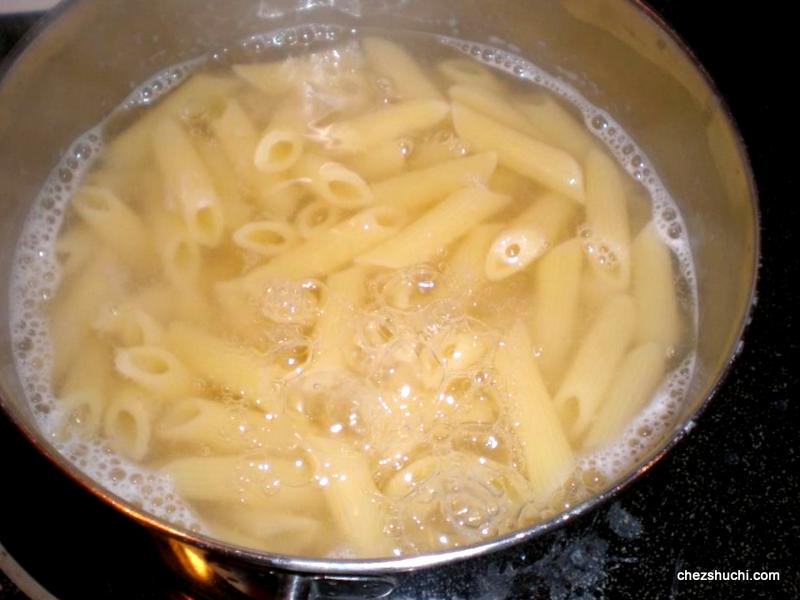 penne boiling
Boil until Penne are soft but firm. Usually it takes about 10 minutes to boil penne. Drain lightly, Penne should remain soft.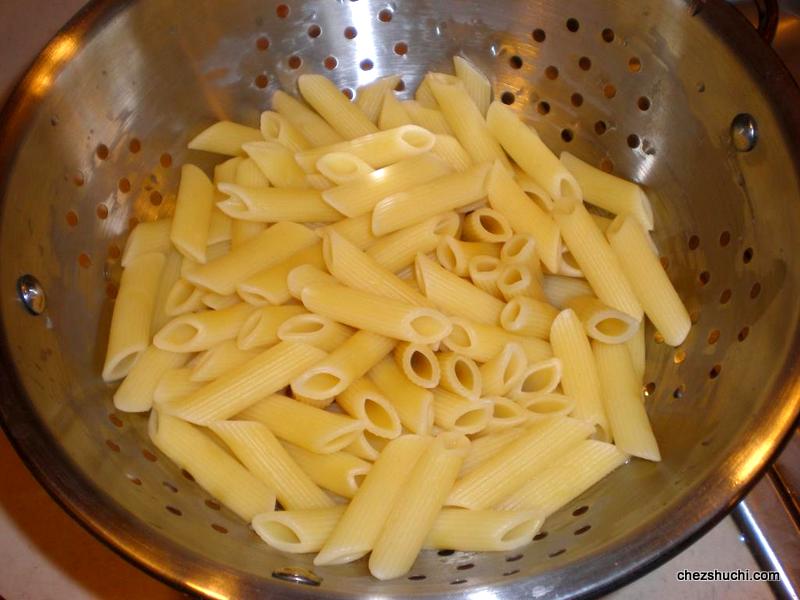 boiled Penne
Wash and boil the tomatoes for 2 minutes. Let the tomatoes cool down. Now take the skin off, and cut the tomatoes in half. Scoop out the seeds of the tomatoes, and dice the tomatoes.
Wash and chop the basil leaves. (I like to tear the basil leaves by hand, instead of chhopping them). If you do not find fresh basil leaves, use dried ones.
Heat olive oil in a pan/ wok. Add minced onions. Sauté for about 2-3 minutes or until onions are golden.
Now add chopped tomatoes, salt, oregano and freshly ground black pepper in the sautéed onions.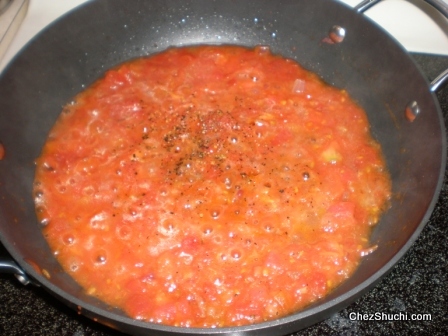 marinara sauce making
Mix well and let it cook on medium to low heat for about 10-15 minutes or until the sauce is thick and smooth. Now add basil leaves. Mix well.
Now add boiled penne in the sauce. Toss well until penne are well coated with the sauce. Adjust the amount of salt, and pepper to taste.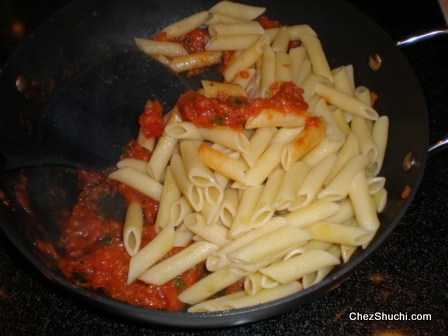 penne in marinara sauce
Delicious Penne with Marinara sauce is ready to serve. Add some grated Parmesan cheese on top.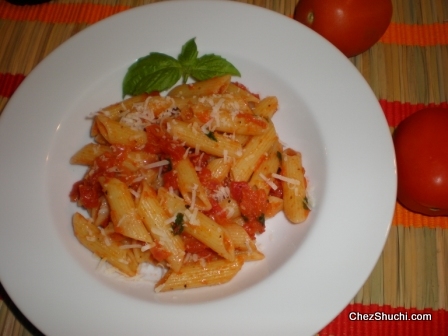 Some Tips/ Suggestions: