Spaghetti Alfredo
हिन्दी में पढ़ें
Spaghetti is a very common variety of pasta. This is an easy to make recipe for spaghetti in Alfredo sauce. Alfredo sauce is made with butter, fresh heavy whipping cream, and Parmesan cheese. You can also add nutmeg or black pepper to season the sauce. Try out this exotic Italian pasta dish..........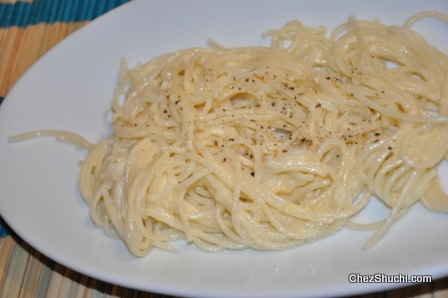 Ingredients

(serves 3-4)
Takes about 20 minutes start to finish
For Pasta:
Spaghetti 200gms / about ½ pound
Water about 6 cups to boil the pasta
Salt 2 tsp
For Alfredo Sauce:
Butter 2 tbsp
Fresh heavy whipping cream ½ cup
Parmesan cheese 45 gms/ 1.5 oz
Salt ¼ tsp
Black pepper, freshly ground to taste
Method of preparation
Boil about 5-6 cups of water in a big pan. Add 2 tsp salt and spaghetti in the boiling water.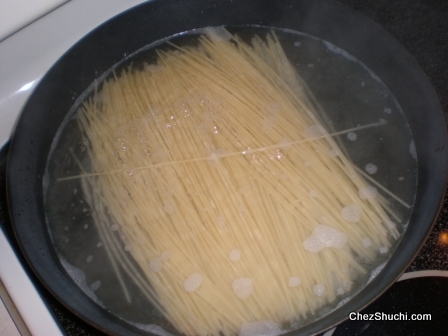 spaghetti boiling
Boil until spaghetti are soft but firm. Usually it takes about 10 minutes to boil tha pasta. Drain lightly, spaghetti should remain soft. Keep aside.
Heat butter in a pan/ wok. Add fresh cream and stir constantly until it bubbles. Now turn off the heat after the sauce has thickened a little. This process takes about 3-4 minutes.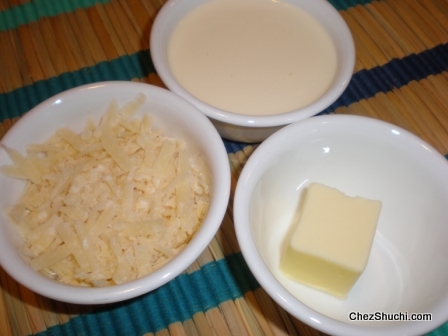 Parmasen cheese, butter, and fresh cream for Alfredo sauce
Now add boiled spaghetti, and parmesan cheese in the thickened sauce.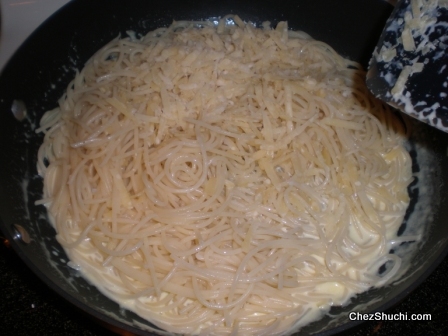 Spaghetti in Alfredo sauce
Toss until spaghetti are well coated with the sauce, and parmessan cheese has melted. Adjust the amount of salt, and add pepper to taste.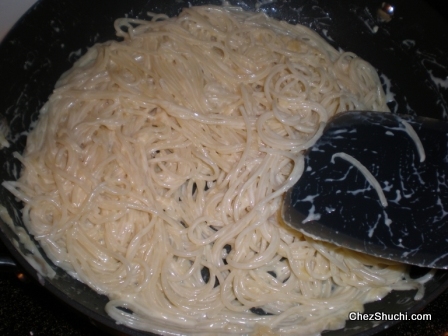 well coated spaghetti
Delicious Spaghetti with Alfredo sauce is ready to serve.
Tips/ Suggestions
While spaghetti is boiling you can make Alfredo sauce on the other burner to save time.
Parmesan is known as Parmigiano-Reggiano chesse in Italy.
You can also use some other variety of pasta if you do not find Spaghetti.
---