Rotini with Vegetables
हिन्दी में पढ़ें
Italian cuisine is very popular all around the world. Here we are making a very simple, quick, delicious and also a healthy pasta preparation. I have used Rotini pasta but you can use any pasta of your choice. Rotini is a helix or corkscrew shaped pasta. This pasta dish is a very nutritious as it has lots of veggies in it and it is seasoned with Italian herbs and red chili flakes which provide an additional zing. Try out this flavorful pasta and do not forget to write your valuable comments. Happy cooking, Shuchi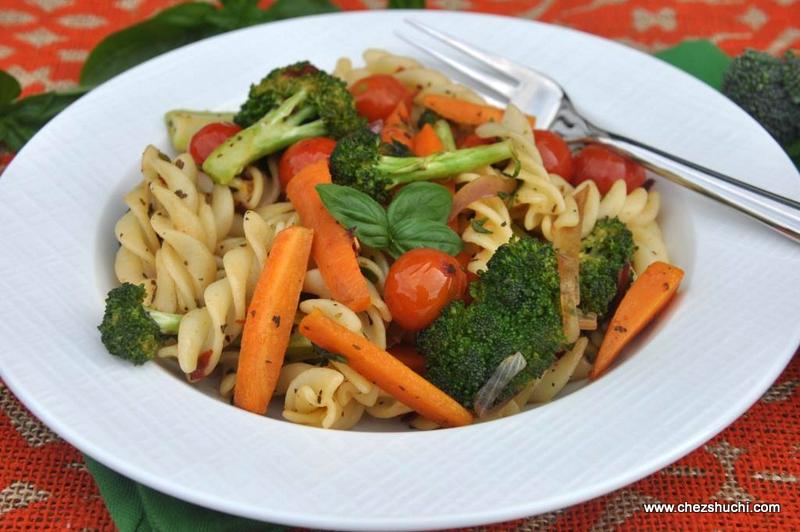 Ingredients
(makes 3-4 servings)
Takes 20 minutes start to finish
Rotini pasta 125 gms/¼ pound
Water about 4-6 cups to boil the pasta
Salt 1 tsp (to boil the pasta)
Red onion 1
Broccoli florets 1 cup
Sliced carrots ½ cup
Cherry tomatoes, 1 cup
Green olives 5-6 (optional)
Basil leaves handful (if you dont find fresh basil leaves use dried basil)
Oregano leaves 2 tbsp fresh (use 1 tsp dried oregano)
Red chili flakes ½ tsp
Salt 1 tsp
Brown sugar 1 tsp
White vinegar 1 tbsp
Olive oil 3 tbsp
freshly ground black pepper as per taste
Method of preparation
Boil about 5 cups of water in a big pan. Add 1 tsp salt and Rotini pasta in the boiling water.
Boil until pasta is soft but firm. Usually it takes about 8 minutes to boil Rotini pasta. Drain lightly, pasta should remain soft.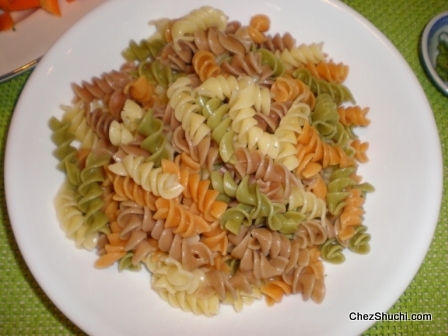 boiled Rotini
Peel, wash, and cut onion into one inch pieces.
Wash and chop the basil leaves. If you do not find fresh basil leaves, use dried basil.
Heat olive oil in a pan/ wok. Add onion pieces. Sauté for a couple of minutes or until onions are transluscent.
Add broccoli, and carrot pieces. Sauté for a couple of minutes . Add salt, sugar, crushed black ppper, and red chili flakes. Mix well, cover the lid and cook the veggies for a couple of minutes.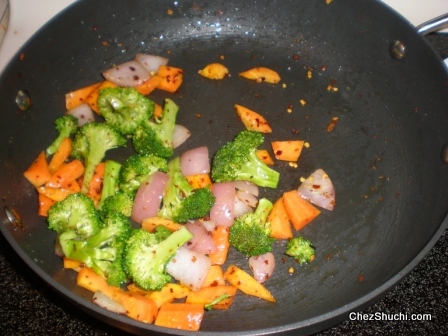 veggie cooking
Add tomatoes, basil leaves, and oregano. Sauté for a minute and add cooked and drained Rotini pasta to the pan. Toss well by using 2 wooden spatulas.Add vinegar. Mix well.
Taste and adjust the seasoning as per taste and turn off the heat.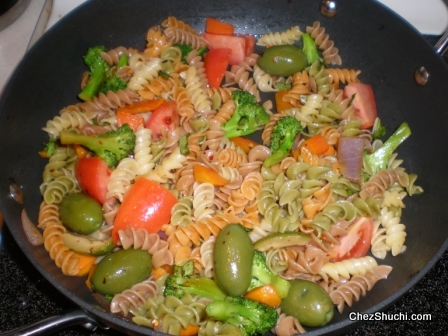 Rotini pasta with veggies
Spicy Rotini pasta with veggies is ready to serve.
You can add some grated Parmesan cheese on top to enhance the taste.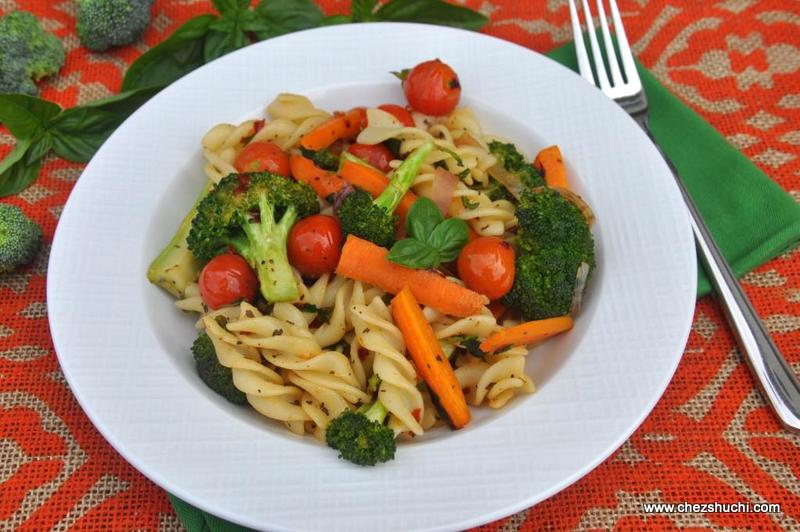 Some Tips/ Suggestions
The Rotini pasta I have used is made of semolina and vegetables - Orange one has carrot flavor, red has beetroot, green has spinach, and white is plain semolina pasta.
You can also use some other variety of pasta if you do not find Rotini.
I have added a hint of sugar in this preparation which enhances the flavor of vegetables and also the color of vegetables doesn't fade.
You can use some other vegetables like bell pepper (capscium), olives, peas etc. to this pasta preparation.
---