Focaccia Bread recipe
हिन्दी में पढ़ें
Focaccia is a very popular variety of Italian bread. Basic Focaccia bread is made with all-purpose flour (maida) fermented with yeast and topped with olive oil and herbs. Focaccia can be served with soups, salads, pasta etc. Focaccia itself is a very delicious bread and flavored olive oil enhances its flavor even more. You can be imaginative and top it with different flavors and toppings like pizza. It is an easy and tested recipe of Focaccia bread. I have tried making focaccia bread and home many times and have always had rave reviews. I have used rosemary (an Italian herb) to enhance the flavor of focaccia. Please do try this recipe and feel free to write to me if you have any questions. Best wishes, and happy cooking, Shuchi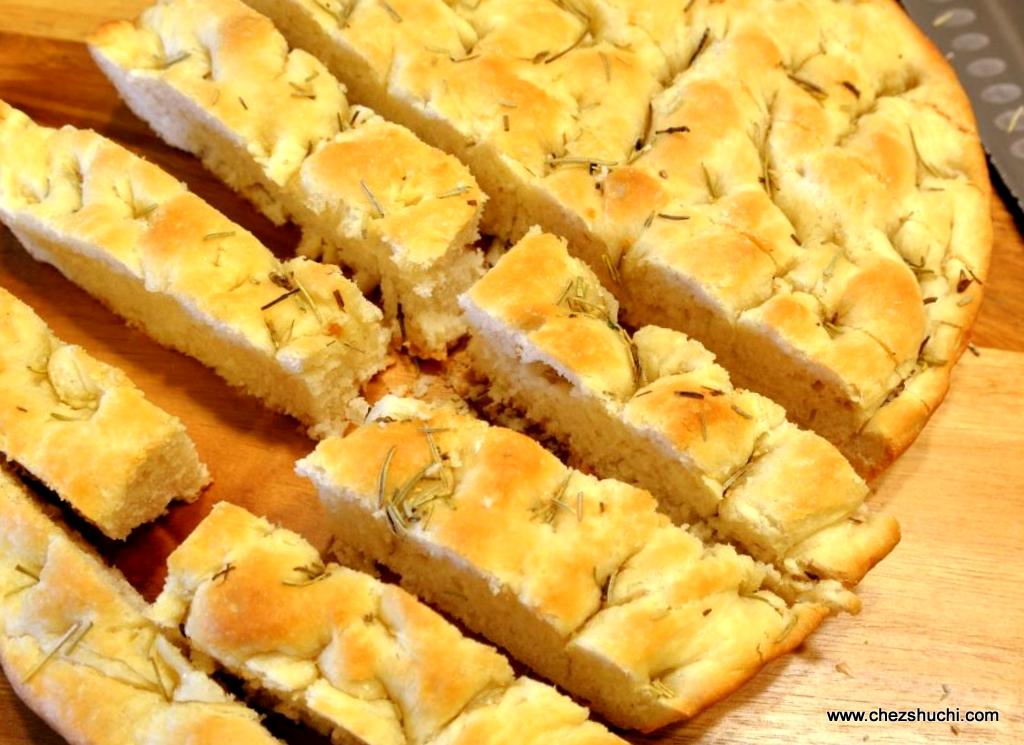 Preparation Time: 10 minutes
Fermentation time: 1 hour and 30 minutes
Baking time: 20-25 minutes
Approximately 100 calories in each slice
Ingredients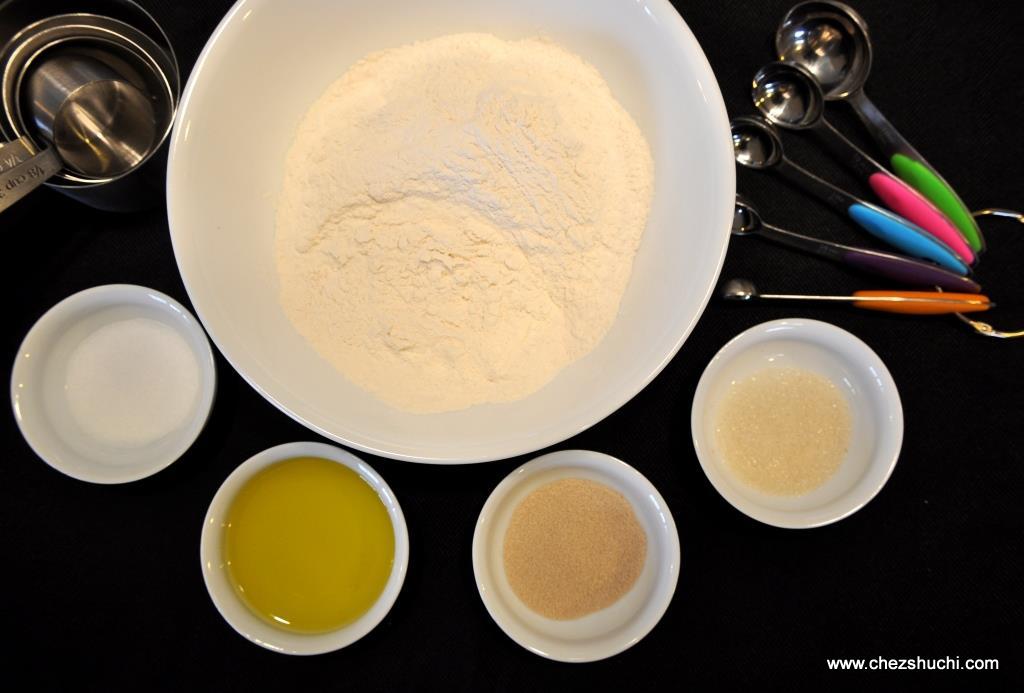 All purpose flour 2 cups+ 2 tbsp for dusting
Sugar 1 tsp
Salt 1 tsp
Dry active yeast 1½ tsp
Olive oil 2 tbsp
Water about ½ cup
Ingredients for Topping
Olive oil 1 tbsp
Coarse salt a little bit (optional)
Rosemary 1 tbsp (optional)
Method of preparation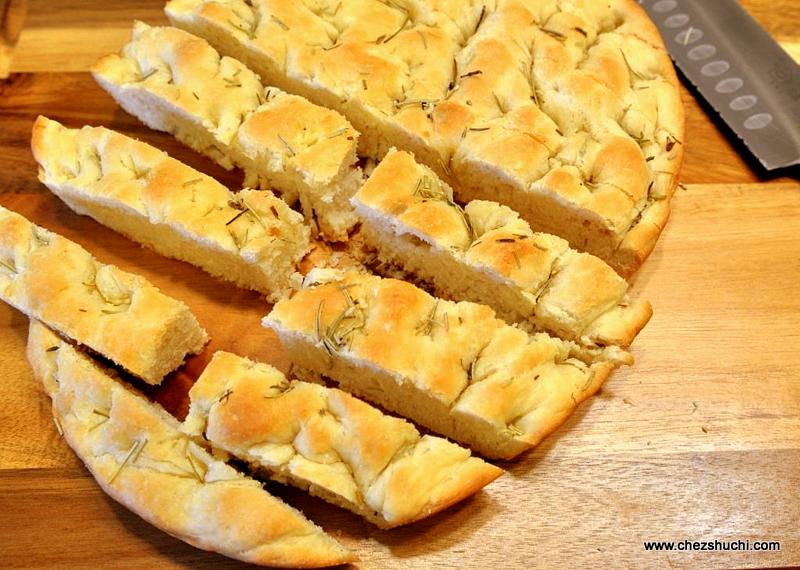 In a small bowl, take about 2-3 tbsp warm water and mix 1 tsp sugar to it. Add active dry yeast and give a quick stir. Let this mixture sit for 10 minutes.
After 10 minutes you will see the yeast mixture all frothy and bubbled up. This indicates that the yeast mixture is ready to be used. If you don't see any froth, it means the yeast is dead, throw the mixture and start over again using fresh yeast.
In a big mixing bowl take 2 cups all purpose flour (maida), and 1 tsp salt. Add 2 tablespoons of olive oil in flour . Add the yeast mixture in the flour .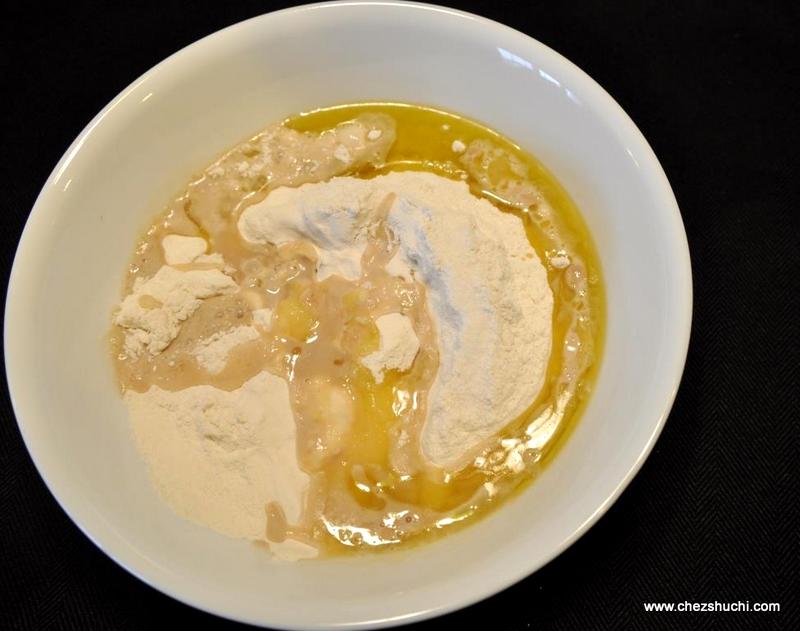 flour with oil and active yeast
Mix well till everything is well combined. Add water a little by little and make a semi soft dough.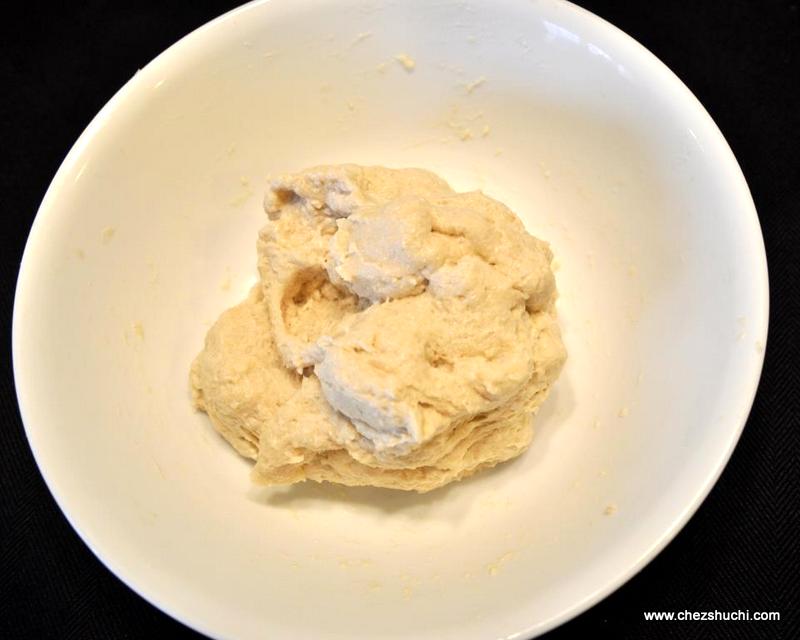 focaccia bread dough
The dough will be sticky at this point. Add a little flour and knead the dough back and forth a few times. The dough will become smooth after a little kneading. You can also use a little olive oil if the dough is sticky. Do not over knead the dough.
Cover the dough with plastic sheet and keep it in a warm place for fermentation. Let it rise for around 1 hour. After 1 hour, the dough will more than double in size, as you can see in the following picture.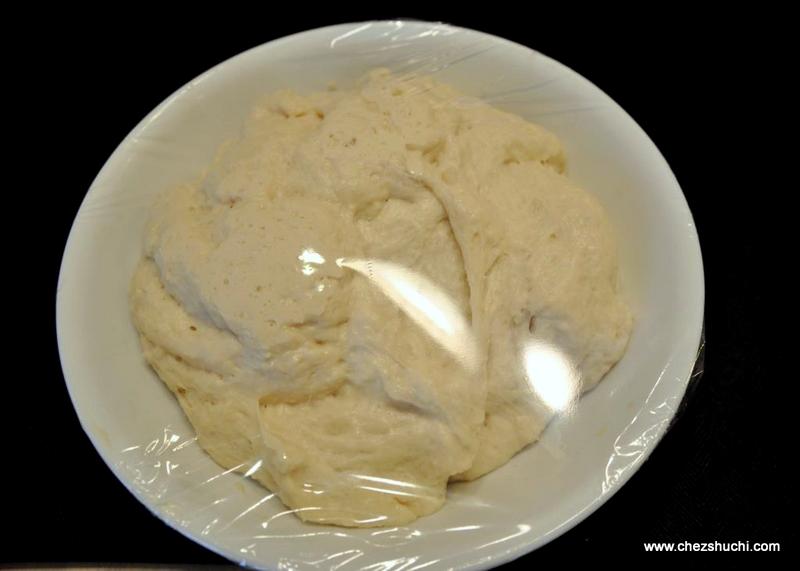 fermented dough, double in size
Grease a baking tray. You can use any shape glass or metal tray. I have used 9 inch round metal pan.
Grease the fingers with a little bit of olive oil and transfer the dough onto to a greased baking pan and punch to release the air. Strech the dough to flatten it by using your fingers. Cover the dough and and let the dough rest for 20 minutes.
Preheat oven to 425°F.
While oven is preheating flatten the dough completely so that it covers the pan. Using your fingers poke the dough all over. Press your fingers hard so it touches the bottom of the pan. Drizzle about 1 tbsp. olive oil all over. Sprinkle some crystals of salt and some rosemary if you want to. I have used dried rosemary; fresh rosemary can be used if available. Cover the baking tray with a clean cloth and keep aside while oven is preheating.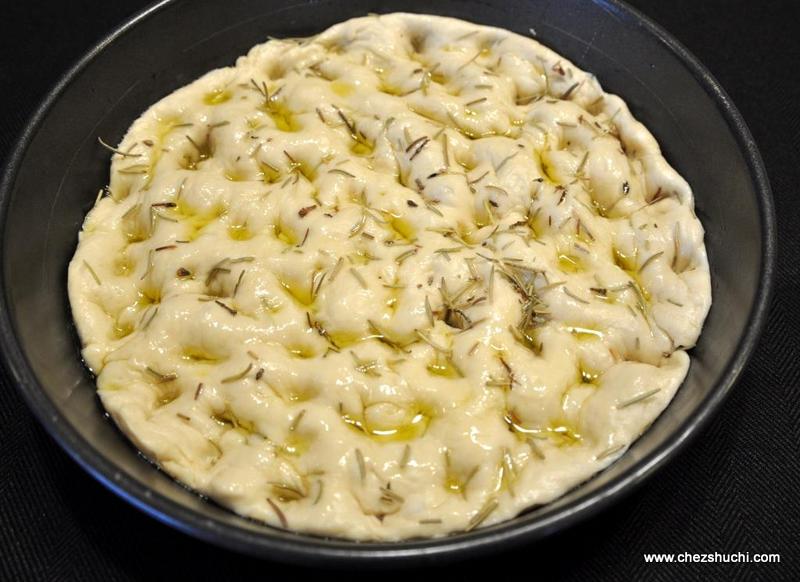 dough is ready for baking
Place the baking tray in the preheated oven and bake the bread at 425°F for about 20 minutes or till it is nice golden brown in color.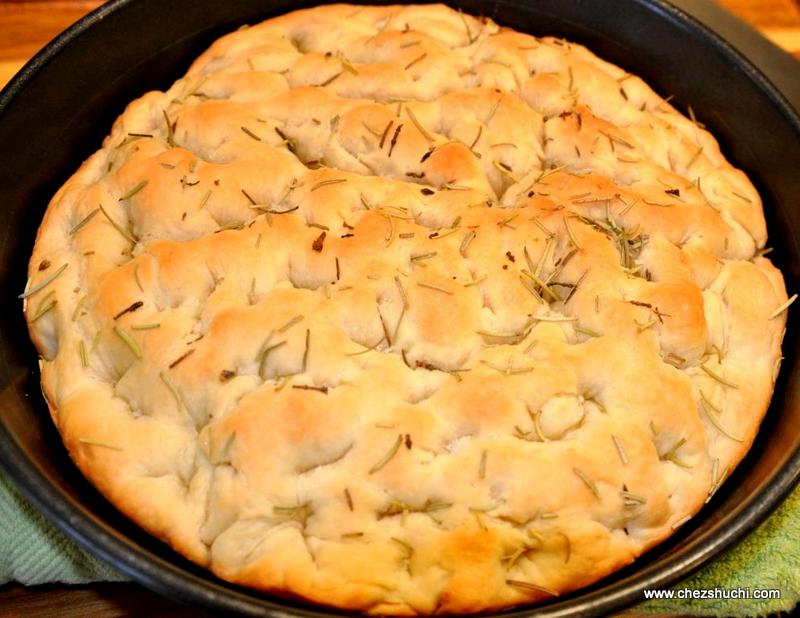 Keep the baked bread aside to cool.
Delicious, fresh and aromatic Focaccia bread is ready to serve now. Cut it into desired shape and serve it with your favorite pasta, soup or even with just olive oil .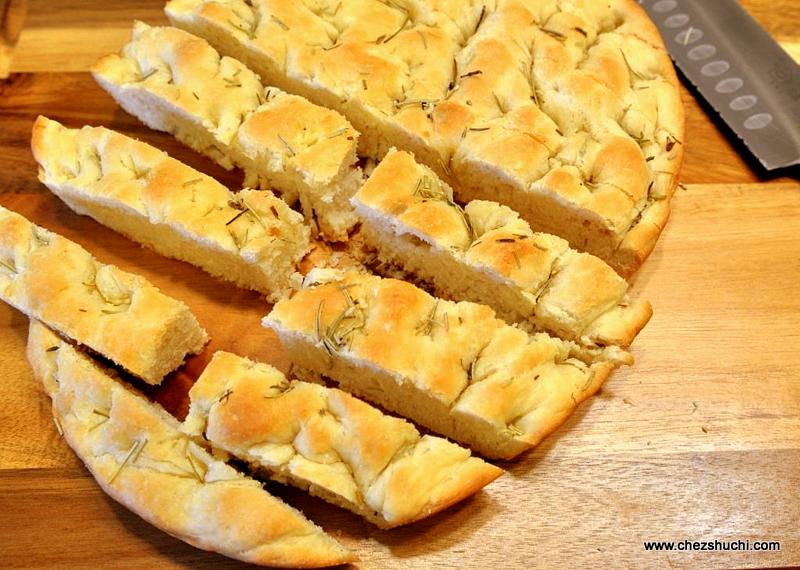 To make flavored olive oil, in a small bowl take 2 tbsp olive oil. Add salt and freshly ground blace pepper. Mix. Serve! You can also add some herbs and grated parmesan cheese in oil too.
Tips/ Suggestions:
Yeast is an important ingredient. Yeast can be found in the grocery stores or also in organic/health stores. Make sure that yeast is active and it is not dead.
You can make classic focaccia bread without herbs or with herbs. Use fresh or dried herbs as per availability.
You can also use some other toppings as per taste.
You can use homemade focaccia bread for a couple of days.
---