हिन्दी में पढ़ें
Guacamole
Guacamole is a very popular Mexican avocado dip/sauce/accompaniment. There are many different ways to make guacamole. Guacamole can be served with Tortilla chips, Pita bread, and can also be filled in wrappers. Enjoy this delicious, healthy, and very easy to make guacamole….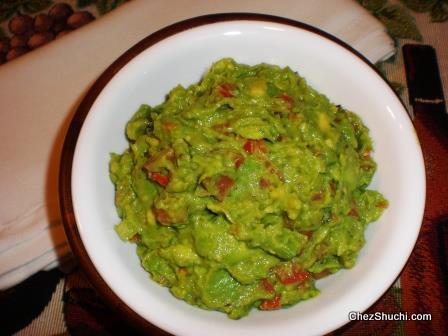 Ingredients
(Makes about 1

½

cups guacamole)
2 Avocados ripened
1 medium tomato, finely chopped
2 tbsp finely chopped onions
1 Jalapeño pepper, finely chopped (optional)
1 tsp salt or to taste
3 tbsp lemon juice
3 tbsp coriander leaves (cilantro), finely chopped
Method of preparation:
Wash the avocadoes. Cut them into halves.
With the help of spoon scoop the avocadoes.
In a bowl take scooped avocado. Add ½ tsp salt and 2 tbsp lemon juice and beat well.
Add chopped tomatoes, chopped onions, jalapeño pepper, chopped coriander leaves. Add remaining salt and lemon juice and mix well.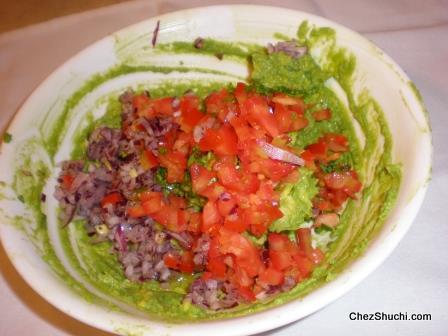 Delicious guacamole is ready .
Transfer the guacamole in a serving dish. You can serve the guacamole immediately or you can chill it before serving.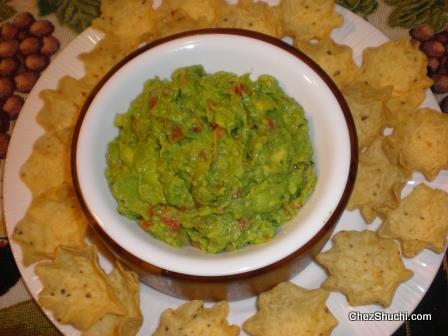 Serve with tortilla chips. You can also serve it as a salad with Dal & rice.
Some Tips/ Suggestions:
If you like spicy food add some finely chooped green chilies.
You can also adjust the seasoning as per taste.
---
Some Other delicious and healthy dips/accompaniments:
---