हिन्दी में पढ़ें
Hummus
Hummus is a very popular Middle Eastern dip/ sauce. It is becoming very popular these days all around the world. Hummus is made with cooked chickpeas (Chole) and tahini (sesame paste). It can be served as a dip for veggie sticks, crackers, pita bread (An Arabic bread) or with Falafel etc. Hummus can be easily found in Middle Eastern/ European stores but nothing can beat freshly made Hummus at home....All your suggestions are very welcome!!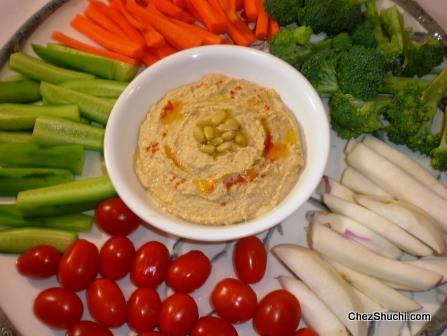 Ingredients
(Makes about 1½ cups)
3 tbsp tahini sauce
¼ cup raw chickpeas ( garbenzo beans/ Chole)/ 15 oz can
¼ cup Olive oil
¼ tsp salt/ to taste
½ tsp ground cumin
1 clove garlic (optional)
3 tbsp lemon juice
½ tsp red chili powder / to taste
To Garnish:
a little bit of olive oil
a little bit of red chili powder
1 tsp roasted pinenuts
Method of preparation:
Clean, wash and soak the chickpeas overnight in enough water.
Cook the chickpeas with

¼ tsp

salt until they are tender. The best way to boil the chickpeas is to take a couple of whistles in the pressure cooker on medium heat. You can also use canned chickpeas. If using canned chicpeas, please wash them before using.
In a blender take cooked chickpeas, tahini, olive oil, salt, pepper, garlic, and ground cumin. Blend until a paste forms.
Add lemon juice and blend again. Taste and adjust the seasoing as per taste.
Transfer the hummus in a serving bowl. Keep it in the fridge. Garnish when ready to serve.
To garnish- Drizzel olive oil, and sprinkle a little bit of red chili powder. Top with roasted pinenuts.
Delicious hummus is ready to serve. Serve with Pita bread, crackers, or with fresh veggie sticks....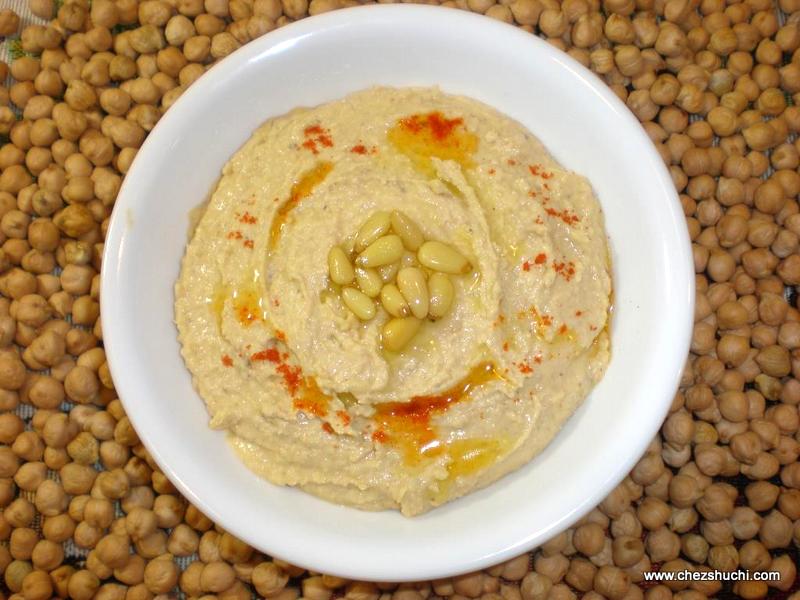 Some Tips/ Suggestions:
Tahini sauce is easily available in grocery stores. Tahini sauce is made with hulled sesame seeds, which are ground to a fine paste. In case if you do not find it here is the recipe for tahini- Dry roast 2 tbsp sesame seeds for a couple of minutes until it is aromatic but does not change the color. Set aside to cool down. Grind roasted sesame seeds until absolutely smooth paste is formed. Add 1 tbsp olive oil to get the right consistency. You can also make an extra lot of tahini and store it in fridge.
I made the Hummus without garlic as I do not use garlic in my cuisine. But Traditional recipe calls for 1 clove garlic.
---