Hari Matar ka Nimona
A green peas curry
हिन्दी में पढ़ें
Nimona is a very popular green pea's curry preparation. This dish is specially made in winter season in India, when Bazaars are flooded with fresh green peas. Green peas is a good source of vitamin A and C. It is also a good source of dietary fibers and minerals like potassium, magnesium etc.
I would like to say a special thanks to our very dear friends Mr and Mrs C.V. Singh, for sharing this recipe with me. Last summer when we were in India, Mr Singh advised me that I should write about this traditional winter specialty Matar ka Nimona on my site. So here we are with a very simple, easy to make, and very delicious dish Nimona. I have made this dish Vaishnav style (without onions and garlic). I have cooked peas in ghee (clarified butter) as ghee is considered very healthy and it provide heat in winter, but nimona can be made vegan by replacing the ghee with vegetable oil. I have used frozen peas as we do not get fresh green peas pods in our part of world but I will suggest you to use fresh green peas if you find them. Hope you enjoy this winter delicacy. As always your comments will be highly appreciated. Happy cooking, Shuchi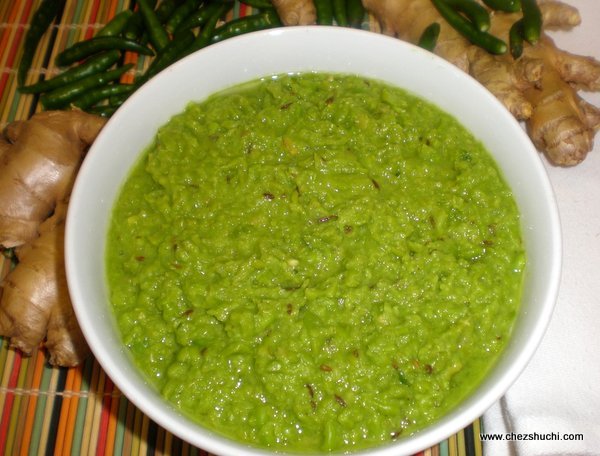 Ingredients (serves 4)
2 cups green peas (I have used frozen)
2 green chilies, finely chopped
2 tsp ginger, finely chopped
1 tsp cumin seeds
2-3 pinces asafoetida
2 bay leaves
1 tsp salt/ to taste
1 tbsp ghee/ vegetable oil
Garam Masalaa hint (optional)
2 tsp/ to taste lemon juice
about 1 cup water
---
Method of preparation:
Wash green peas. I have used frozen peas as that is what we get in our city. But I suggest you use fresh peas if you get them in your part of the world.
In the blender coarsely grind washed green peas. Do not over grind.
In a wok heat ghee/oil on medium heat. Add cumin seeds; when seeds crackle, add asafoetida. Now add bay leaves. Fry for a few seconds.
Add chopped green chilies, and ginger. Fry for a few seconds.
Add coarsely ground green peas. Fry for a couple of minutes.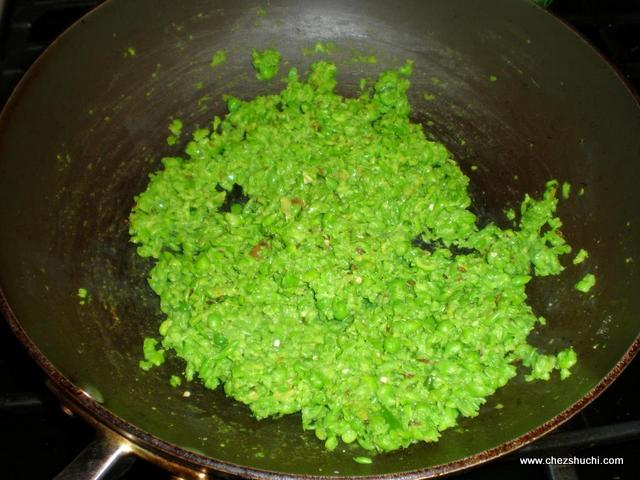 coarsely ground green peas
Add salt in the pea mixture. Mix well. Add about 1 cup of water. Now cover the lid and cook for about 5 minutes .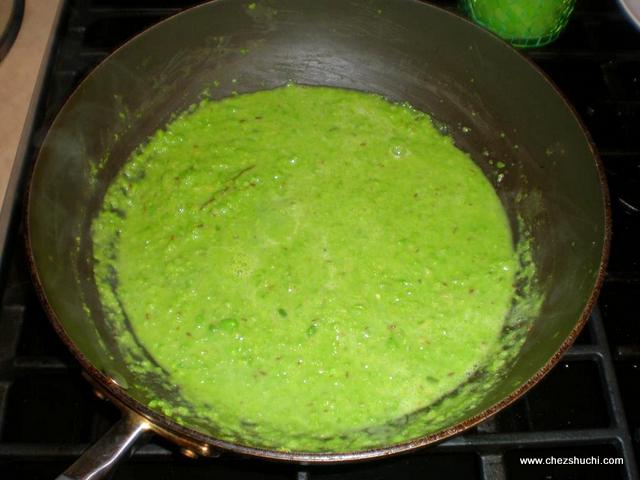 after adding water in peas mixture
Add lemon juice. Mix well and fry for a minute. Turn off the heat. Delicious Nimona is ready.
Nimona tastes very good by itself. But you can serve it with with plain paratha, or plain rice or any roti of your choice.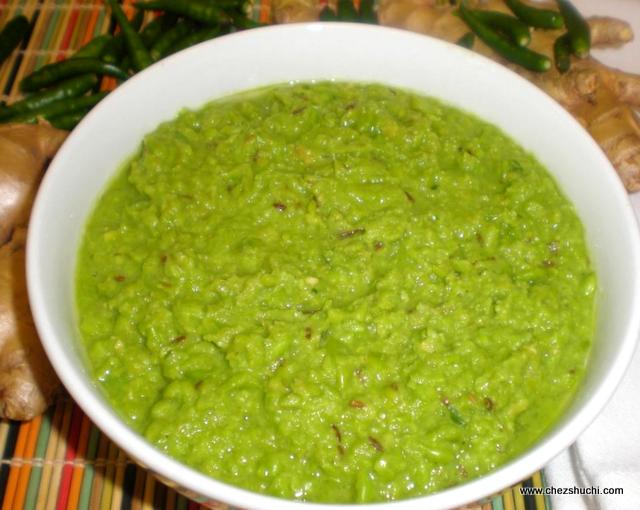 Some Tips/ Suggestions:
Nimona tastes good and it is very aromatic when it is cooked in pure ghee.
It will take a little longer to cook fresh green peas Nimona.
Use fresh peas if you get them in your part of the world.
Coarsely grind peas for Nimona. Do not over grind...
Do not overcook peas as they leave their natural green color.
You can also add onion and garlic in this preparation.
Some Other green peas preparations-
---
---