Gobhi Aloo | Gobhi Matar Aloo | Cauliflower and Potato
हिन्दी में पढ़ें
Gobhi aloo is a very famous dish all over the world. Cauliflower is called as Gobhi in Hindi and potato is called as aloo. Gobhi Aloo is a landmark in Indian in cooking; as in 'Bend it like Beckham', the mother demands her daughter to learn to make Aloo Gobhi.
Gobhi aloo is served as a side dish. This delicious vegan preparation can be served with any of Indian bread. Gobhi aloo is very easy to make North Indian delicacy. I have also added green peas to enhance the flavor of this delicious dish. Please try this recipe and do share your valuable comments. Happy and healthy cooking, Shuchi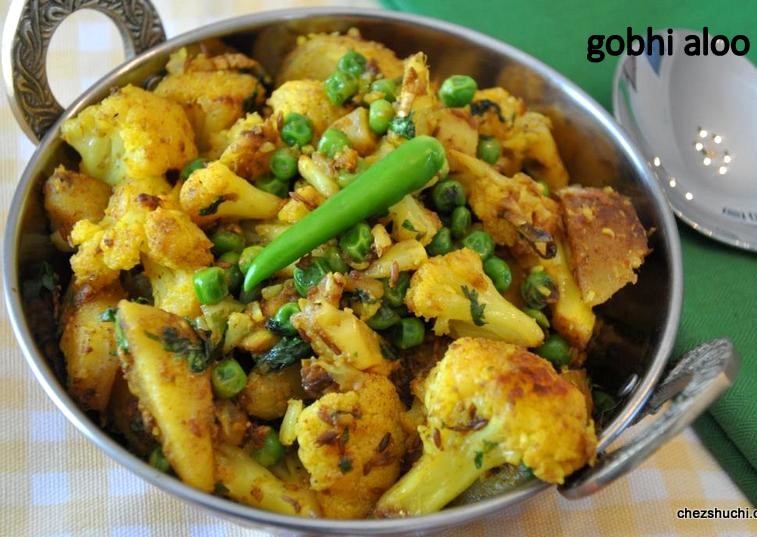 Preparation Time: 2 minutes
cooking time: 15 minutes
160 calories in each serving
Ingredients (serves 4)
Cauliflower 1 medium
Potatoes 2 medium
Green peas ¾ cups, I have used frozen peas
Ginger 1 ½ inch
Green chilies 2
Cumin seeds 1 tsp
Asafoetida ¼ tsp
Salt 1¼ tsp or to taste
Turmeric powder ½ tsp
Red chili powder ½ tsp
Coriander powder 2 tsp
Garam Masala 1 tsp
Amchur powder (dry mango powder) ½ tsp
Oil 2-3 tbsp
Chopped coriander leaves 2 tbsp
Method of preparation
Cut and wash the cauliflower florets and pat dry on the kitchen paper.
Peel, wash and cut the potatoes into an inch pieces.
Wash the green peas and keep aside.
Peel , wash, and finely grate the ginger. Remove the stem, wash, and finely chop the green chilies.
In the wok/skillet heat oil on medium heat . Add cumin seeds. When seeds change the color add asafoetida. Reduce the heat and add grated ginger and chopped chilies and fry for a few seconds.
Add turmeric powder, cauliflower florets and potato pieces. Mix well and fry for a couple of minutes on medium heat. Add salt, red chili powder and half of the coriander powder . Mix well and cover the lid . Cook on low heat until cauliflower and potatoes get tender. (Takes about 12-15 minutes)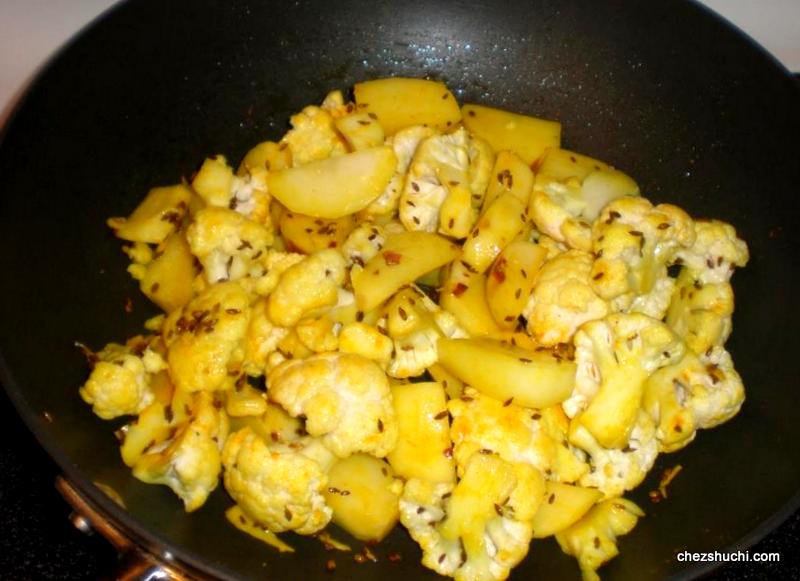 Add green peas, and cook for about 2-3 minutes.
Aadd rest of the coriander powder, dry mango powder
(amchoor powder), and garam masala. Fry the vegetable for a couple of minutes. Be careful while frying the vegetables so they don't mash up.
Add chopped coriander leaves. Mix well, and turn off the heat.
All time favorite cauliflower and potato vegetable (gobhi aloo) is ready.
Serve with any Indian breads. You can also serve it with Plain Paratha or with Poori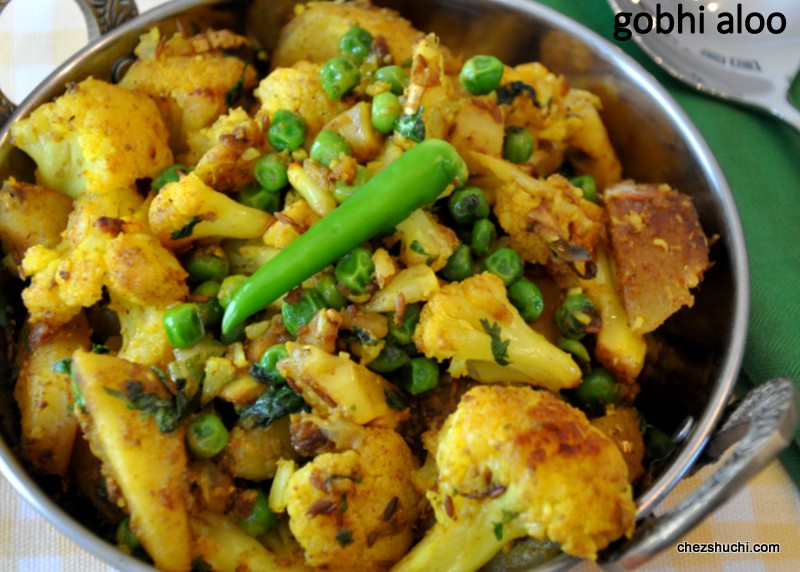 Some Tips/Suggestions:
I have used frozen peas, which are mostly half boiled. If you are using fresh green peas, add them with other vegetables.
Increase the amount of green chilies as per taste. When my kids were young I used to add whole green chilies so it was easier to sepatrate out after the cooking. Now I add chopeed green chilies.
You can also add a chopped tomato in gobhi matar aloo preparation for a change.
You can also add a quarter teaspoon of methidana in seasoning. Methidana helps in digestion of gobhi.
---