हिन्दी में पढ़ें
Paushtik Roti
(Nutritious Roti)
This recipe is for a very healthy and nutritious Indian bread. My kids, who are not a big fans of cabbage and spinach, just loved this bread. Oat is rich in dietary fibres, and minerals. It is considered very healthy. Along with spinach, cabbage and carrots this Indian bread provides wholesome nutrition. You can add more veggies as per taste. Serve this delicious bread with your choice of vegetables...please do share your comments after making this bread!!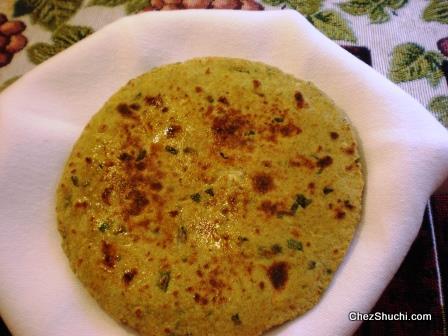 Ingredients
(makes 10 Roti)
¾ cup oat flour
½ cup wheat flour
1 green chili, finely chopped
1 tbsp green coriander (cilantro) leaves, finely chopped
¼ cup spinach, finely chopped
1 medium carrot, grated (use fine whole grater)
¼ cup cabbage, finely chopped/grated
¼ tsp red chili powder
½ tsp salt
about ½ cup water/ milk
Flour to roll the parathas
Ghee/ Butter as per taste, to top the roti
Method of preparation:
In a big bowl take oat flour, wheat flour, finely chopped green chili, finely chopped corianer, finely chopped spinach, grated carrot, finely chopped cabbage, salt, and red chili powder.. Mix all the ingredients well.
Make a medium stiff dough by adding water/milk little by little. Cover the dough and keep aside for 5 minutes.
Smoothen the dough by using a little oil.

Make 10 small rounds.

Heat the griddle/ tawa. While the griddle is heating up, take a ball and roll it with the help of a little dry flour into a 5 inch circle.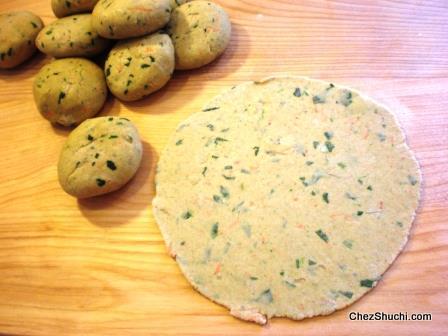 Place the rolled circle (roti) onto the medium hot griddle. Turn it over (after about 15-20 seconds) when you see some red spots on the bread.
For electric stove
Press the roti lightly with a clean cloth or a clean mitten glove. It will puff up and look as shown in pictures above.
Repeat the process with all the rotis.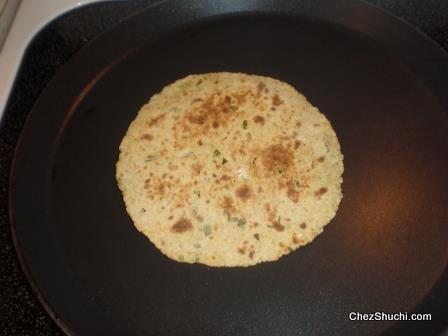 For Gas stove
Hold the roti with the tongs, remove the griddle and put the roti directly on the flame, rotis will puff up immediately, turn the side to cook from the other side. (takes 30 seconds)
Repeat the process with all the balls.
Brush a little bit of ghee on the Roti. Serve hot paushtik roti with your favorite vegetable (sabji).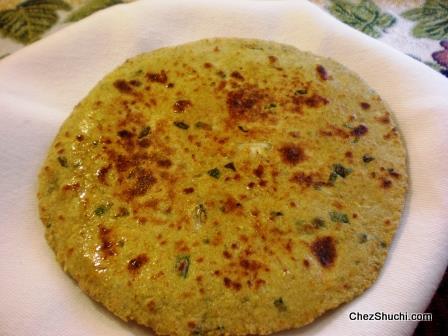 Some Tips/ Suggestions:
Make sure that all the veggies are either finely chopped or finely grated. This helps in rolling the balls and making thin rotis.
I have used paneer whey to make this dough. You can also use milk to make the dough.
---
Some Other Breads you might like:
---