Makke Ki Roti
हिन्दी में पढ़ें
Makke ki Roti (a variety of Indian bread made out of coarsely ground corn flour/ cornmeal) is one of the most popular delicacies from Punjab. This Roti is served with Sarson ka saag (mustard leaves preparation) and one of the most popular combos.One can find this combo in road side stalls, dhabas, and also in five star hotels. Enjoy this delicious preparation and please don't forget to write your valuable comments……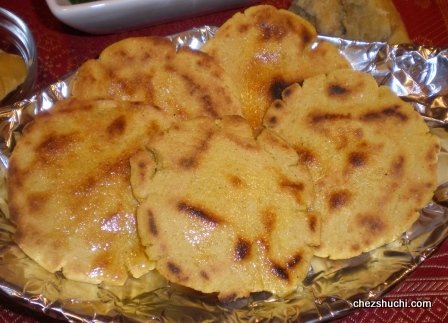 Ingredients

(makes 10 rotis)
Makke ka aata ( similar to cornmeal) 1½ cup
Salt ½ tsp
Water about ¾ cups to make dough
Ghee/butter to brush the top
Special Utensil needed
Rolling pin
Method of preparation
Wash your hands thoroughly. Take the flour and salt in a bowl. Make a soft dough by adding a little warm water at a time. The dough will not be as perfect as a regular wheat flour dough. It is not easy to knead corn dough, as it splits.
I prefer to knead the dough with hands, you are then sure of getting the right consistency. Cover the dough and leave it for 10 minutes.
making the dough 10 balls of dough
Make 10 small rounds of the dough. Now wet your fingers and take a ball . Press the ball between your fingers to make about two and a half inch (2 ½ inch) round circle. The other options is to use dry wheat flour to give the shape to roti between your hands.
ball flattened with the help of water ball flattened with dry flour
Heat griddle (tawa) on medium heat. Place the roti on the griddle, after about 35-40 seconds turn the side of the roti. Wait for 20-25 seconds.
For electric stove
roti on the tawa makke ki roti is cooking
Press the roti lightly with a clean cloth or a clean mitten and cook from both sides. You can also use the grill/ net like the picure for the cooking. Repeat the process with all the rotis.
Note: For gas stove
Hold the roti with the tongs, remove the griddle and put the roti directly on the flame. Cook from both the sides on a low flame. (takes about a minute)
Top with butter or ghee (just brushing).
Tips
It is little bit complicated to make makke ki roti. I prefer to make small rotis and and instead of using rolling pins I make the roti in between my hands.
While one roti is cooking on the griddle you can prepare the other one. And repeat the process.


---