हिन्दी में पढ़ें
Oat Porridge
Oat is a good source of fibers. There are different savory preparations, desserts, and salads that are made out of oat. This is a delicious and easy to make recipe of oat porridge. The porridge can be served for breakfast, as a dessert, or even as a complete meal. You can also make cracked wheat/ daliya porridge by using the same method. Try out this light dish and please do share your comments ......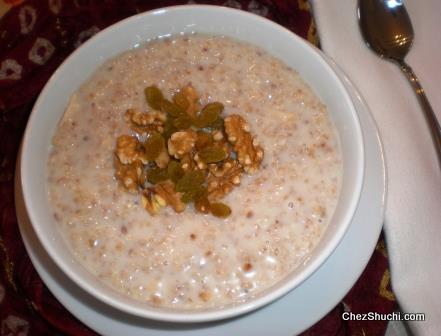 Ingredients ( serves 4)
Cracked oat ½ cup
Ghee ½ tsp
Water 2 cups
Milk 2½ cups
Sugar a little more than ¼ cups
Almonds / nuts of your taste ¼ cups
raisins/ dried berries ¼ cups
Green cardamoms 4 (optional)
Method of preparation:
Slice the Almonds.
Remove the green skin of the cardamoms and grind the seeds.
In the pressure cooker heat ghee on medium heat, and roast cracked oat on medium heat until it is golden red and aromatic. (takes 2-3 minutes).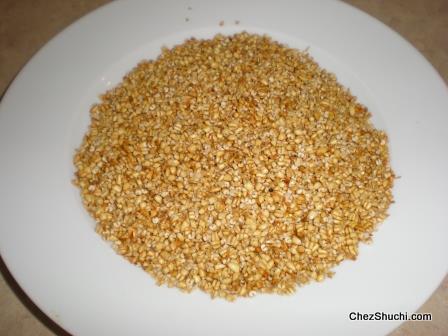 Add water, mix well and take a boil. Cover the lid and take a whistle in the pressure cooker.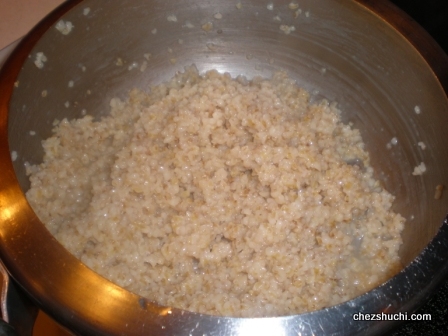 When oat is cooked and tender, add warm milk and mix well. Take a boil and add almonds. Cook for 3-5 minutes.

Now add sugar, mix well and cook for another minute. Turn off the heat. Add ground cardamoms.

Let the oat dessert cool down.
Garnish with raisins and berries. Now oat porridge is ready to serve. It can be served in morning breakfast, or as a dessert, or even as a complete meal if you are looking for something light.
Some Tips/ Suggestions:
Do not add cold milk in the hot cracked oat, as milk may split.
I have used a little bit of ghee to roast the oats as it gives the nice aroma to the porridge but you can remove the ghee and dry roast oats as well.
Some other healthy breakfst dishes
---