Meetha Daliya
हिन्दी में पढ़ें
Daliya, known as cracked wheat in English, is a good source of fibers. This is a delicious preparation for cracked wheat porridge. There are different savory preparations, desserts, salads etc. that are made with cracked wheat. Here we are making a delicious sweet preparation that can be served for breakfast, or as a dessert, or even as a complete light meal. Daliya is also a good choice if you are looking for something light.
Often people think that daliya is a boring, bland food. Try this recipe and your opinion will change immediately. This is my mother's recipe- she roasts the daliya in a little desi ghee which makes the daliya very aromatic. She also adds some nuts in the daliya to make a perfect dessert. Try this delicious daliya recipe and please do share your valuable comments. Happy cooking, Shuchi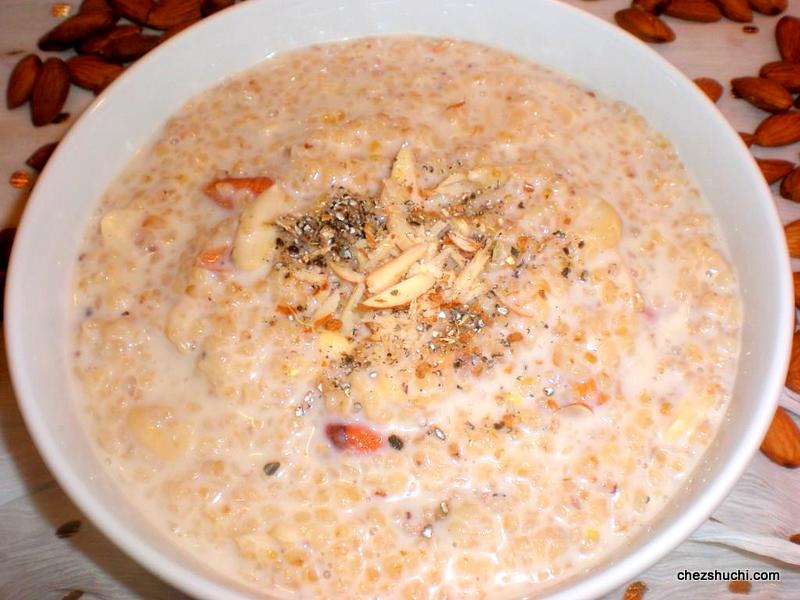 Preparation Time: 2 minutes
cooking time: 20 minutes
Approximately 200 calories in each serving
Ingredients (Serves 4)
Cracked wheat 1/3 cups
Ghee 1 tsp
Water 2 cups
Milk 2 cups
Sugar about ¼ cups
Almonds /walnuts ¼ cups
Raisins/ cranberries 1 tbsp
Green cardamoms 4
Method of preparation
Slice the Almonds.
Remove the green skin of the cardamoms and grind the seeds.
In a pan or in a pressure cooker, heat 1 tsp ghee on medium heat. Add daliya and roast  on medium heat until daliya gets golden red. It takes about 2-4 minutes to roast the daliya.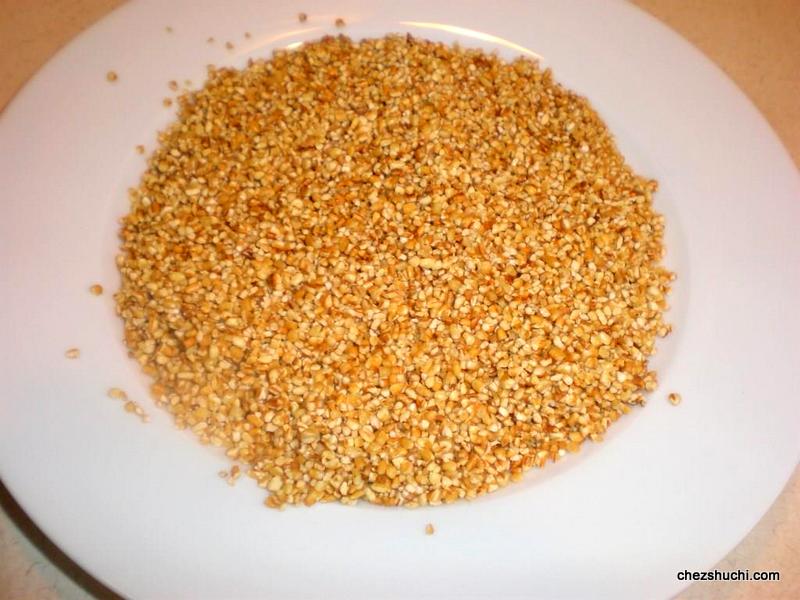 daliya after roasting
Now add water, mix well and take a boil. After the first boil reduce the heat and cook the cracked wheat until it gets tender. The easiest way is to take a whistle in the pressure cooker.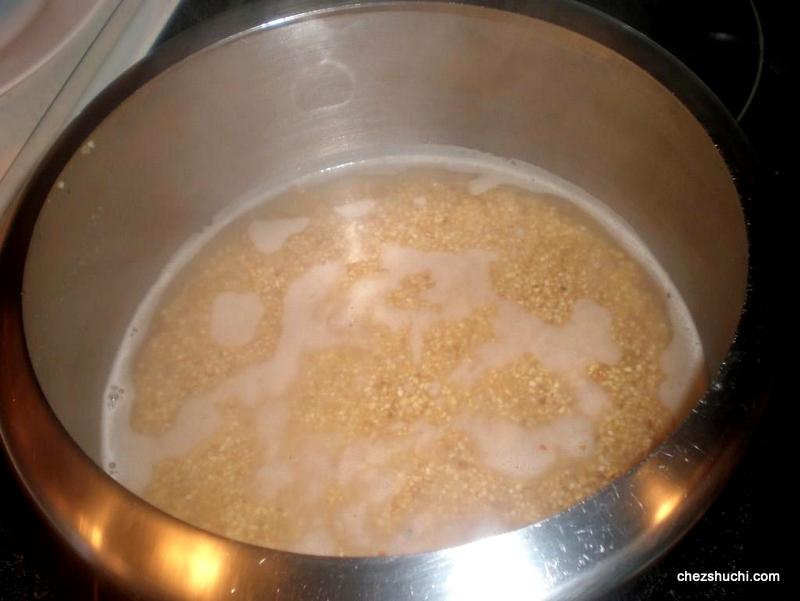 Cracked wheat with water
When daliya is cooked it will look like the follwing pic.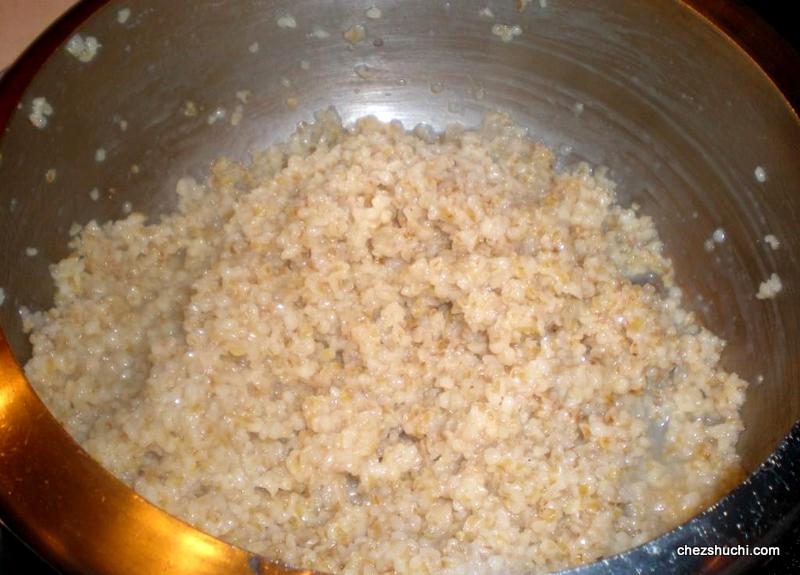 cooked daliya
Add milk in the daliya. Also add almonds and raisins and mix well. Take a boil and let it cook for 3-4 minutes. Add sugar, mix well and cook for another minute. Turn off the heat. Add ground cardamom.
Let the daliya cool down.
Meetha daliya (cracked-wheat porridge) is ready to serve. It can be served in morning breakfast, or as a dessert, or even as a complete meal if you are looking for something light.
Some Tips/ suggestions:
I like to roast daliya in a small amout of ghee. It makes the daliya very aromatic and it tastes good after cooking.
I also add a few threads of saffron in the daliya to make it even more aromatic and tastier.
I have cooked daliya in the water first and then I have added milk in the cooked daliya to make it tasty as well as a light meal. You can also cook daliya in the milk instead of water; if we cook daliya in the milk it takes about 25 minutes to cook. Also the daliya will absorb a lot of milk so it will be delicious, but it will not be as light and healthy as that when cooked in water first.
Do not add cold milk to hot cracked wheat, as milk may curdle.
---