हिन्दी में पढ़ें
Sewai with Vegetables
Sewai or sewain are called as vermicelli in English. Vermicelli are usually made of wheat sooji (semolina). You can find this variety of vermicelli in the Indian or Asian stores. Sewai cooked with colorful vegetables is a delicious, nutritious as well as healthy preparation. You can add many vegetables of your taste in this healthy dish. It is an easy to make quick breakfast dish. Sewai can also be a good option for kids lunch box. Hope you like this recipe. Please do share your comments about the recipe. Happy Cooking! Shuchi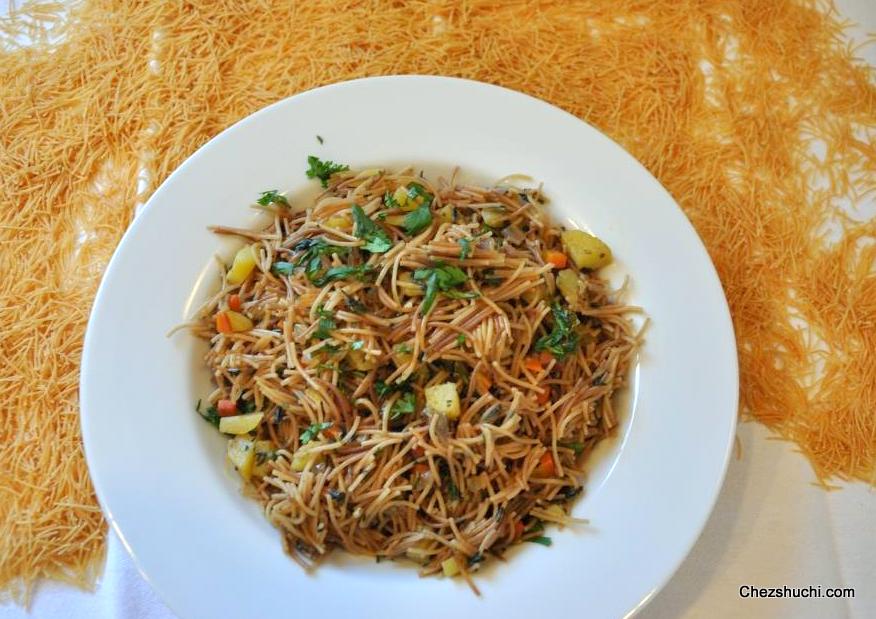 Ingredients
(Serves 4)
Sewai (Vermicelli ) 2 cups
Green chili 1-2
Onion 1 medium
Carrot 1 medium
Potato 1 medium
Green peas ¼ cups
Oil 1 tbsp
Carom (ajwain) seeds 1 tsp
Red chili powder ¼ tsp
Coriander powder ½ tsp
Garam masala ¼ tsp
Salt 1½ tsp or to taste
Lemon juice 2 tsp
Water about 2½ cups
Chopped coriander leaves 2 tbsp
Method of preparation:
Heat a wok. Dry Roast sewai on medium heat till they get dark pink in color. Takes about 2-4 minutes. Take out the sewai and and keep aside.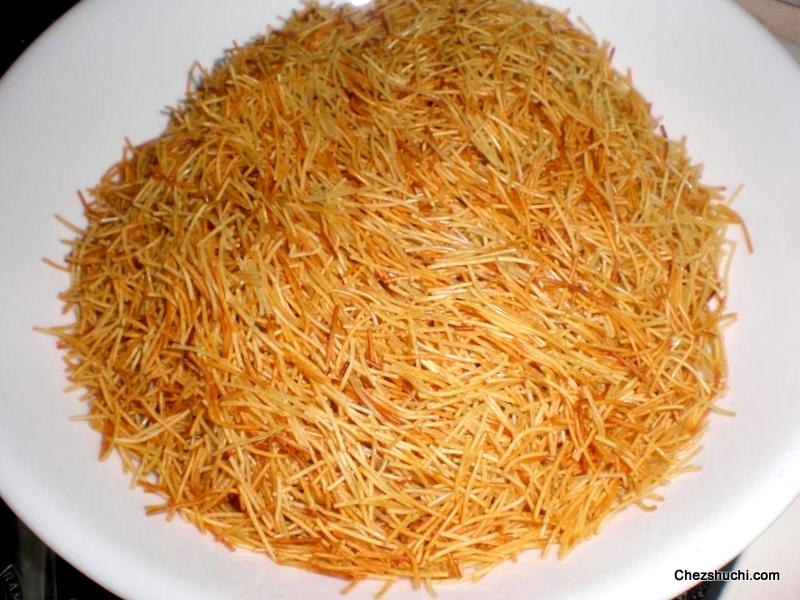 Remove the stem, wash, and finely chop the green chili.
Peel, wash, and cut onions into small pieces.
Peel, wash and cut potatoes into small pieces. Peel, wash and cut carrots into small pieces.
In a wok heat oil. Add carom (ajwain) seeds, when seeds turn red add chopped green chilies and onions. Fry for a couple of minutes or until onions are translucent.
Add in all the vegetables. Fry the vegetables for about 30 seconds. Add in salt, coriander powder and red chili powder, mix in well. Cook the vegetables till they get tender. (Takes about 5-7minutes).
Add roasted vermicelli, mix in well and fry for a minute. Add about 2

½

cups warm water.  After the first boil reduce the heat and cook the vermicelli till they get tender and water is absorbed (Takes about 3-4 minutes on medium heat).
Add garam masala, and lemon juice, and mix well gently. Turn off the heat. Cover the lid and wait for 2 more minutes.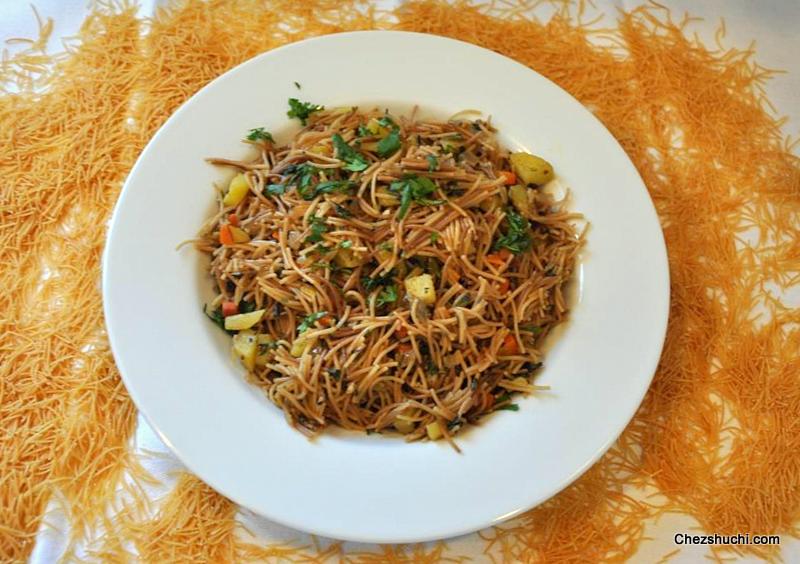 Nutritious and delicious Vermicelli/ sewai is ready to serve. Garnish with chopped coriander leaves at the time of serving.
This Namkeen sewai dish is alsready very delicious. You can serve it with green chutney or Tamarind chutney to enhance the flavor of this dish.
Serve mattha (butter milk) alongside to add more nutrition to your breakfast.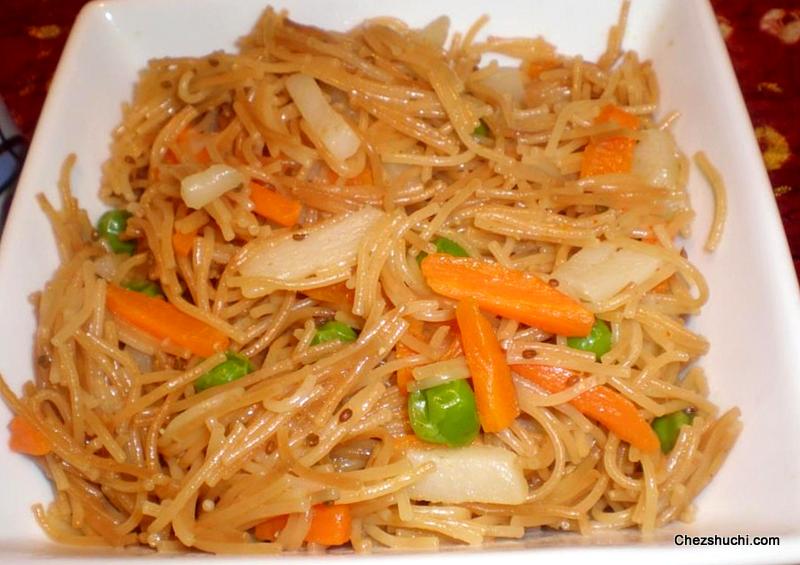 Some Tips/ Suggestions:
There are some different photos of sewai. In top photo sewai I have also added 1 cup chopped spinach. That is why it is a bit darker in color.
You can also add other vegetables as per taste and availability.
Usually vermicelli takes almost the similar amount of water but it varies from brand to brand.
---
Some Other Healthy and Light Indian Breakfasts
---