Oat Pulav With Tofu and Sweet Corn
हिन्दी में पढ़ें
Oat is a good source of fibers. There are many different savory preparations, desserts, and salads that can be made out of oat. Here we are making a delicious savory preparation cracked oats. You can serve this dish in the breakfast, brunch, dinner or it can be packed in lunch box. We have used tofu in this recipe to make it delicious as well as nutritious. We have also added lots of vegetables in this pulav to make it more colorful and tasty. Serve this oat pulav with fresh homemade plain yogurt/dahi or butter milk/mattha to add more nutrition to your diet. Try out this delicious preparation and please do share your comments. Happy and healthy cooking! Shuchi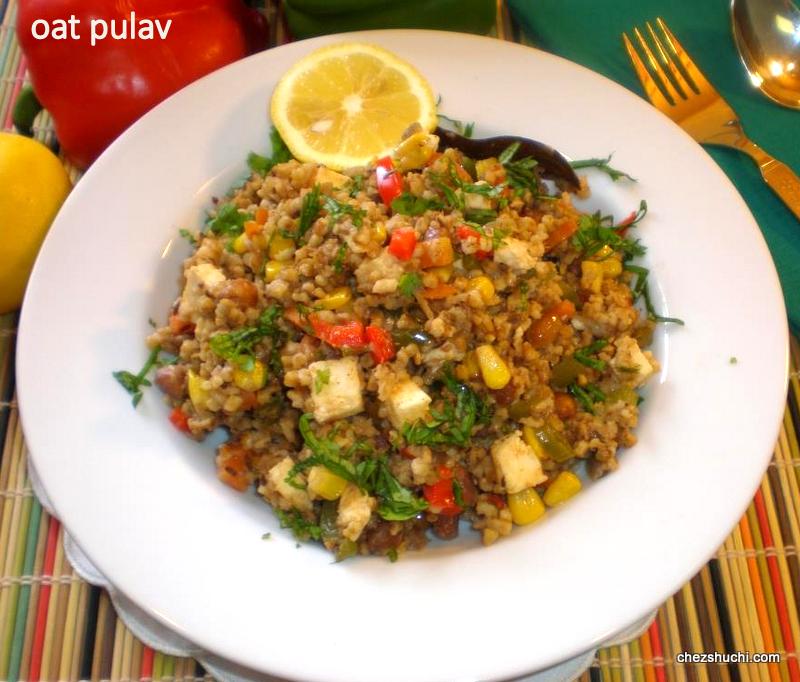 Preparation Time: 7 minutes
cooking time: 15 minutes
Approximately 175 calories in each square
Ingredients (Serves 4)
Cracked oat (steel cut oats) ½ cup
Carrot 2 small 1/3 cup chopped
Bell pepper 1 small 1/3 cup chopped
Corn kernels 1/3 cup
Onion 1 medium
Green chili 2
Ginger, finely chopped 1 tsp
Bay leaves 2
Oil about 1½ tbsp
Cumin seeds 1 tsp
Asafoetida 2 pinches
Salt 1½ tsp/ to taste
red chili powder ¼ tsp
Coriander powder 1 tsp
Garam masala ¼ tsp
Tofu ¼ cup
lemon juice 2-3 tsp
Chopped coriander leaves 2 tbsp
Method of preparation:
In a wok dry roast cracked oat on medium heat until it is golden red and aromatic.(takes 2-3 minutes).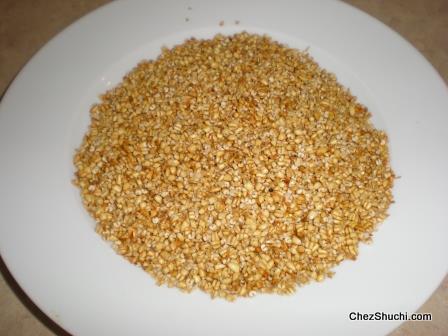 Remove the stem, wash, and finely chop the green chili.
Peel, wash, and cut onions into small pieces.
Peel, wash and cut carrots into small pieces. Wash and cut bell pepper (capscium) into small pieces.
Cut tofu into small pieces.
In a pan, cook roasted cracked oat with ½ teaspoon salt and 1½ cup water. It takes about 15 minutes to cook oat.
In a wok/ skillet heat oil. When oil gets warm, add cumin seeds. When seeds stop crackling add asafoetida, and bay leaves. Fry for a few seconds.
Add chopped green chili, and chopped ginger. Fry for a few seconds. Add chopped onions. Fry for a couple of minutes or until onions are translucent.
Add carrots. Fry for a minute. Add chopped bell pepper, and corn. Add salt, red chili powder, and coriander powder. Mix well.
Add chopped tofu and cooked oats. Add garam masala. Mix and cover the lid and cook for a few minutes. Cook until all the veggies are done.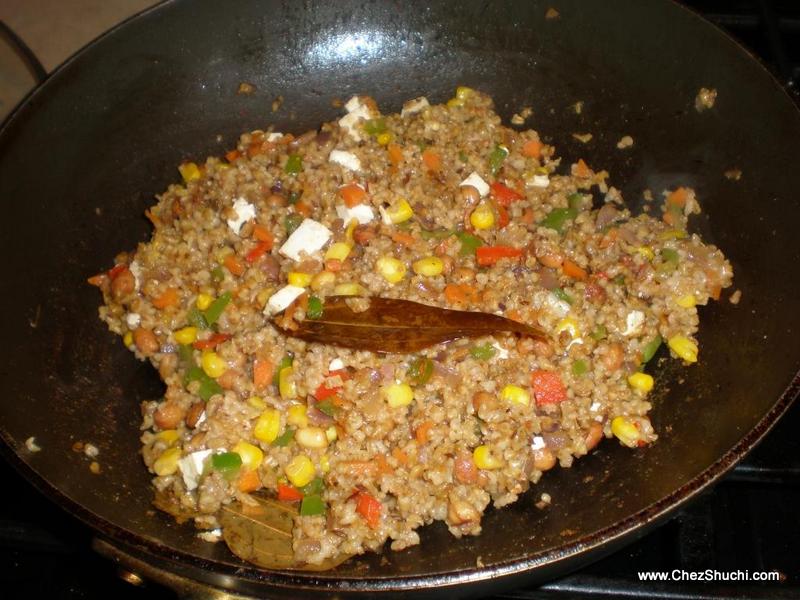 Fry for a minute and turn off the heat.
Add lemon juice. Mix well. Garnish with chopped coriander leaves .
Delicious and nutrious oat pulav is ready to serve.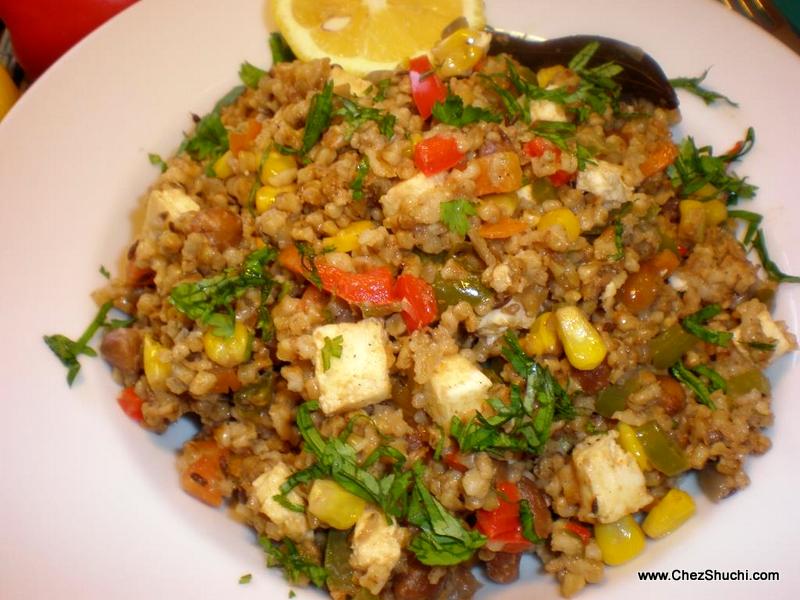 Serve mattha (butter milk) alongside to add more nutrition to your breakfast.
Some Tips/ Suggestions:
You can also add other vegetables as per taste and availability.
I have also added some red bell peppers in this preparation.
Instead of tofu you can also use paneer; keep in mind that paneer has more calories than those in tofu.
---
---