Upma | Vegetable Upma
हिन्दी में पढ़ें
Upma is a very popular south Indian breakfast dish, made with dry roasted rava/suji/semolina. Different vegetables can be added to make it more delicious as well as nutritious. It is a less than 300 calories breakfast - so if you are health conscious, this is the right choice for you. I have also added some spice mix in the seasoning to enhance the flavor of upma. Every family has a different way to make the same dish. This is my version of upma. Feel free to make changes in vegetables and nuts as per your family's taste. So, enjoy this delicious, healthy, and low-calorie breakfast and please do not forget to share your valuable comments. Happy cooking, Shuchi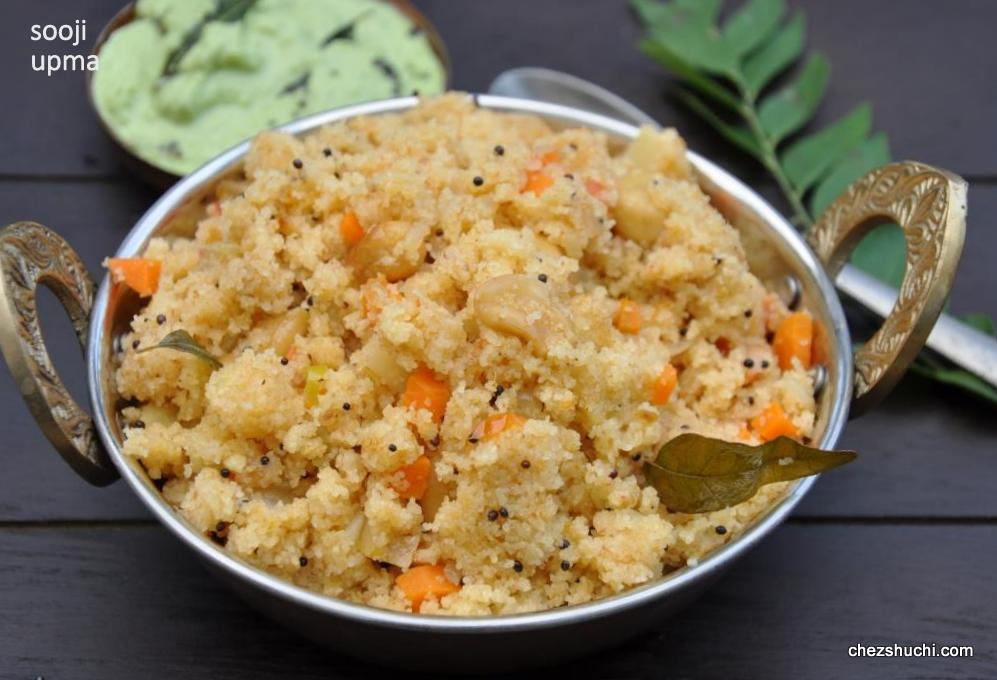 Ingredients

(serves 4)
Semolina (sooji) 1 cup
Carrots   1 medium
Potato    1 medium
Onion    1 medium, finely chopped
tomato    1 medium, finely chopped
Green chilies 1-2, finely chopped
Grated cinger 1 tsp  
Oil/ghee      2 tbsp
Mustard seeds     1 tsp
curry leaves       6-8
Whole red chili  1
Cashews   2-3 tbsp
Salt       1½ tsp or to taste
Sambhar powder     1 tsp or to taste
Lemon juice   1 to taste
Method of preparation
Dry roast semolina on medium heat till it gets pink in colour ( it takes around 5-7 minutes).
Peel off potato, wash and cut into small pieces. Wash the carrot and cut in small pieces, similar to the potato.
Peel the onion, wash and chop finely.
Wash the Tomato and cut into small pieces.
In a nonstick pan heat oil, add mustard seeds. When seeds stop crackling, add whole red chili and curry leaves. Add cashews and fry for a few seconds.
Add onion and green chili and grated ginger. Fry until translucent (takes 2-4 minutes). Add tomatoes and cook until tomatoes are done.
Add chopped potatoes and carrot, fry for a minute, add ½ tea spoon of salt. Mix well and cook until tender. Add a little water if needed( takes 5 minutes).
Now add semolina, remaining salt, and sambhar masala in the cooked veggies and mix well. Fry for a minute.
Add 2 cups of warm water and mix well. Cook until semolina is done. Add lemon juice and mix well.
Umpa is ready. Serve with coconut chutney.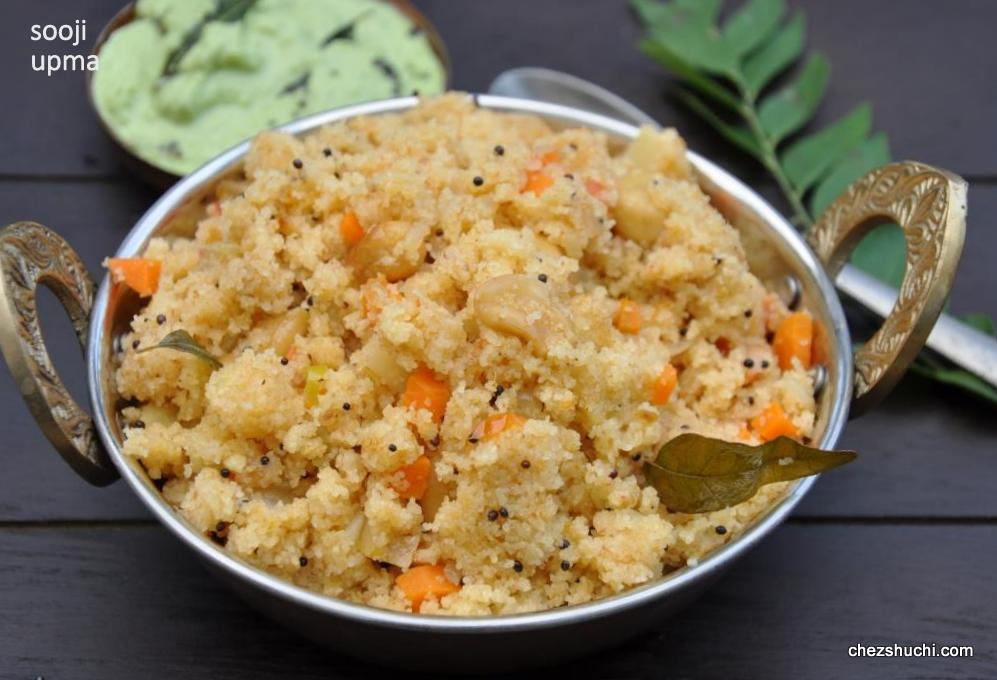 Some Tips & Suggestions:
Sambhar powder increases the flavor of upma.
Usually the ratio of semolina and water is 1:2
Vegetables can be changed as per taste and availability.
You can also cook chopped potatoes and carrots in a microwave. It takes 2 minutes to cook the veggies in the microwave.
Suggestions For Kid's Lunch box:
Upma is an ideal Lunch box meal for kids as well as adults. Different vegetables can be added to make it more delicious as well as nutritious. It is absolutely low-fat so if you are health conscious, this is the right choice for you. I have added some cashew nuts in upma to make it yummier for kids. With Upma there is an apple, some dry roasted peanuts, and a piece of sesame bar!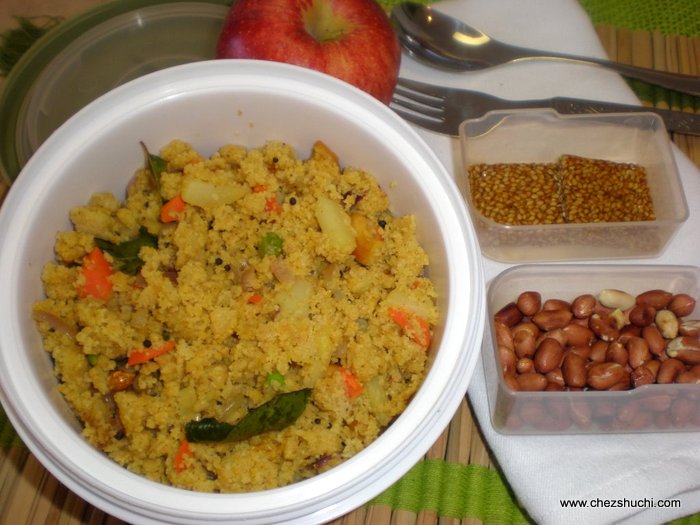 Some other Kid's Lunch box ideas
Some Other Snacks and Starters Recipes
Some Other South Indian Recipes
Some Other Semolina/ Rava Recipes
---