Matar Ki Tikki
हिन्दी में पढ़ें
Today I am sharing a very traditional North Indian Chaat item's recipe with you. This delicious dish is made from dried yellow peas. Yellow peas are a good source of protein so this dish is delicious as well as healthy. Matar ki tikki is served with ginger, green chilies, coriander leaves and lemon juice. This is actually my husband's specialty -- he just loves this dish and likes to make it for parties….So try this delicious chaat and do not forget to share your valuable thoughts…. In Lucknow and Kanpur cities there are some Chaat venders who sell only matar ki tikki. Yellow peas are a good source of protein so this preparation is delicious as well as nutritious. So try out this mouth watering chaat……….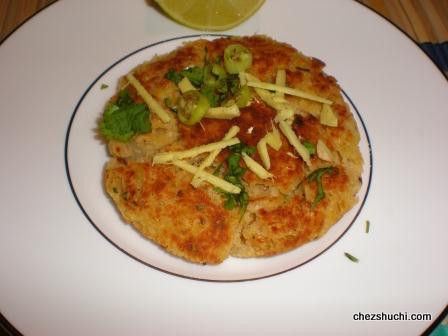 Ingredients

(makes 8 tikkies)
Yellow peas (matar)1 cup
Salt little less than 1 tsp/ to taste
Chaat masala ½ tsp
Green chilies 2
Chopped coriander leaves 2 tbsp
Red chili powder ¼ tsp
Boiled potatoes 2-3 medium
Ghee/ oil 2-4 tbsp
Ingredients to serve
Green chili 3-4
Ginger cut into julliens 2-3 tbsp
Chopped coriander leaves 2 tbsp
Lemon juice 2 tbsp/to taste
Method of preparation:
Following picture shows the yellow peas-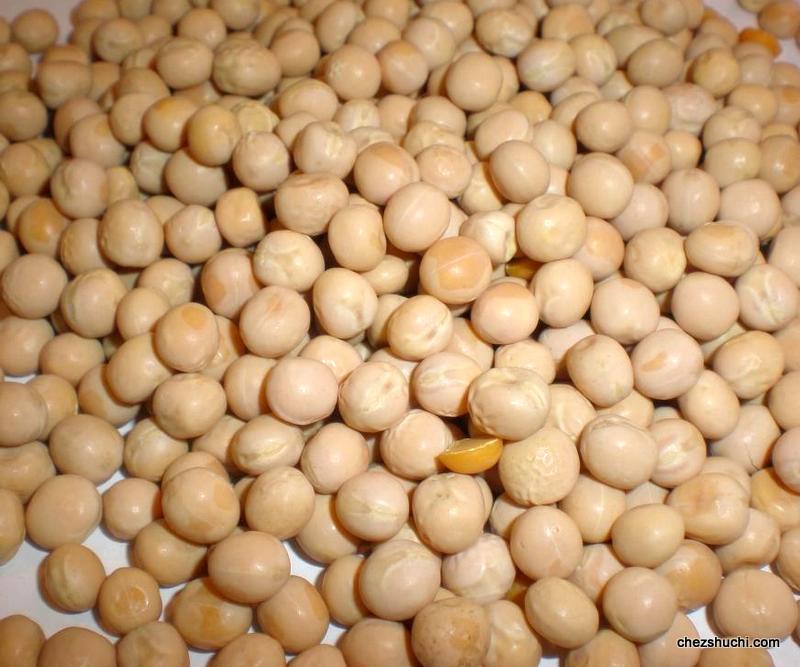 Clean, wash and soak the white peas in enough water (about 21/2 cups) for 6-7 hours.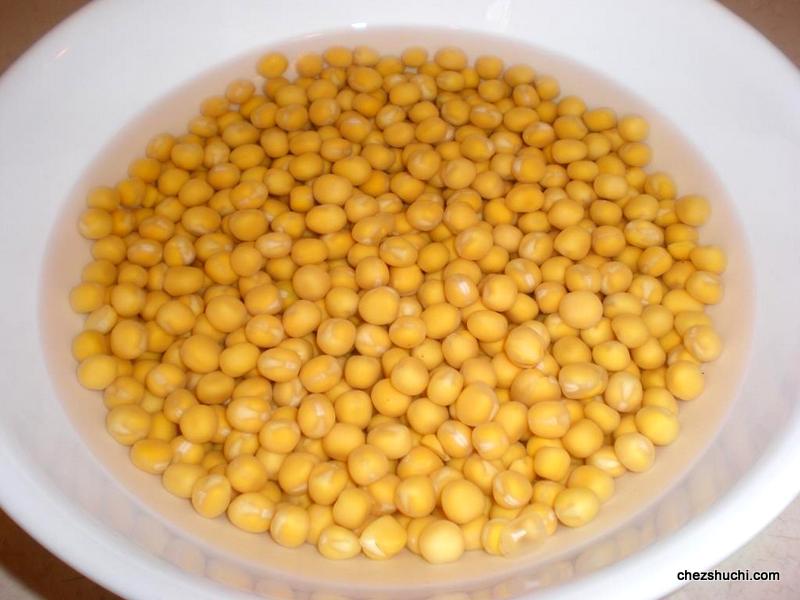 Boil the white peas with salt until they are tender. The best way is to take a couple of whistles in medium-low heat in the pressure cooker. Takes 15-20 minutes to boil the peas.(we do not want soggy peas so make sure that amount of water is perfect)

Peel off and mash the boiled potatoes thoroughly.
Remove the stem, wash and finely chop the green chilies.
Add red chili powder, chaat masala, chopped green chilies, chopped coriander leaves, and boiled potatoes in the boiled yellow peas and mix well .
Now divide this peas mixture in 8 portions and make round flat patties.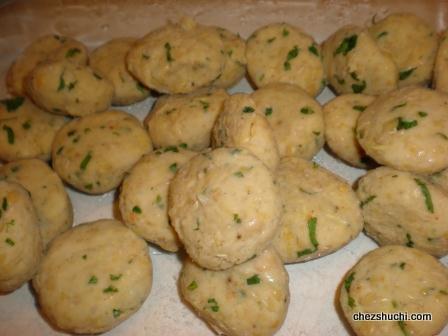 Yello peas patties/ tikki
Heat flat griddle on medium heat . Pour some oil/ ghee and fry the patties from both the sides till they are reddish brown. Takes about 15 minutes to fry these patties.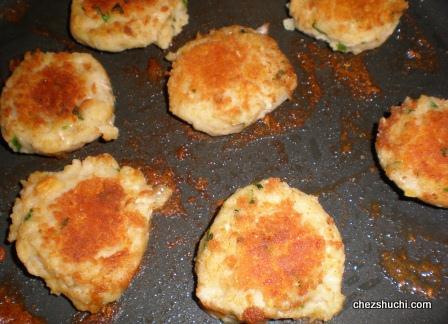 Method of serving :
In a plate, take a fried peas patties (matar ki tikki).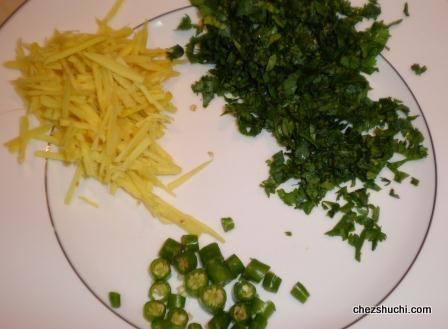 ginger julliens, chili and coriander leaves
On top of the patties put some chopped green chilies, chopped coriander leaves, and some ginger julliens. Now pour about 1 tsp lime/ lemon juice.
Serve delicious matar ki tikki immediately.
Some Suggestions/ Tips :
For big parties prepare the tikki in advance and fry them at the time of serving.
This matar ki tikki also tastes very good with masala aloo (fried potato).
Sometimes kids do not like green chilies and ginger; in that case you can serv matar ki tikki to kids with tamarid chutney and yogurt like aloo ki tikki ( potato patties).
---
Some Other Delicious Chatpati Chaat Items
---