हिन्दी में पढ़ें
Masala Gobhi(cauliflower cooked in spicy curry)
Gobhi (cauliflower) is in abundance in the market at this time. Gobhi aloo, Gobhi Manchurian, Gobhi ke parathae (cauliflower stuffed Indian bread) are made on a regular basis in winters. Let's make a delicious Gobhi dish in thick curry. To make this dish healthy, I have cut the amount of oil but you can always make changes (such as deep frying Gobhi before adding it to curry). Masala Gobhi goes very well with lachcha paratha, and plain paratha. Try out this dish and please do share your comments.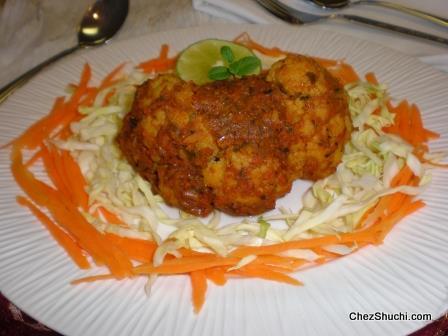 Ingredients ( serves 4)
Cauliflower 1 medium
Onion 1 medium
Tomato 2 medium
Green chili 1-2
Ginger 1 inch piece
Coriander powder 2 tsp
Red chili powder ¼ tsp
Turmeric powder ¼ tsp
Kasoori methi 1 tbsp
Garam masala ½ tsp
Salt 1 tsp/ to taste
Oil 2-3 tbsp
Green coriander leaves, chopped 2 tbsp
Method of preparation:
Remove the leaves of the cauliflower. I have cut the cauliflower into 3 big florets. But you can use full/ whole cauliflower.
Heat enough water in a sauce pan. Add half tsp salt. When water starts boiling add cauliflower and boil for a minute. Remove from hot water and pour in cold water. Leave for a couple of minutes. Remove the cauliflowers from the water; pat dry and keep aside.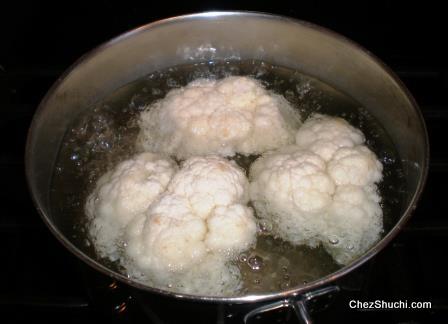 Peel, wash and finely chop the onion. Rremove the skin of ginger, remove the stem of the green chilies, and wash them. Finely cut chili and ginger. Wash and finely chop the tomatoes.
Heat oil in a wok on medium heat. Add chopped onions and fry until onions are golden brown.
Reduce the heat and add grated ginger and chopped chilies and fry again for a few seconds.
Add chopped tomatoes and all the spices. Fry until the tomato masala leaves the oil. Add half a cup of water and cook for a few minutes.
Put blanched cauliflower in the curry. Coat the cauliflower well with the curry. Cover the lid and cook for about 10 minutes. Cook until cauliflower is tender.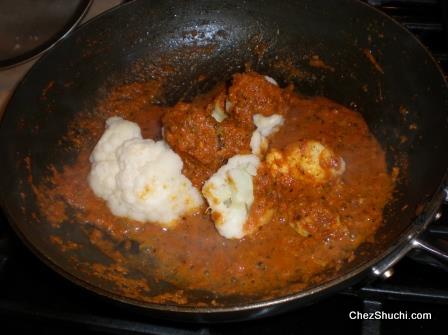 Delicious Masala Gobhi is ready. Garnish with chopped coriander/cilantro leaves.
Serve with roti, poori or naan or the Indian bread of your choice.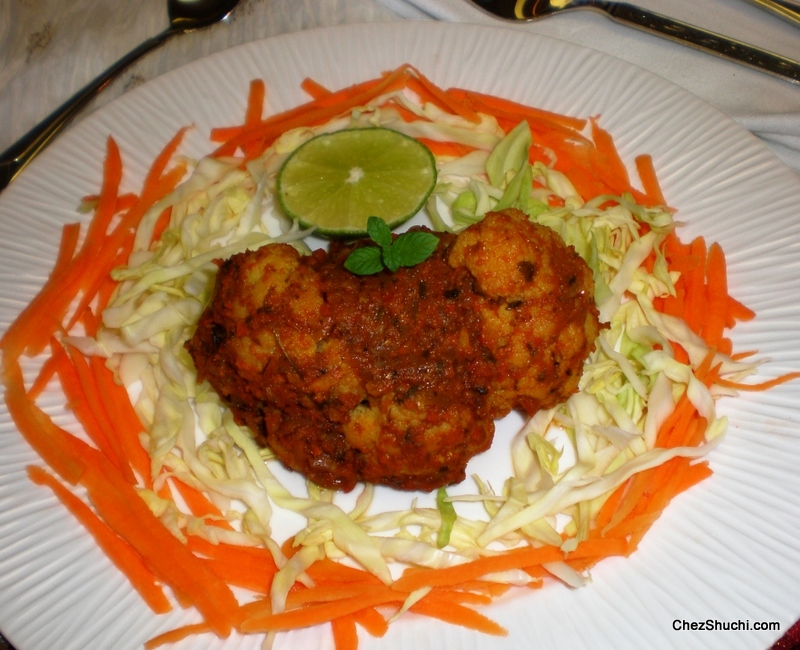 Some Tips/ Suggestions:
I have blanched the cauliflower to cut the oil but it can be deep fried.
You can use full cauliflower or cut it into 2/3 big florets.
Some other cauliflower preparations-
---