हिन्दी में पढ़ें
Gobhi Manchurain
Cauliflower (gobhi) Manchurian is an Indo Chinese dish. This delicious Chinese preparation isserved as a starter. Gobhi Manchurian is an easy to make dish and is a very popular Chinese dish in India. This is a vegan preparation. For Gobhi Manchurian, gobhi (cauliflower) florets are deep fried and then sauteed with the sauce. If you want to avoid deep frying, you can grill/ bake the florets. I have explained in the recipe how to bake the florets. Try this crunchy manchurian and please do share your suggestions.

Ingredients (Serves 4)
For Manchurian
Cauliflower (gobhi) 1 medium
Rice Flour about ¼ cup
Corn flour 4 tbsp/¼ cup
Salt 1 tsp
Red chili powder ¼ tsp
Ginger & green chili paste 1½ tbsp
Water about ½ cup
Oil to deep fry
For Sauce: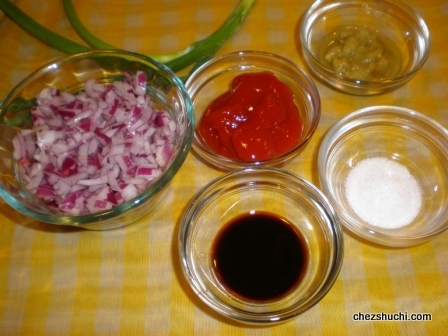 Red onion 1 medium
Tomato Ketchup 2-3 tbsp
Soy sauce 1 tbsp
Ginger-chili paste 1½ tbsp
Salt ½ tsp
Sugar a hint
Oil 1 ½ tbsp
Finely chopped coriander leaves- to garnish
Spring onions- to garnish
---
Method of preparation:
Wash the cauliflower and Cut the big florets. Pat dry the florets on the kitchen towel.
Peel, wash and finely chop the red onions. Keep aside.
In a bowl take rice flour, corn flour (corn starch), salt, red chili powder and ginger garlic paste. Add a little water at a time to make a thick paste.
Iin a wok/pan heat oil. Dip cauliflower florets in the paste. Coat florets well with the paste evenly and deep fry on medium heat until golden brown. It takes about 10 minutes to deep fry the florets. Take the fried florets out onto the kitchen towel.
Deep fry all the gobhi florets .
Heat a wok, add oil. Fry onions on high heat for a minute and stir constantly.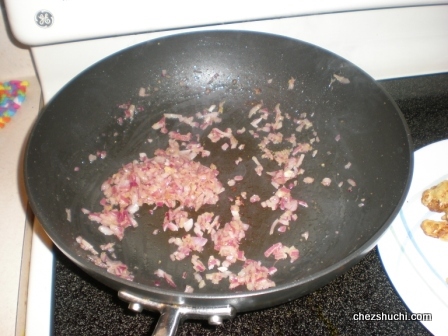 Now add ginger-chili paste, mix in well. Add tomato ketchup, and soy sauce, mix well.
Add fried cauliflower. Sprinkle salt and red chili powder. Mix well thoroughly. Fry for a couple of minutes or until the florets are well coated with the sauce.
Deliciuous cauliflower (gobhi) manchurian is ready to serve. Garnish with chopped coriander leaves and spring onions.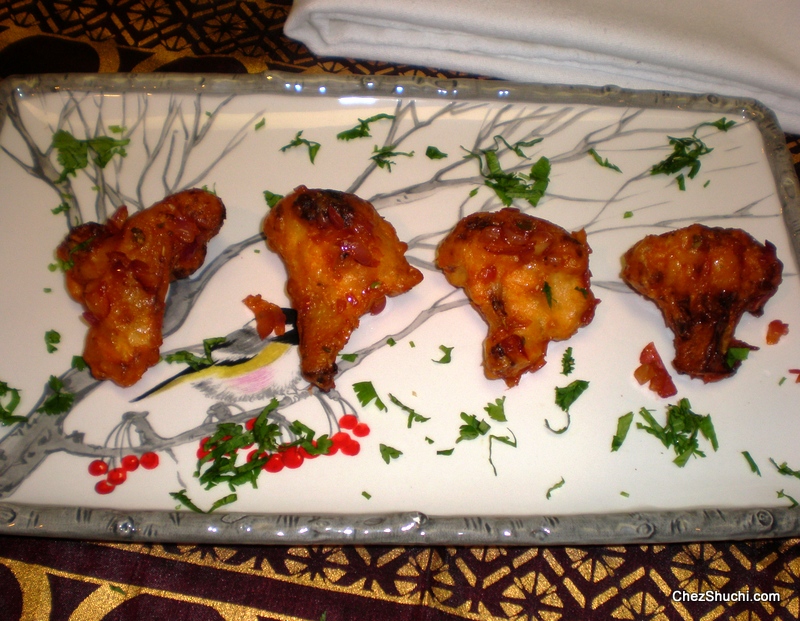 Some Tips/ Suggestions:
If you do not want to deep fry the cauliflower florets, bake them. For baking, pre heat oven at 450 F. Grease a baking dish. Dip cauliflower florets in flour paste. Arrange these florets in the flat baking dish. Sray a little bit of oil. Bake them for about 15 minutes.Turn the side and bake for another 15 minutes or until golden red..
I have used rice flour in the batter because it makes the florets super crunchy after deep frying but one can use all purpose/ refined flour too.
If you like garlic, add in garlic with ginger and chili to make the paste.
You can increase the amount of green and red chili as per taste.
---
---