Crispy Chili Potato
हिन्दी में पढ़ें
Crispy Chili Potato is an Indo Chinese dish - it is known by many names - tangy chili potato, sour chili potato, and potato wedges in tangy sauce, among others. In our last trip to India, my sister introduced this Indo Chinese dish to us. She also shared this recipe; as usual I have made some changes in the recipe to adjust the spice level........ Hope you like it!!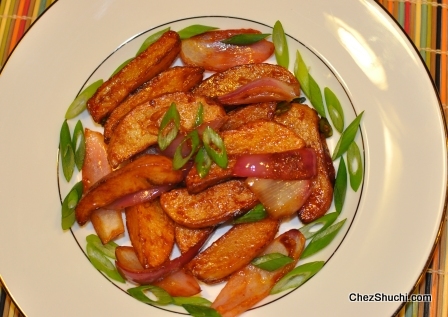 Ingredients

(serves 4)
Method of preparation
Peel off and cut the potatoes into thick wedges. Wash the potato wedges and soak them in cold water for 10-15 minutes.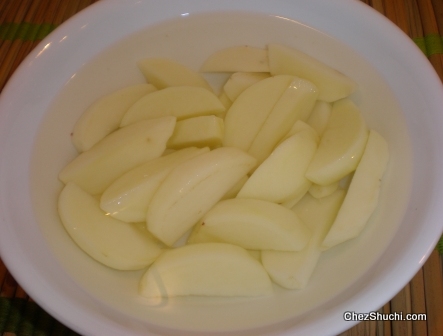 Remove the stem, wash, and finely chop the green chilies.
Peel off, wash and cut the ginger into fine juliens.
Wash and cut the spring onions into small pieces.
Peel off, wash, and slice the onion.
Strain the potatoes to remove the water and wipe them off in kitchen paper.
In a wok heat oil; roll the potato wedges in the corn starch .
Now deep fry the potato wedges on medium heat until they are reddish brown. It takes about 5-7 minutes to fry each round of potato wedges.  Drain onto kitchen paper.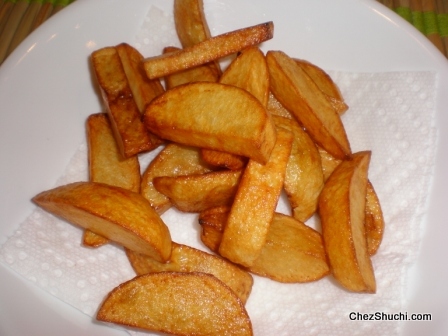 Deep fried potato wedges
Following are the ingredients for crispy potato flavoring-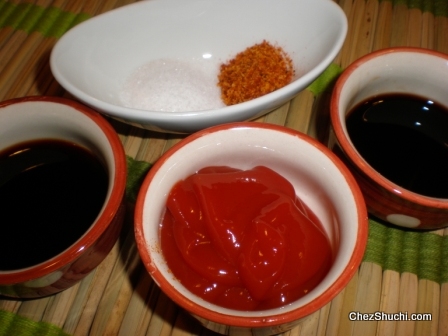 Ingredients for flavoring
Now remove the extra oil from the same wok and leave one and half tbsp oil. Add onions and stir fry for a minute. Now add green chilies and ginger, and stir fry for a few seconds.
Now add fried potatoes. And also add tomato ketchup, soy sauce, brown vinegar, salt, honey / sugar, and red chili powder. Toss well the potatoes in the flavoring. Add half of the spring onion. Toss again. Turn off the heat.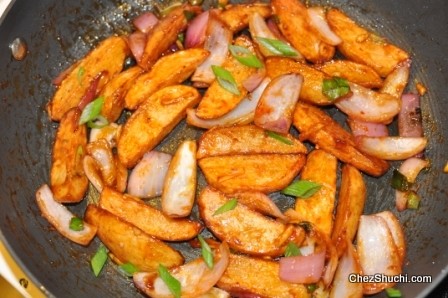 Crispy Chili Potatoes are ready to serve. Garnish the potatoes with spring onions.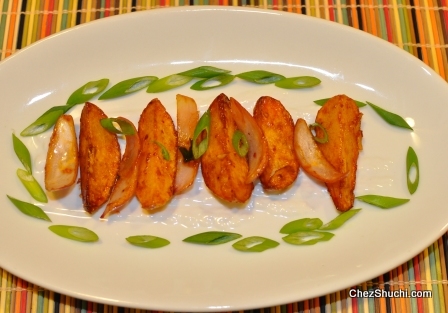 Some Tips/ Suggestions:
If you eat garlic, add in garlic first , before frying the onions.
Increase the amount of chili as per taste.
For deep frying, I avoid filling the skillet with oil as repeated use of fried oil is unhealthy.
---