Baked Veg
हिन्दी में पढ़ें
Baked vegetables is one of the most popular continental delicacies in India. At my place continental delicacies are always relished by my Indian as well as non-Indian guests. It is very easy to make baked vegetables. To please Indian pallet I have added a hint of garam masala in this dish. The selection of vegetables can be done as per taste and availability. The amount of cheese can be reduced or increased as per taste. You can also make this dish without cheese. Try this continental preparation and please do share your comments. Happy cooking, Shuchi....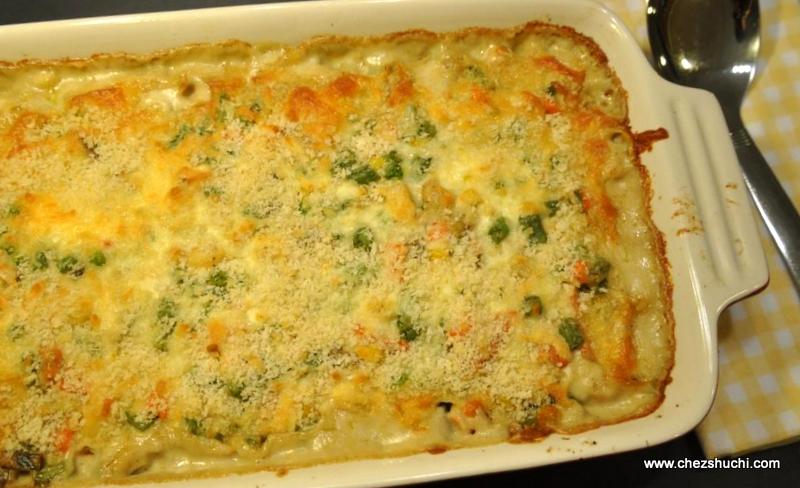 Preparation Time: 10 minutes
Cooking time: 10 minutes
Baking time: 35 minutes
Approximately 1000 calories all together
Ingredients

(serves 4-6)
Carrot 1 big/ 110 gms
Freanch beans 120 gms
Cauliflower about 120 gms
Mushrooms 4-5
Paneer 100 gms
Corn kernels ½ cup
reen peas (optional) ½ cup
Cashew nuts 10-12
Butter 1 tbsp
Salt ½ tsp
Freshly ground black pepper, to taste
Garam masala ¼ tsp (optional)
For White Sauce:
All purpose flour 2 tbsp
Unsalted butter 2 tbsp
Milk 2 cups ( I have used 2% milk), Lukewarm
Salt ½ tsp
Freshly ground black pepper, to taste
Garam masala ¼ tsp (optional)
To Bake:
Mozzarella cheese ½ cup, grated
Bread Crumbs ½ cups
Method of preparation
Pre heat oven at 350 F.
Grease a 1.5 lt ( 9 inch baking) baking dish with little butter. Keep aside.
Wash and cut the mushrooms into about half inch pieces. Cut the paneer into half inch squares.
Peel, wash, and cut the carrots into about half inch squares.
Remove the sides of the French beans. Wash and cut the beans into half inch pieces.
Wash and cut the cauliflower into small florets.
Wash corn kernels and peas. Keep aside.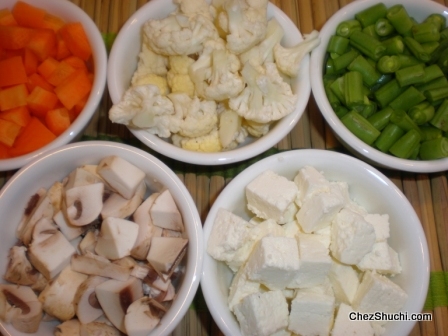 carrots, cauliflower, beans, mushrooms, and paneer
Boil 2 cups water. Add half tea spoon salt and a little bit of sugar in boiling water. Add cauliflower florets, carrots, and French beans pieces. Boil for a a couple of minutes. Starin the water, keep vegetables aside.
In a non stick wok/ skillet heat 1 tbsp butter. Add cashews and sauté for a minute. Add mushrooms and sauté on medium heat for about a minutes.
Add paneer and sauté paneer for about a minutes or until paneer gets light color. Add vegetables, corn, and peas. Mix gentely. Add salt, black pepper and a hint of garam masala. Mix gently. Keep aside.
Method of Preparation For White Sauce:
In the wok melt two tbsp butter on medium heat. Add all purpose flour and fry on medium heat for a couple of minutes or until aromatic but the the color of mixture does not change.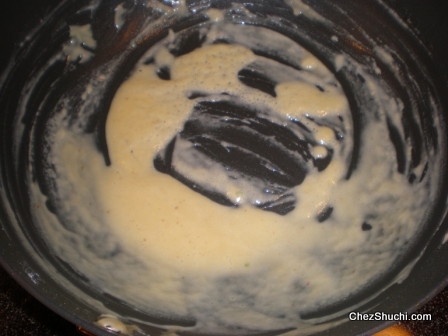 Add lukewarm milk a little by little and continuously stir the mixture. The sauce shouldn't get lumps . Add all the milk by pouring a little at a time.
After the boil cook the sauce for another minute and turn off the heat. Add seasoning. Mix well. White sauce is ready.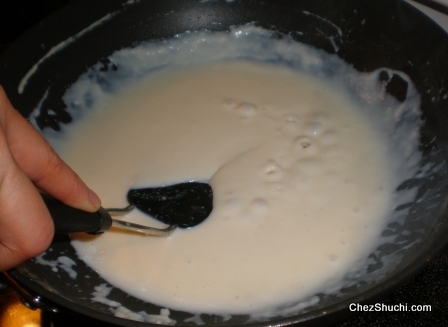 White sauce making
Add sautéed mushrooms, paneer and veggie mix in the white sauce. Taste and adjust the seasoning.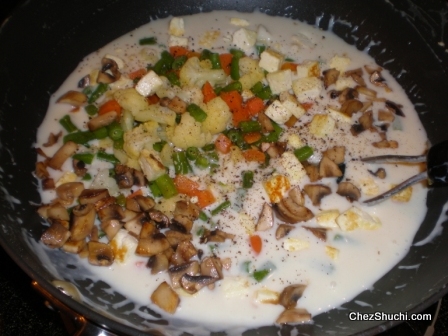 veggies, mushrooms, and paneer in the white sauce.
Pour the white sauce veggie mixture in the greased baking dish.
Spread grated Mozzarella cheese evenly on top of the veggies.Sprinkle a fine layer of bread crumbs on top of the cheese layer.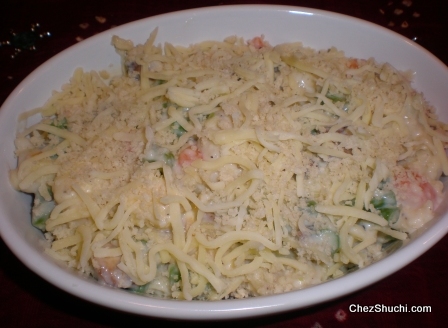 After spreading Mozzarella chesse
Bake until the the top is nicely cooked and pinkis-red in color. It takes about 30 minutes to bake the vegetables.
Delicious baked veg is ready to serve. You can serve baked veg with Indian menu like dal, baked veg, rice and Indian bread, or serve baked veg with rice and dinner rolls.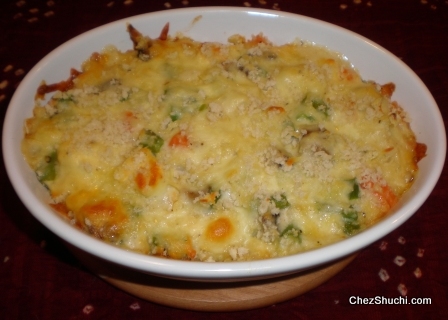 Tips/ Suggestions
You can assemble the dish , keep it in the refrigerator after covering the dish with an aluminium foil, and bake it later when you need it.
You can make white sauce and keep it in the fridge for a couple of days for a later use.
You can add some more stuff to your baked vegetables as per taste.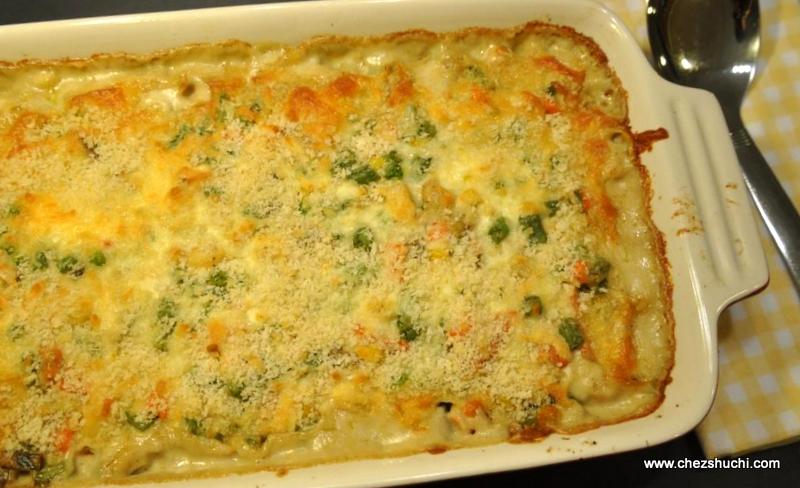 ---