Fajitas
हिन्दी में पढ़ें
Fajita is one of the most popular Mexican dishes. Fajitas are usually meat based dishes but here we will be making a vegetarian version of Fajita. For this dish, we have marinated the assorted vegetables, and then grilled/stir fried them. Fajitas can be served with tortillas (flour/corn), sour cream, cheese, tomato/lettuce, salsa, guacamole, etc….This is a very healthy preparation and is also quick to make..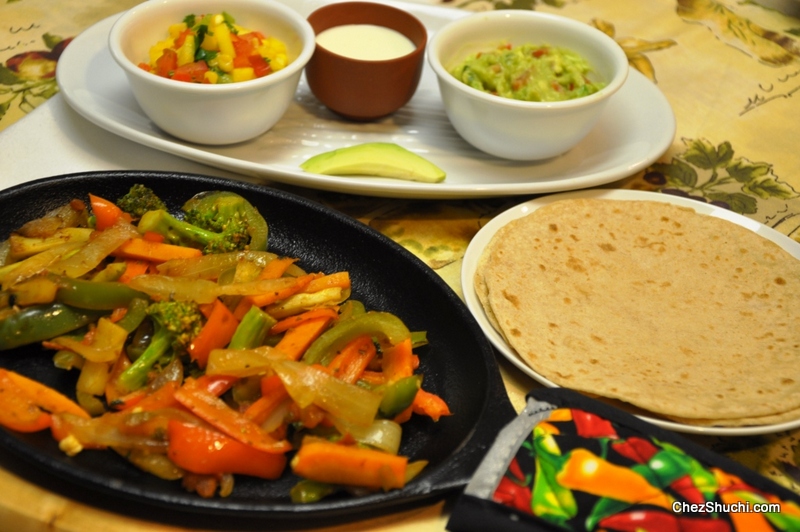 Serves 3-4
Ingredients to make Fajita
1 big yellow onion
1 big green bell peppers (capscium)
1 big red bell pepper
1 carrot
1 cup broccoli florets
3-4 tbsp chooped cilantro (coriander leaves)
Oil 2 tbsp
Ingredients to make Marinade
2-3 tbsp lemon juice
2 tsp dried oregano leaves
1 tsp roasted and ground cumin
½ tsp red chili flakes
½ tsp / to taste ground black pepper
1 tsp salt
Ingredients to serve
8 flour tortillas
Corn Salsa/ Mango salsa( to taste)
Guacamole (to taste)
Sour cream (optional)
Lettuce (optional)
Avocado thinly sliced(optional)
Tomato wedges (optional)
Method of preparation:
Peel wash, and slice onions.
Wash and remove stem and seeds of bell pepper and thinly slice it.
Peel, wash, and thinly slice the carrots.
In a glass bowl mix lemon juice, oregano, cumin, red chili flakes, black pepper, and salt.
Pour the marinade on carrots, broccoli and bell pepper. Coat the veggies well with the marinade. Keep aside for 15 minutes.
Heat oil in a skillet/wok. Add sliced onions and fry for a couple of minutes. Add the marinated veggies and stir fry for 5-6 minutes. You can also grill these veggies.
Adjust the seasoning. Garnish with Cilantro. Fajita is ready.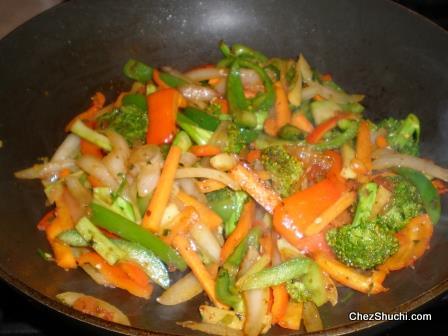 Warm up the tortillas. Tortillas can be bought in store. The totillas shown in the picture are home-made, made with wheat flour. Instead of tortillas, you can also use rotis.
Serving suggestion for kids - it is better to put the fajita in the center of the tortillas and top it with their favorite salsa, guacamole, sour cream, or whatever they like.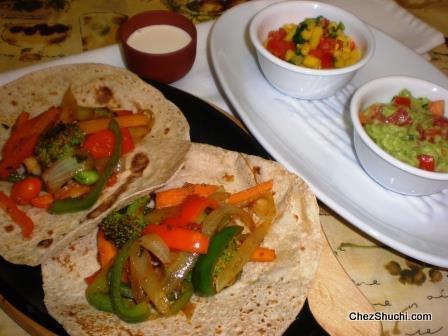 Close it and make a wrap. Fajita is ready to serve for kids.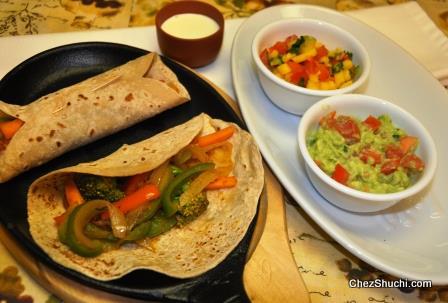 Fajita serving suggestion for adults- You can serve fajita veggies in a heated cast iron pan. Serve tortillas, salsa, guacamole, sour cream, avocado etc separately.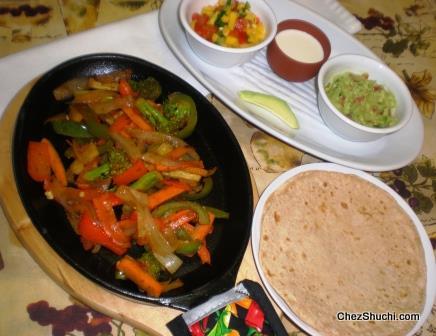 Some Tips/ Suggestions:
You can also make sizzler fajita. For that heat up the cast iron sizzler pan well.

Keep all the accompaniments ready to serve.

Mix 1 tsp water and 1 tsp oil in a bowl. Set the hot cast iron pan on the wodden base. Transfer the grilled/ stir fried vegetables on the cast iron pan. Sprinkle the oil-water mixture from the side of the pan. Sizzling will start. Serve immediately.
---
Some Other delicious and healthy Mexican accompaniments:
---
---