हिन्दी में पढ़ें
Sweet and Sour Zucchini
Zucchini, also known as courgette is a summer squash, which belongs to Cucurbitaceae family like bottle gourd (lauki), bitter gourd (karela), pumpkin (kaddu)etc. Sweet and Sour Zucchini is a yummy preparation goes very well with all sorts of Indian breads specially Kachauris. In India the same vegetable is made with green pumpkin (kaddu/ seetaphal). Since Indian pumpkin is hard to find in western market, there are some other options like or Zucchini/Courgette or Petha which you get in Indian grocery stores only. I like zucchini because it is easily available in organic stores. You can use some other varieties of squash if you wish to. If you live in India use green pumpkin and follow the same recipe. Please try this recipe and share your experiences and comments. Happy cooking, Shuchi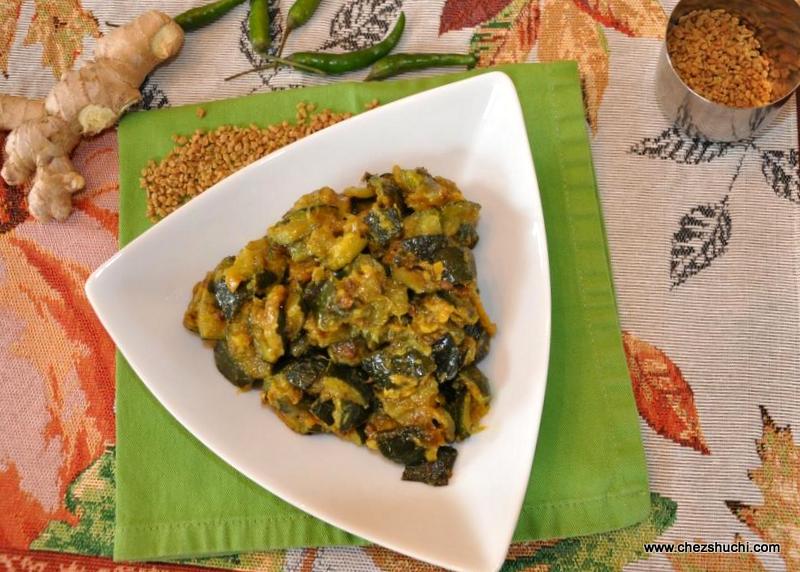 Ingredients (serves 4)
Zucchini 1pound/about 500 gms
Green chilies 2
Ginger 2 inch piece
Fenugreek seeds 1 tsp
Turmeric powder ½ tsp
Salt to taste/ 1 tsp
Red chili powder ½ tsp
Coriander powder 1½ tsp
Garam masala ½ tsp
Dry mango powder (Amchur powder) 1 tsp
Brown sugar 1½ tbsp
Oil 2 tbsp
Chopped coriander leaves 2 tbsp (optional)
---
Method of preparation:
Wash Zuccihini. Wipe them with kitchen towel.
Remove the chip from both sides of the zucchini and cut it into small about half an inch pieces.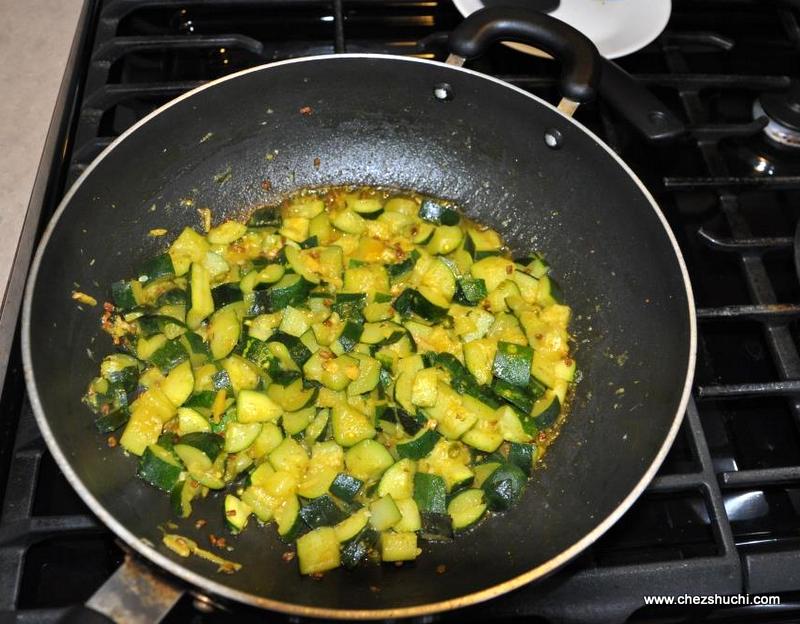 In a wok heat the oil. Add fenugreek seeds. When seeds change the color, add ginger and green chilies. Fry for a few seconds and add turmeric powder.
Add zucchini pieces and mix well. Fry on medium heat for a couple of minutes.
Add salt, half red chili powder and half of coriander powder. Mix well. Fry for a minute. Cover the lid and cook until zucchini is tender. It takes about 8-10minutes to cook zucchini
Add remaining red chili powder, coriander powder, dry mango (amchoor) powder, garam masala and sugar . Mix well and fry kundru for a couple of minutes or the zucchini absorbs the water left by sugar. Turn off the heat. Sweet and sour zucchini is ready.
Garnish with chopped coriander leaves.
Serve Sweet and sour zucchini with dal ki poori or kachauri or with dal chawal (lentils and rice).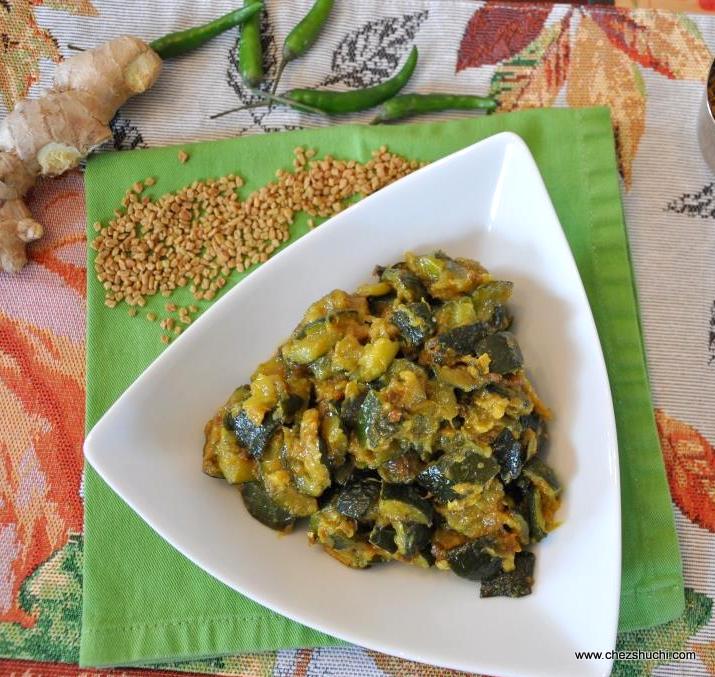 Variation:
The following photo shows sweet and sour petha sabji. For this I have used winter melon or also known as white melon or petha. This vegetable can be found in Indian stores outside India. In India it should be easily available in sabji mandi (vegetabales shaps).
For Petha I have removed the skin because it was very hard and it takes very long to cook the skin. The inner side is soft and it gets cooked very fast and becomes mushy if skin is used .
Some Tips/ Suggestions:
Young and green zucchinis are ideal. They taste more fresh and delicious.
In India, the same recipe is used to make green pumpkin (kaddu/ seetaphal sabji). Since we do not get kaddu here in the USA I use zucchini which is easily available and taste very good.
---
Some dry vegetable preparations:
stuffed bhindi shimla mirch aloo bhindi do pyaja
---